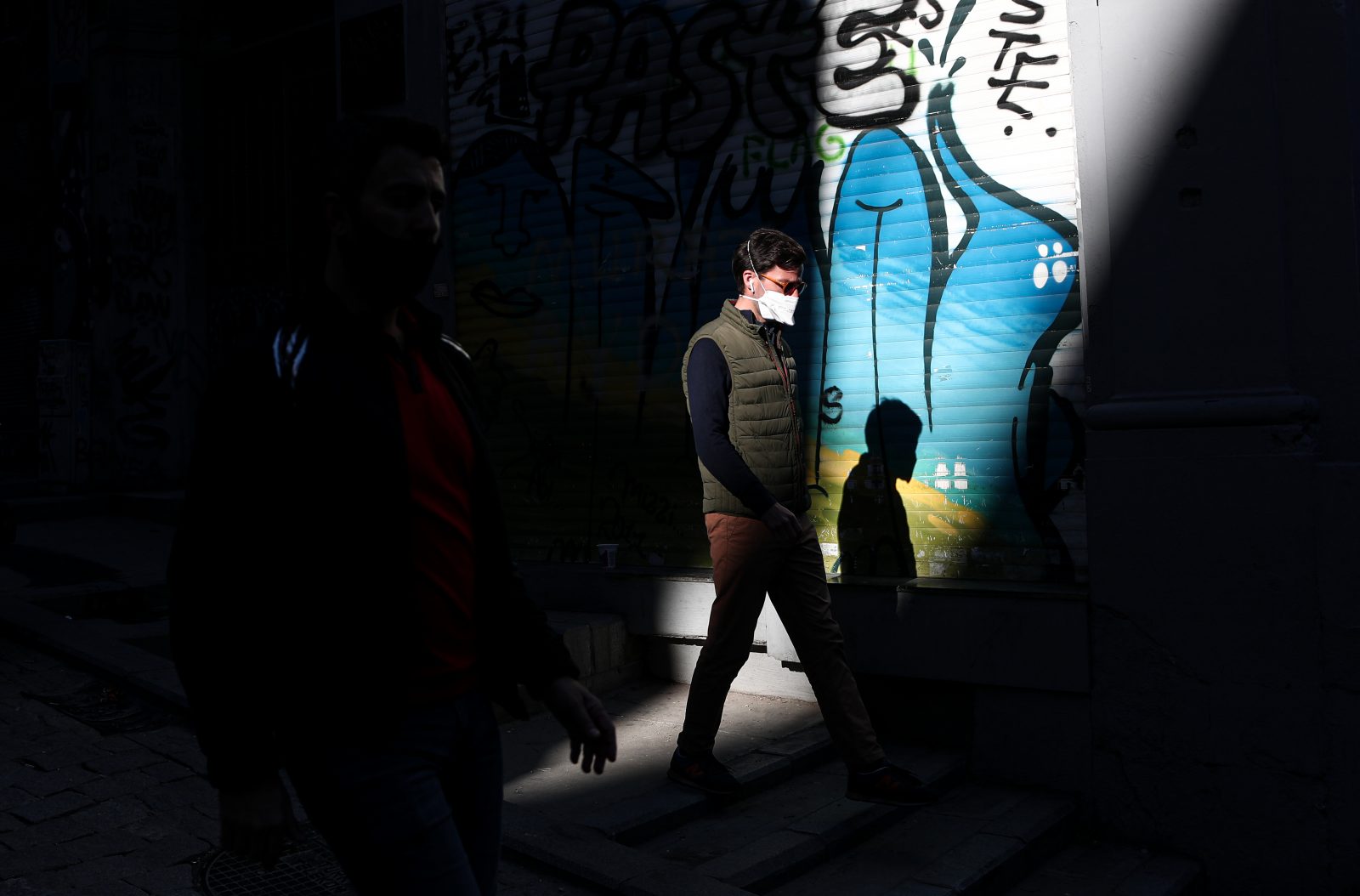 Faced with the spread of COVID-19, societies are ready to trade away rights and freedoms for promises of security, Turkish civil society activists warn.
"There has been a significant decrease in reports on human rights violations because of the restrictions," he said.
Civil society sidelined

Third anniversary of the failed coup attempt at the Ataturk Airport in Istanbul, Turkey, 2019. Photo: EPA-EFE/ERDEM SAHIN
Enes Ozkan, the editor-in-chief of Daktilo84, a non-governmental academic platform bringing together academics and experts, said the restrictions had increased output.
"Now, everyone has to stay home and this made everyone more accessible," he said. "We started to increase our webinars, writings and other online events because of the increasing demand as well as accessibility of our members," Ozkan told BIRN.
Already working largely online, Daktilo84 was less affected, he said, "but organisations that focus on psychical events suffer the most."
Social Democracy Foundation, SODEV, for example, said staff members were now working from home and board meetings were held online. All regular events and conferences were cancelled, said director Murat Uner.
"We can continue our work somehow but we hope that this situation will end soon," he said.
Uner said SODEV had received notice from the Turkish Interior Ministry that even all online events had been banned as part of the government's measures against the pandemic. Uproar among civil society groups forced a U-turn, with the government saying it the order had been the result of a mistake.
Isci of IHD said it was indicative of the government's approach to civil society, particularly since Erdogan put down a coup in 2016 that he blamed on U.S.-based cleric and former ally Fethullah Gulen. Gulen denied any involvement, but the government nevertheless launched a crackdown on his followers as well as large parts of the public sector, security forces, media and civil society.
"When any extraordinary situation such as the COVID-19 pandemic occurs, civil society organisations become more vulnerable and fragile because of security-oriented policies," Isci told BIRN.
"In order to overcome the difficulties which civil society organisations face the government should respect the requirements of civil society," he said.
Isci complained that the government had made no effort to involve civil society groups in the fight against the coronavirus.
Like other "authoritarian governments", he said, Turkey's has pursued legislation that creates "a suitable atmosphere to close the space for civil society movement," for example by restricting access to parliament and prisons and excluding medical unions from crisis-management efforts.
Post-putsch crackdown

A man with a face mask in Istanbul, Turkey, 2020. Photo: EPA-EFE/TOLGA BOZOGLU
Since the failed coup, 1,767 associations, foundations and labour unions have been closed down by the government and hundreds of others had to cease activities citing government pressure.
Ozkan said civil society groups in Turkey were seriously dwindling in number.
"Most of the remaining civil society organisations are embedded to the state or they are countrymen associations which are simply nothing more than meeting points for people living in large cities who are from same village or town," he said.
"If you are critical, very vocal and influential, the government wants to control and to shape you via audits and fines," Ozkan told BIRN. "If you have funding from abroad the situation becomes worse."
Isci said the government had framed much of political life in terms of security, creating a deeply polarised "us and them" atmosphere. "You face certain problems if you are critical," he said. "This is why we see that so many civil society organisations have been closed down."
Security placed above freedom

Illustration. Photo: EPA-EFE/CLEMENS BILAN
With the COVID-19 pandemic, Ozkan compared the response of the Turkish government to that of Viktor Orban's Hungary, Donald Trump's US administration and Poland under the Law and Justice Party of Jaroslaw Kaczynski. Freedom becomes subordinated to security, he said.
"Authoritarian regimes use everything to become more authoritarian; they try to use everything for their favour and the coronavirus crisis is a perfect example of that," he said. "Autocrats use the pandemic to maximise their power."
"There should be a balance between security and freedoms. However, everyone now focuses on staying home safe and fulfilling their main needs. When freedoms come in second place, this provides more space for authoritarian regimes."
On April 13, before parliament voted a new package of laws including greater government control over media, civil society, academia and social media, Erdogan declared, "Some media and politicians are more dangerous than the virus. They attack and criticise the government instead of supporting it in these hard days, but our country will get rid of media and political viruses very soon."
The law on social media, which would further restrict digital rights, was eventually postponed to make way for COVID-19-related legislation.
Ozkan said such laws were made possible by a situation in which people are ready to trade away rights and freedoms for greater safety.
"And civil society organisations are excluded from all the process," he said. "What we say is not heard, we are not involved in decision-making processes and the government never listens us."