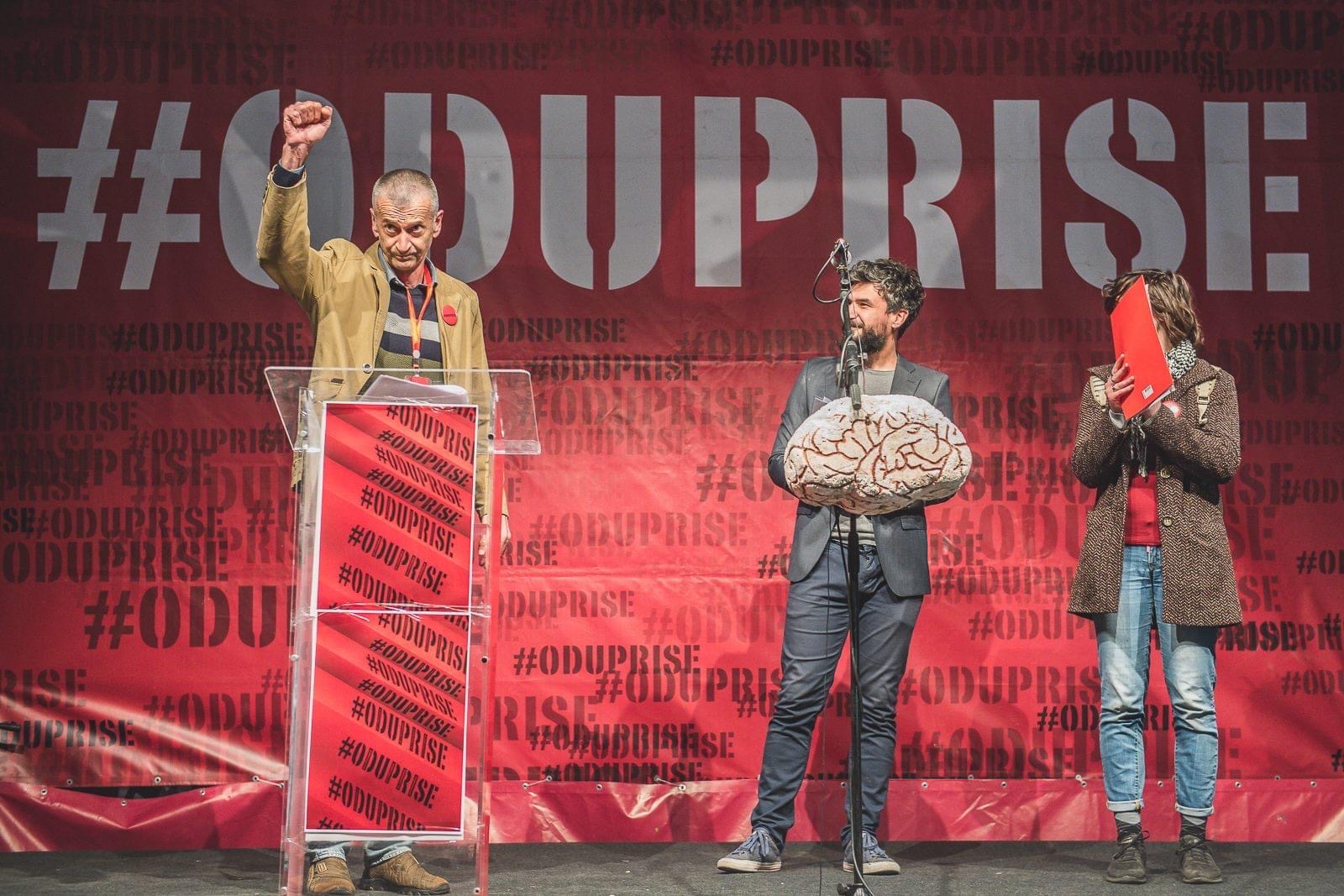 Resist movement member Omer Sarkic has become the latest civic activist in Montenegro to face police questioning over a post on Facebook – which he was said was clearly ironic.
Montenegrin police on Thursday questioned the civic activist and member of the "Odupri se (Resist)" movement, Omer Sarkic, for a Facebook post about the recent protests in Serbia.
In an ironic post, Sarkic called on the opposition Democratic front to stage protests in front of the Serbian embassy in Podgorica over police brutality against protesters in Belgrade. He stated a fictional press release in which the DF warned that it will resist police brutality in Serbia as it does in Montenegro.
"I explained to the police officer that my post was ironic, as I wanted to show that part of the opposition and Montenegrin media are silent about the protests in Belgrade. It's sad that some police officer who was reading my Facebook posts didn't understand what my nine-year-old son understood," Sarkic said.
Serbian police this week have clashed with thousands of angry protesters in Belgrade and other cities against the official handling of the coronavirus crisis and the announced re-imposition of restrictive measures, including a curfew this weekend.
In Belgrade, they used tear gas to disperse the crowds. In Kragujevac, protesters smashed the windows of the local police building. Protesters in Novi Sad threw rocks and rubbish bins at the windows of the ruling Progressive Party facilities, at Radio Television of Vojvodina and at city hall.
Cameras caught numerous examples of the Serbian police using excessive force, with several attacks on journalists also reported.
But the violence in Serbia has thrown the mainly pro-Serbian opposition parties in Montenegro off balance. On July 8, Democratic Front MP Marina Jocic insisted that the police in Belgrade had been abused by the protesters, claiming there was no police brutality.
The Front has strong political ties with Serbian President Aleksandar Vucic and his Serbian Progressive Party, SNS.
On June 25, Sakic was arrested with two opposition Democratic Front MPs and dozens of opposition supporters after violent protests rocked several towns in Montenegro.
Hundreds of people joined protests in Podgorica, Niksic, Bijelo Polje, Berane, Pljevlja, and Bar after an opposition mayor in the resort of Budva was arrested for refusing to hand over power despite losing control of the local assembly.
Activists and opposition politicians accused the police of breaching their powers during the arrests in Budva, after videos were published showing officers beating people in the streets even when they were not resisting arrest. Videos showed police kicking a man lying on the ground in Budva while another showed them kicking a young man even though he did not resist arrest.
Since January, there were several cases of arrests in Montenegro linked to posts on social networks. In separate cases, two Montenegrins and one Russian citizen were arrested for spreading fake news about the COVID-19 pandemic on social networks.
On April 9, police arrested an opposition Democratic Front activist for posting fake news about the health of President Milo Djukanovic, claiming he had the coronavirus. Radovan Rakocevic, from the town of Bijelo Polje, was put in custody for 72 hours for the offence of spreading panic.
Even before the COVID-19 outbreak became more serious in Montenegro, there were arrests for spreading panic about it. On March 13, the Basic Court ordered 30 days in custody for Milivoje Brkovic for posting a message on Facebook that said state officials were hiding the real number of people suffering from the coronavirus. The country confirmed its first two cases on March 17.