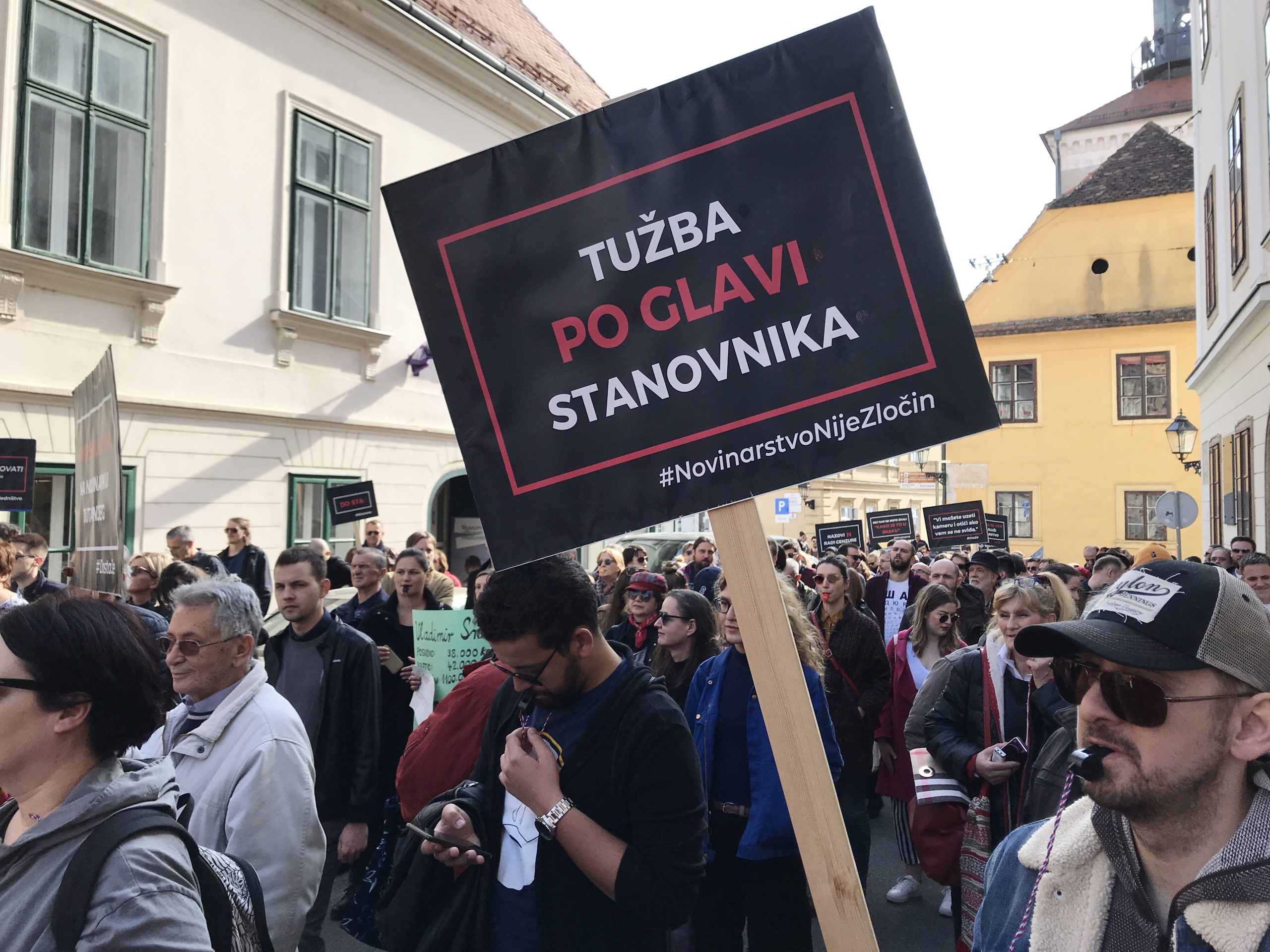 Leading media union says the number of lawsuits filed against Croatian journalists and publishers – aimed at censoring or intimidating critics – is still rising and points to 'judicial persecution of the media'.
At least 924 lawsuits against the media and journalists are active in Croatia, in which plaintiffs are demanding almost 78.5 million kunas in total, or some 10 million euros, which marks an increase in the number of lawsuits compared to last year, when the number was 905, the latest annual survey done by the Croatian Journalists' Association, HND, reveals.
Hrvoje Zovko, HND president, said on Friday that such numbers "show that the judicial persecution of the media and journalists in Croatia is still ongoing and that there is no end in sight".
He added "It is important to note that the actual number [of lawsuits] is higher because we received this data from only 23 media. We want to clearly warn the domestic and international public that lawsuits are the most common means of intimidating journalists and the media to give up serious investigative stories."
He said that what was also particularly worrying is that top state officials, "local sheriffs", and even judges are filing lawsuits.
HND reported that of the total number of 924 lawsuits, 892 are civil lawsuits for alleged violations of honour and reputation, conducted against publishers, editors and journalists for publishing texts and articles. The other 32 are criminal lawsuits.
The Hanza media group, to which the popular daily Jutarnji list belongs, reported 479 active court proceedings to the HND. Right behind is the Styria group, which publishes Vecernji list, with 203 lawsuits.
At least 924 lawsuits against journalists and the media currently active in #Croatia!
What is the Croatian government doing to protect #PressFreedom? https://t.co/nS9QzI0As0

— Ricardo Gutiérrez (@Molenews1) April 16, 2021
"Many of these proceedings involve SLAPP or Strategic Lawsuit Against Public Participation lawsuits, aimed at censoring, intimidating and silencing critics by burdening them with court proceedings – a serious and dangerous mechanism that threatens media freedom," HND said in a press release.
This is the third time that HND has carried out such research. Concerned about the number of lawsuits against the media, it asks local media outlets to inform them of the situation in their newsrooms.
According to the first HND's poll, in February 2019, which drew responses from 19 outlets, there were 1,163 active court cases in Croatia. Warning about the dangers of this practice, in March that year reporters and media outlets staged a protest in Zagreb.
Last year's data showed 905 such cases.
As BIRN reported, many governments in the region, in trying to control the pandemic narrative, adopted draconian tools, muzzling media, arresting critics and bombarding social media giants with requests to take down posts and shut down accounts.
In its November 2020 COVID and Free Speech report, the Council of Europe rights body cautioned that restrictions introduced during the pandemic could give rise to an increase in civil lawsuits, particularly defamation cases.