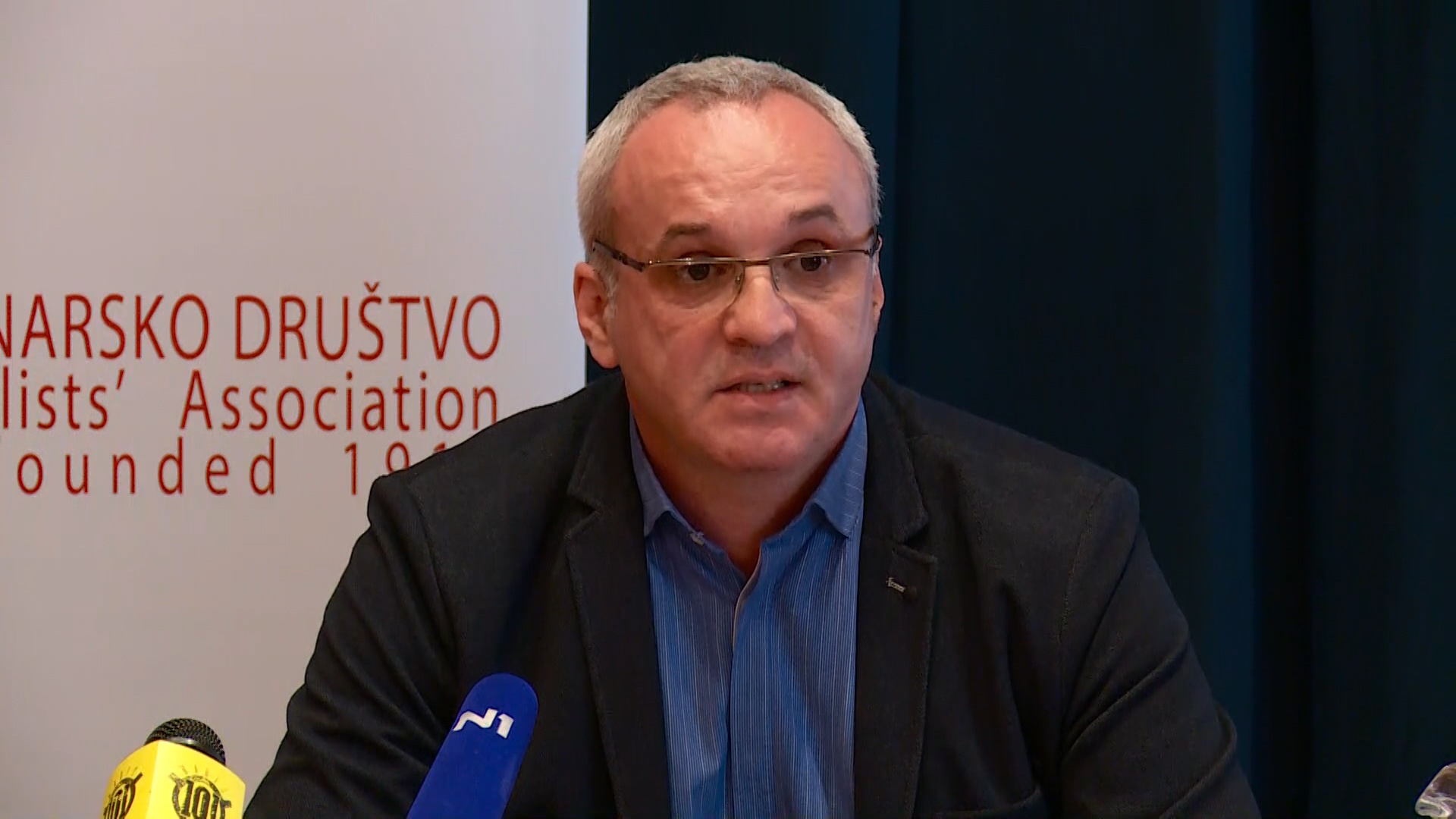 Longtime reporter and union leader Hrvoje Zovko says Croatia's national broadcaster HRT has dismissed him again because his outspokenness on censorship at the organisation angered the management.
The Croatian public broadcaster, HRT, confirmed on Tuesday that it had again sacked Hrvoje Zovko, a veteran reporter and president of the Croatian Journalists' Association, HND, for violent behaviour in the workplace. Zovko did not receive an official notice terminating his employment.
"At this stage, we do not know what is written [in the termination notice]. He only received information about the decision from a journalist who called him and said he had been fired and asked for a statement," his lawyer, Vanja Juric, told BIRN.
It was "quite clear that this is a continuation of [HRT's] abuse against him that has been going on since 2018," Juric continued.
HRT told HINA press agency that it had initiated dismissal procedures following "an anonymous report stating the inappropriate and unprofessional behaviour of Hrvoje Zovko towards one worker, a [woman] journalist, at work".
Zovko on Tuesday denied all wrongdoing: "History repeats itself, not only through the fact that I continue to be abused by the same false accusations as three years ago but also in the fact that, like last time, the whole public was informed of my dismissal before I was."
HRT sacked Zovko as a journalist and editor in September 2018, citing a "series of insults, misconduct, extremely inappropriate and unprofessional statements".
It was referring to a quarrel between him and Katarina Perisa Cakarun, editor of HRT's Information Media Service, which erupted after Zovko announced he would resign as executive editor of the HRT4 channel.
HND said then that it was convinced that the procedure and HRT's decision would not have happened had Zovko not been the HND President.
Zovko had annoyed his bosses by speaking out about the state of media freedom in Croatia and alleging censorship at HRT. The broadcaster later sued Zovko for damages, seeking 33,300 euros in compensation.
HRT told BIRN on that occasion that it had to seek legal redress because Zovko and others "untruthfully claimed that there is censorship within HRT, though they know that none exists".
After Zovko initiated a procedure against HRT following his 2018 dismissal, the Zagreb Municipal Labour Court ruled in 2019 that Zovko had been fired unlawfully. In August last year, the Rijeka County Court has upheld the 2019 ruling. In November last year, a court threw out a lawsuit ordering HRT to compensate Zovko for litigation costs of 2,580 euros.
Zovko returned to television after the court ruling, but now HRT has initiated a new procedure against him with similar accusations.
The Ministry of Culture and Media, commenting on his dismissal, said it condemned all forms of violence and abuse and advocated clearer procedures and equal treatment in all cases of suspected violence while adding that everyone must have the right to present a defence.
Zovko insists the accusations are untrue and that "from the behaviour of HRT, it is clear that it is not about the violations of my employment obligations, but about their desire for revenge".
In January, the weekly Nacional published a story about the alleged sexual harassment of a journalist by the HRT Business Director – but HRT said it had checked the claims and "established that the allegations were unfounded".
Both the HND and the Trade Union of Croatian Journalists, SNH, have said such investigations should be more serious. The SNH president and an HRT reporter, Maja Sever, said they had asked HRT to establish an anonymous reporting system that protects the victim – but the call was rejected.