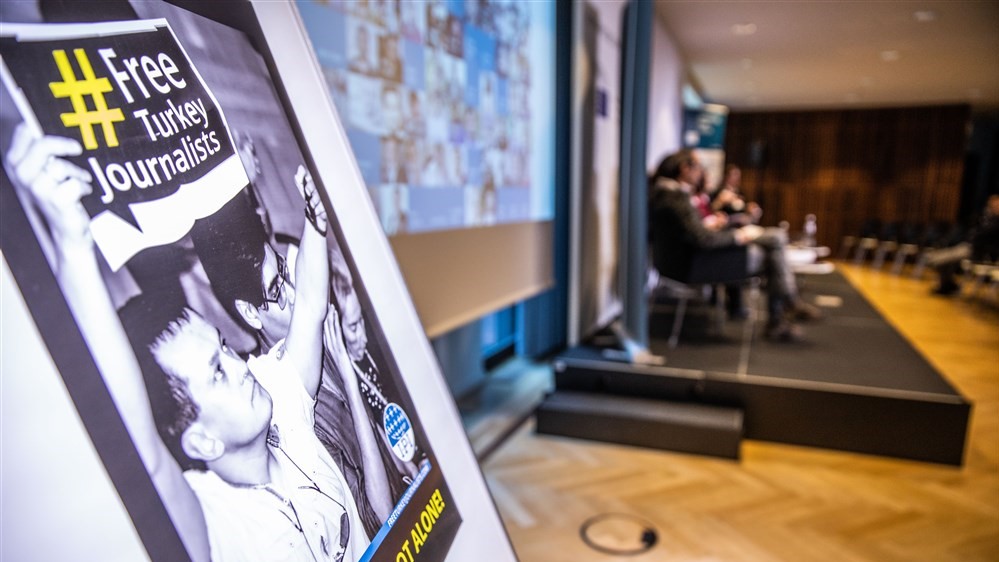 Media freedom violations continued to increase in central and south-east Europe in 2022 with increasing pressure from governments, threats of violence and defamation lawsuits, said a new report by Media Freedom Rapid Response.
There was an increase in media freedom violations last year including ten deaths of journalists – nine during the Russian invasion of Ukraine and one in Turkey, said the 2022 Monitoring Report published on Tuesday by Media Freedom Rapid Response, a project that monitors such violations in EU states and candidate countries.
"What we have observed in the past year was definitely a dark shadow cast over media freedom through the fog of war in Ukraine, resulting from full-scale Russian invasion, that also led to a steep increase in the number of violations reported on our Mapping Media Freedom database, including the unfortunate loss of nine lives in the country," Gurkan Ozturan, Media Freedom Rapid Response coordinator at the European Centre for Press and Media Freedom, told BIRN.
Ozturan said that across Europe there were widespread online attacks as well as legal harassment of journalists, while reporters also faced problems when covering environmental issues.
The report said that Media Freedom Rapid Response registered 813 'alerts' last years – incidents that affects at least 1,339 journalists, media workers or outlets.
"Almost half of these alerts originating in the [EU] candidate countries which shows that there is room for improvement in this field. It is crucial to underline the fact that an independent, pluralistic media atmosphere is the basis of our rights," Ozturan said.
Turkey was the worst EU candidate country for media rights violations, according to the report.
"2022 was another devastating year for press freedom in Turkey, as systemic repression of independent media continued. Mapping Media Freedom, MapMF recorded a total of 167 press freedom violations in Turkey, involving 362 persons or media entities," the report said.
"Turkey continues to be one of the biggest jailers of journalists in the world. At the time of publishing, 41 journalists were imprisoned," it added.
In Serbia, "the toxic environment" in which journalists have to work remains a concern, according to the report.
"Constantly fuelled by politicians and other media outlets, the labelling of journalists as 'traitors' or 'enemies of the state' encourages and legitimises additional intimidation from the public," the report said.
Media Freedom Rapid Response recorded 41 alerts for Serbia involving 60 journalists or media outlets.
In Albania, "physical violence and verbal attacks on journalists were the gravest threats to press freedom in Albania in 2022", the report said adding that 17 alerts involving 30 victims were recorded.
"Especially worrying was the number of incidents of police violence towards journalists, which was linked to seven out of the 17 violations (41 per cent) recorded on MapMF," the report said.
It also highlighted what is said was Prime Minister Edi Rama's worrying rhetoric about journalists.
Concerns were expressed about the situation in some EU countries in central and south-east Europe.
The report said that in Hungary, the ruling Fidesz party of Prime Minister Viktor Orban has overseen a systematic erosion of media pluralism over the past decade and used pandemic restrictions to hinder independent journalism.
"Media freedom and pluralism in Hungary remained highly challenging in 2022. While MapMF recorded a total of 11 press freedom violations involving 13 targets, these alone do not capture the wider and systemic challenges facing independent media. Over half (54.5 per cent) of the documented cases were legal incidents (six alerts)," the report said.
It recorded 21 alerts involving 28 victims in Poland.
"Legal threats to journalists remained a grave concern in Poland in 2022, accounting for nearly half (42.9 per cent) of the press freedom violations on MapMF registered in the country. Journalists were threatened with defamation lawsuits, and in three cases the lawsuits led to convictions," the report said.
The report described the media environment in Greece in 2022 as worrying too.
"Press freedom in Greece continued its marked deterioration in 2022 amid a sprawling spyware scandal as well as several serious criminal charges and violent attacks on journalists. MapMF recorded a total of 42 violations involving 63 persons or entities related to media. The safety of journalists remained a serious concern after multiple physical attacks," it said.