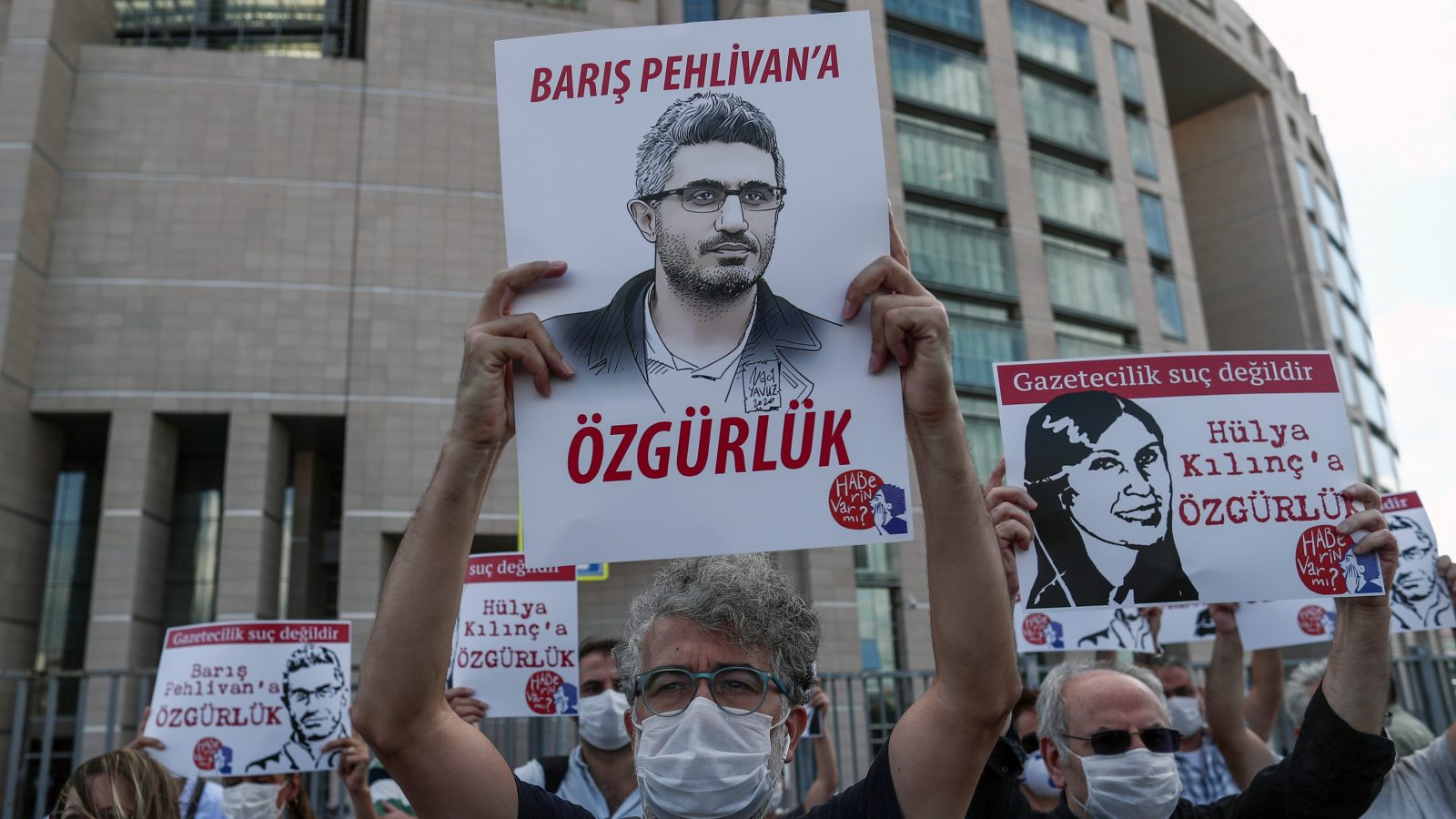 An Istanbul court has released 3 journalists who were arrested for revealing information about an intelligence officer killed in Libya.
A Turkish court in Istanbul on Wednesday set jail sentences of three to four years for five journalists who reported on the funeral of a Turkish intelligence agent killed in Libya.
However, the same court released three of them, Baris Pehlivan, Hulya Kilinc and Murat Agirel, after taking into account that they had spent more than six months in prison already.
These three were the only remaining ones from the group still in prison. The others in the case were previously released in June.
"There was no guilt in this case. The government aimed to end our journalistic lives. We will continue our journalism as we did before," Pehlivan said defiantly on Thursday after his release.
Prosecutors in Istanbul previously launched an investigation against the journalists for exposing the identity of a field officer with the National Intelligence Agency, MIT, who had served and died in Libya, where Turkey is supporting the Tripoli government against a rival faction.
Prosecutors said the journalists had revealed important information on intelligence activities and documents, and had put intelligence officers' families and colleagues in danger.
However, lawmakers in Turkey's parliament had already revealed the name of the MIT agent.
The journalists arrested in February were known to be critical of the government of President Recep Tayyip Erdogan.
The Istanbul court acquitted the journalists of charges of "revealing information about the state's security and political interest" but found five of them guilty of "exposing information and documents that were obtained by intelligence activities".
Aydın Keser, editor of Yeni Yasam daily newspaper, its executive editor Mehmet Ferhat Celik and Murat Agirel were sentenced to four years and eight months each.
Baris Pehlivan and Hulya Kilinc were sentenced to three years and nine months. Oda TV news director Baris Terkoglu and municipal press officer Eren Ekinci were acquitted. Another journalist from Birgun newspaper, Erk Acarer, had his case separated from the main case.
Human rights groups and opposition parties had called on the Turkish government to release the journalists.
The country is now one of worst jailers of journalists in the world. According to the Journalists' Union of Turkey, 72 journalists and media workers are currently behind bars. Media watchdog Reporters without Borders ranks Turkey in 154th place out of 180 countries on its Press Freedom Index.
Since a failed coup in 2016, the authorities have closed 70 newspapers, 20 magazines, 34 radio stations and 33 television channels as part of a brutal crackdown on critics.