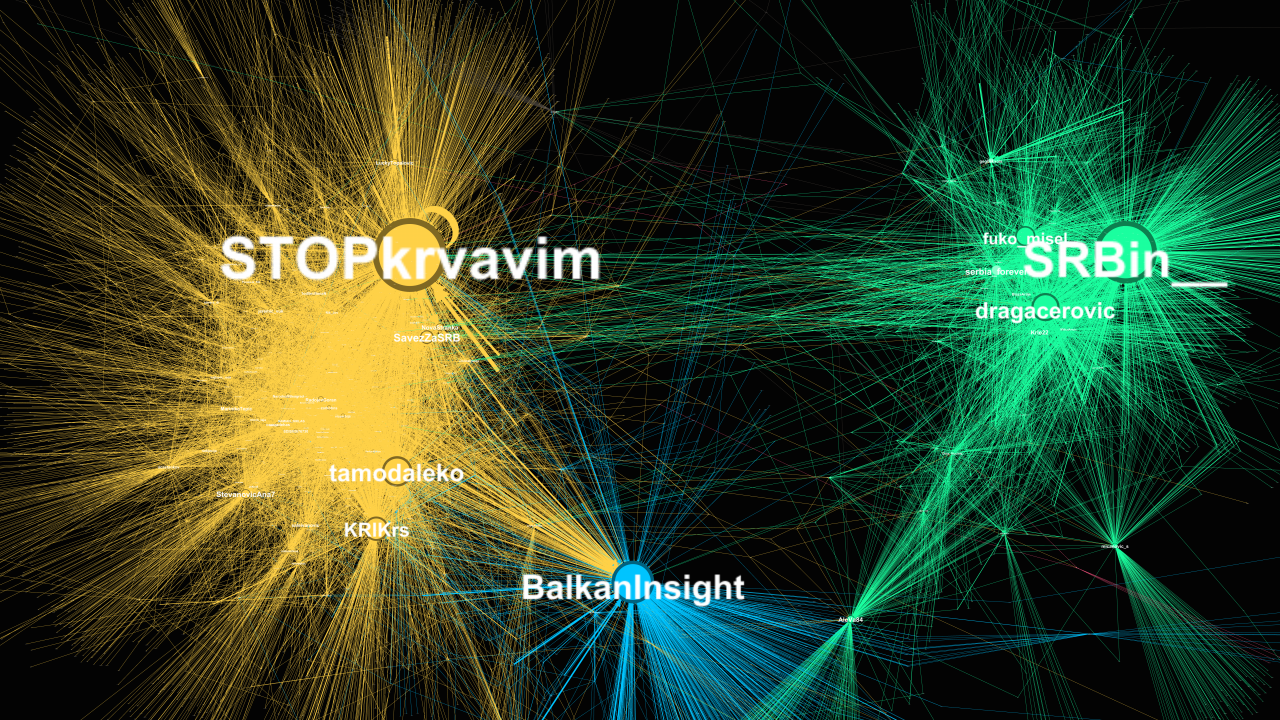 An analysis of tweets about the recent anti-government protests in Serbia show that the tweeting community is just as divided as the rest of society.
As anti-government protests continue in Serbia – and as the mainstream media mostly follows the government line – Twitter has become a significant battlefield where it's still possible to freely exchange opinions.
With that in mind, Milos Resimic, a Ph.D. candidate at Central European University and a consultant at Government Transparency Institute, has collected 10-20,000 tweets after each week and has analyzed the structure of the network.
The weekly anti-government protests started on December 8, 2018. On March 16, citizens stormed the building of the Serbian national broadcaster RTS , and were forcefully expelled by police.
Resimic's analysis of last weekend's protests, which turned violent, showed that while the Twitter community focused on the same topic, there was little if any conversation between the opposed groups.
It revealed a clear polarization and the lack of communication between the pro-government users, shown above in green, and the anti-government communities, shown in yellow.
The anti-government community is bigger, more inter-connected and diverse than the pro-government community as reflected in Resimic interactive graph.
"We can notice that opposition politicians and the accounts of opposition parties are important for information diffusion in the anti-government community. This community is diverse and highly inter-connected. This is completely different from the pro-government community, which is highly centralized around two or three users," he explained.
This motivated Resimic to look in more detail at the pro-government users, so he scraped 6,000 tweets of 30 randomly selected users. The resulting network was almost entirely based on retweets – 98.6 percent – which he said indicates bot-like behavior.
Resimic also highlighted that some independent media, including Balkan Insight, are also visible in the network.
"Balkan Insight forms a separate cluster (blue), and their reports about the protests tend to be retweeted the most by their own cluster (mostly non-Serbian speaking audience), but also by the anti-government cluster and to a lesser extent by the pro-government cluster," he said.
"Prominent, especially in the last protest network, is KRIK, which was praised in the online community for its professional coverage of the protest," he concluded, referring to the investigative journalism network.