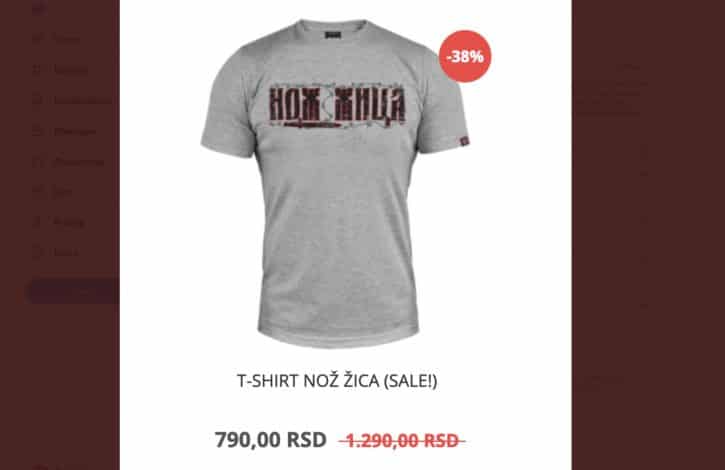 The Serbian authorities banned a Belgrade-based online shop from selling shirts with a slogan that celebrates the mass killings of Bosniaks from Srebrenica in 1995.
Serbia's Market Inspectorate on Friday banned the Belgrade-based 011 Shop from selling and advertising sweatshirts and T-shirts with a slogan praising the 1995 Srebrenica massacres, which its website had been promoting online.
The Trade Ministry said that a criminal complaint had also been filed to the Serbian prosecution accusing the company of "the advertising of products that incite national, religious and racial hatred".
The garments featured the slogan "Noz, Zica" ("Knife, Wire") – a reference to a popular Serbian football hooligan chant at matches, "Knife, Wire, Srebrenica", which celebrates the mass killings of Bosniaks by Bosnian Serb forces in July 1995.
"The advertising and sale of such products not only violates the law on advertising and the criminal code, but is in direct conflict with the constitution of Serbia, because it encourages the incitement of national, religious and racial hatred, which is explicitly prohibited," said the secretary of state at the Trade Ministry, Uros Kandic.
Kandic said that a criminal complaint against the online retailer had been filed to the Prosecutor's Office for High-Tech Crime.
Shop 011 apologised for the incident on its Facebook page, claiming that the message on the garments had been "misinterpreted" and "taken out of context", and that they had been withdrawn from sale.
"It was not our intention to spread any kind of hatred or bigotry towards anyone," the shop's statement said.
Its website, registered to the Belgrade-based company Souvenir Shop, went offline on Friday morning.
Shop 011 advertises its garments as "Serbian street wear" for men, women and children. Some items also celebrate the Serbian nationalist Chetnik Movement and its World War II-era leader Dragoljub Mihajlovic, as well as notorious 1990s paramilitary leader Zeljko Raznatovic, alias Arkan.
The company also has retail shops at locations in Belgrade.
Bosnian Serb forces killed some 8,000 Bosniak men and boys after seizing the town of Srebrenica in eastern Bosnia in July 1995, in a series of massacres that international courts have classified as genocide.