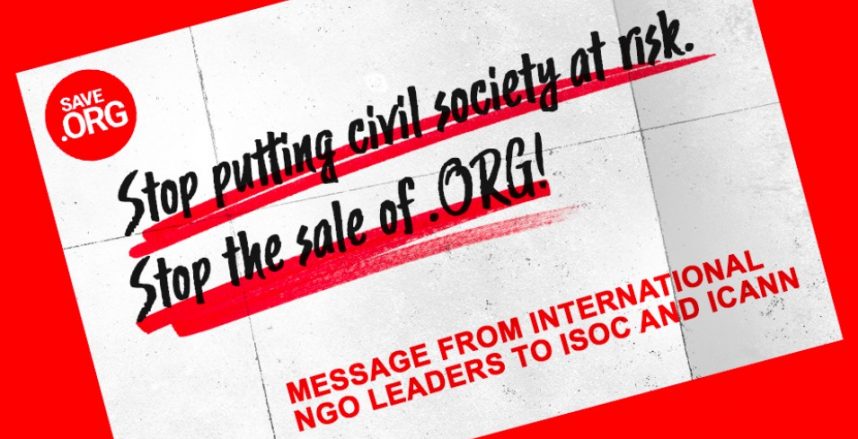 Executive directors of 11 international NGOs released an open letter calling on the leaders of Internet Society (ISOC) and Internet Corporation for Assigned Names and Numbers (ICANN) to stop the sale of the .ORG top-level domain to private equity firm Ethos Capital. 
".ORG is the place where civil society and NGOs reside in the digital environment. Both the physical and virtual world have become increasingly inhospitable and risky for civil society organizations who face constant surveillance, online censorship, and even more physical risks and legal restrictions on their operations and personnel. This proposed sale presents an additional danger to civil society and undermines the safety and stability of the digital space for countless non-governmental organizations, their partners, and their broader communities," the letter reads.
Signers include the directors of Greenpeace International, Human Rights Watch, International Trade Union Confederation, Amnesty International, 350.org, Transparency International, Access Now, Sierra Club, American Civil Liberties Union (ACLU), Consumer Reports, and Color of Change. The letter is being officially released in Davos at the World Economic Forum, where global business, government, and social leaders are gathered to discuss priorities for 2020 and beyond.
"Free expression around the world is increasingly endangered by government and corporate players, which is why we are joining other civil society organizations in making public our concerns over the .ORG sale," said Anthony D. Romero, Executive Director of the American Civil Liberties Union (ACLU). "The internet is crucial to the integrity of civil liberties and human rights work, and also the safety of those doing it. The security of civil society should not be entrusted to private equity."
"Even more so than what .ORG would look like in the next five years, I'm deeply worried about its fate in 2040," said Brett Solomon, Executive Director of Access Now. "If .ORG is transferred to the private sector, it would inevitably make its way into the hands of those who stand to gain from its control and are willing the pay the price to have it — that could be, for example, the Saudi or Chinese government, or surveillance tech investors like Novalpina Capital."
There has been a resounding rejection of the sale from the .ORG community and other concerned stakeholders around the world, in particular due to the lack of transparency around the deal and the absence of safeguards for the domain's continued stability, security, and accessibility. Nearly 700 organizations and over 20,000 individuals have signed on to the SaveDotOrg petition calling to stop the sale.