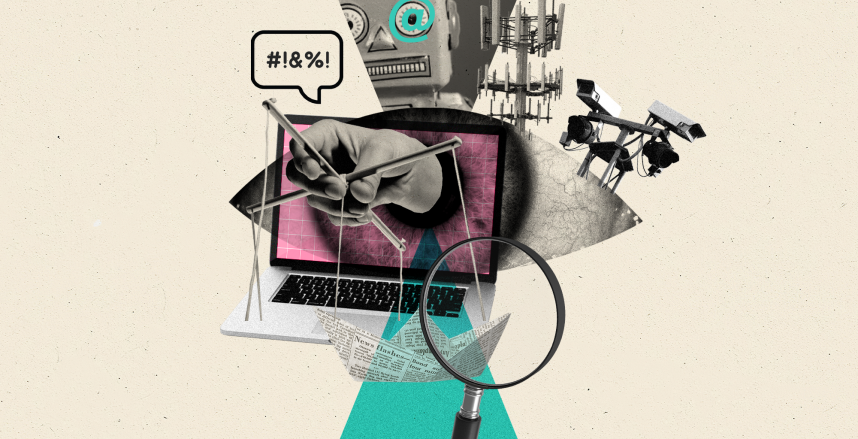 Political changes and unresolved domestic issues drive the emergence of new (and old) digital rights violations.
The violations recorded in the second half of October show that routine digital violations are not disappearing. Hate speech, discrimination and war-mongering flourish in Bosnia's digital environment, and, following the introduction of a new decree by the President of the Serb-led entity, Republika Srpska, digital violations have accelerated further.
Local elections in Hungary and North Macedonia, where ruling parties suffered setbacks, also caused a rise in violations, triggered by a climate of political antagonism.
Finally, in Serbia and Romania, the presence of unsolved issues at home resulted in the resurgence of the one and the same violations.
Hate Speech and War-mongering Rhetoric Poison Bosnia
With 45 violations recorded in our database out of a total of 101 cases between August 1, 2020, and August 31, 2021, hate speech and discrimination remain the most widespread form of violation in the Bosnian digital environment.
Following recent developments, including the entry into force of a presidential decree from Zeljka Cvijanovic, head of Bosnia's Serb-dominated entity, Republika Srpska, aimed at not complying with a state law banning the denial of genocide and war crimes, there has been a further acceleration in hate speech and war-mongering rhetoric in the country.
Two hate speech and warmongering incidents were recorded in the second half of October. After the release of a video on Twitter on October 22 from the online news outlet Istraga, several comments inciting ethnic hatred and war propaganda showed up. Footage had showed Dragan Lukač, RS Minister of Interior, with members of the RS special forces doing exercises in Jahorina.
The second case involved Muhamed Velic, a Muslim cleric in Sarajevo, who called for war on his Facebook page, garnering 2,200 likes and 60 shares. The post, published on October 16 and later removed, said: "Ammunition in Konjic and Gorazde! Howitzers in Travnik! RPGs in Hadžići! Etc. Trust yourself and your hooves! They know that this is not a joke and that Bosnian might is not a small cat!" The message, which was then shared on Twitter by Bosnia's consul in Frankfurt, Admir Atović, forced the country's Foreign Ministry to intervene and seek urgent clarifications from him.
Hungarian Opposition Primaries Prompt Flow of Digital Violations
The 2021 Hungarian opposition primary, held in two rounds between September 18 and October 16, featured a harsh political confrontation between opposition candidates and the ruling Fidesz party. The stakes were high: to choose the challenger against Prime Minister Viktor Orbán in next year's parliamentary elections. After the second round of the primary, voters elected Peter Marki-Zay, the conservative mayor of Hódmezővásárhely, to lead the opposition into the 2022 parliamentary election.
Before and during the primaries, a series of cyberattacks were carried out. The opposition asked Ferenc Frész, a senior cyber defence expert, to investigate the causes and origins of these DDoS attacks. The aftermath of the election after the second round was also a breeding ground for online violations. Three independent media outlets were attacked on announcing the primary election results. The pro-government website, Origo, was also repeatedly hit by DDoS attacks between October 22 and 24, making the site inaccessible. Internal investigations suggested that unknown individuals externally attacked the website. In the final days of the primaries, strange advertisements, apparently promoting the main opposition candidate, appeared in the news feeds of several Hungarian Facebook users, claiming that Márki-Zay was building a "new Fidesz" party. The messages quoted and distorted many of his statements on subjects like the corporal punishment of children.
Another incident recorded in our database involved the temporary suspension and unavailability of Valasz.hu, a website storing the complete archive of Heti Válasz, a conservative weekly established by Fidesz in 2001 and shut down in June 2018, after Lajos Simicska, a business magnate close to Orban, bought its publisher. As reported earlier by BIRN, Hungary remains a critical country in terms of the role of genuinely independent media. Members of Orban's closest circle now own almost 88 media outlets.
Interference in North Macedonia's Election Alleged, COVID Certificates Hacked
In the second half of October, political confrontation worsened in North Macedonia following two rounds of local elections on October 17 and 31. As Balkan Insight reported, the elections were of crucial significance, as the opposition VMRO-DPMNE party, for the first time since 2017, re-established itself as the dominant political force, also declaring that it now had the strength in parliament to lead a government.
On October 24, Stevcho Jakimovski, leader of the Citizen Option for Macedonia Party GROM and a candidate in the local elections for the municipality of Karpos, claimed that Chinese troll farms targeted his Facebook profile. He called on political rivals to behave ethically and not engage in such campaigns during the election. GROM, in coalition with VMRO-DPMNE at national level, ran alone in the Karpos mayoral race. On October 29, as our new focus page on COVID-19 Crisis and Tech Response reported, the Ministry of Health withdrew its EU digital certificates and QR codes, following a hacker attack.
Users of a forum said the hackers, who broke into the system and started issuing QR codes, using data from Macedonian citizens, penetrated the unprotected Macedonian server, from where they managed to get the key to the codes. IT.mk, a Macedonian information technology portal, showed how easy it was to bypass the national health system and has shared several posts of Twitter users with valid certificates, issued for Adolf Hitler, Sponge Bob and other dead or fictitious characters.
COVID-19 Fake News and Online Harassment Persist in Romania
Following a global trend, Romania's digital environment is experiencing a rise in fake news, misinformation, and other manipulative content on the COVID-19 pandemic. Romania's online space also continued to record a high number of episodes of misogyny towards women, especially those working in education. For instance, on January 6, a former presidential candidate and TikTok influencer, Alexandru Cumpanasu, was arrested for sending comments of a sexual nature, and instigating hatred and discrimination, against teachers and professors. Some violations that occurred in October confirm this trend in Romania's digital environment.
On October 19, Piatra Neamț County Police opened a criminal investigation into the spread of false information after a woman streamed herself on Facebook in front of a critical care ward, where COVID patients were being treated in Piatra Neamț, north-east Romania. The woman, filming from a distance, claimed that "there is no one" inside the clinic, suggesting the pandemic was fiction. The video also became known thanks to a Facebook post of Oana Gheorghiu, cofounder of the NGO Dăruiește Viață, who immediately reported the incident.
A second case concerned Florentina Golea, a schoolteacher who was harassed after posting photos on Facebook while teaching a class of 12-year-old girls on the importance of vaccination. On October 5, RO vaccinare, the official page of the National Committee for Vaccination, promoting the vaccination campaign in Romania, shared photos from the teacher's profile on Facebook. After that, the teacher received hundreds of insulting comments via Facebook, from "profiteer" and "be ashamed" to "monster" and "criminal". The teacher also received death threats from people who claimed to know where she lived and the address of her school in Tecuci, in Galați County. Sorin Cîmpeanu, Minister of Education, announced that he would support the teacher if she sued those who had harassed her on Facebook.
COVID-19 Manipulation and Threats to Journalists in Serbia
Manipulation, conspiracy theories and other fake news have spread fast in Serbia's online environment, where most cases still seem to be linked to the COVID pandemic.
Recently, a case was uncovered where some citizens were wrongly prescribed anti-parasite treatment for COVID via a Viber group. At the same time, alarmingly, Serbia stands out as one of the countries with the most attacks on independent journalists. Between August 1, 2020, and August 31, 2021, 30 out of a total of 111 such cases targeted journalists. BIRN editor and investigative journalist Ivana Jeremić was threatened by a Twitter user last December 2.
The latest cases recorded by our monitoring team confirm this trend in the Serbian digital space.
On October 10, after Serbian virologist Ana Banko stated on Radio Television of Serbia RTS that vaccinated citizens can transmit the Delta strain of the coronavirus, part of her statement was spread on social media with the intention of manipulating her words. The video shared by many users, together with the title, took the sentence out of context, leading readers to the wrong conclusion. The virologist was answering a series of questions on a talk show, and her intention was not to diminish the effects of the vaccine but only to emphasize the speed of transmission of the new Delta variant.
On October 21, meanwhile, online threats targeted two Serbian journalists, Jovana Gligorijević and Snežana Čongradin, the historian Dubravka Stojanović and the literary critic, Jelena Lalatović.
The threats, which have been condemned by the Independent Association of Journalists of Serbia, were misogynistic and anti-feminist, and were posted from an anonymous Twitter account. This is not the first-time threats have been sent from this account. A year ago, the journalist Vesna Mališić was also threatened by the same profile, which called for a lynch and her murder.