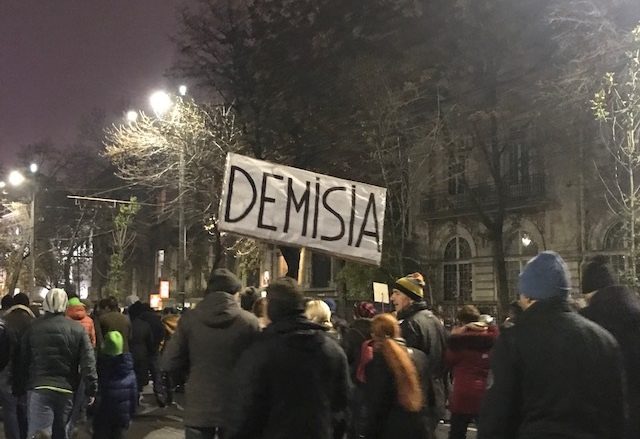 Activists opposed to the government's planned justice laws have vowed to continue protesting – despite what they believe was an organized campaign to block their Facebook accounts.
Mihai Sora, a well-known Romanian writer and philosopher, marched last Sunday in his Transylvanian town of Alba Iulia alongside hundreds of others who took to the streets that day against the push by the ruling Social Democrat-led coalition to adopt laws that threatens years of anti-corruption efforts.
Over 45,000 people across Romania did the same, with 25,000 marching in the capital, Bucharest, alone.
Sora, who is 101, is one of Romania's most followed celebrities on Facebook whose posts get thousands of shares.
A picture of him at Sunday's march made headlines in Romania, while on Tuesday he announced on Facebook that he had been "reported."
Sora experienced what scores of activists, protesters and social media users who supported the demonstrations and posted videos from the protests also encountered this week.
Access to their accounts was blocked suddenly by Facebook, after what they believe were attempts by government supporters to harass them by reporting their accounts as spam generators.
"I have been reported (it seems this is the right word for it). In other times, under different rulers, there was snitching – very lucrative for some and, in any case, meant to keep under control any strand of hair with rebel tendencies; in the last years of Ceausescu's regime it became a reflex for many people," Sora wrote on his page on Tuesday.
"I had to live, it seems, in order to see and understand new technologies, starting with Facebook," he concluded.
The writer said that he had since sent a canned copy of his ID "somewhere into the ether" and his account was unblocked.
An algorithm error:
A Facebook spokesperson told BIRN on Tuesday that "a number of pages were temporarily blocked due to an error in our automated systems.
"As soon as this was brought to our attention, we disabled those blocks. We apologize for any inconvenience caused by these pages being unavailable for a few hours," the spokesperson added, without explaining what the error was.
Mihaela Pana, journalist and founder of Cyber Media website, told BIRN that the "error in the automated systems" means the algorithm used by Facebook simply did what it was told to do following a series of complaints filed against those accounts.
"This is the dark side of using algorithms," she explained. "If some people use the online to do good, others abuse the algorithm system and act like anonymous vigilantes, trolling whatever they see fit," she added.
Such vigilantes can serve whatever interest is there. This trend did not only apply to Facebook, she said.
"Yesterday, I spent a whole day finding a series of Russia-based bots on Twitter, mimicking Romanian names. It's really difficult to quantify this phenomenon, to find these accounts and see what interests they serve," she pointed out. "Basically, there is no safe medium out there."
However, she says people can be taught better how to protect themselves.
What happened with the accounts of the Romanian activists shows there is still a need for people to understand how to protect themselves from abuse: either to compartmentalize their online activity, with separate accounts for personal and professional purposes, or simply to anonymize their personal life.
Resilient protesters:
Some activists whose accounts were blocked responded immediately by setting up fan pages with several administrators, so that if their accounts were blocked again, they would still be able to post on their pages.
Oana Dobre Dimofte, a former journalist and supporter of the protests, was one of many who then set up a fan page "just in case."
"We're interested in whether it was an orchestrated move or not," she told BIRN about the blocking phenomenon.
She knows Facebook cannot say that by looking at an algorithm, "but we are convinced it was a political move because certain accounts were targeted," she added.
To avoid renewed protests in Bucharest's Victoriei Square, in front of the government headquarters, the Bucharest city council, also dominated by the Social Democrats, on Tuesday decided to set up a second Christmas fair in the square from December 2 to December 20.
An amusement park has already been set up in front of the parliament building in central Bucharest.
The Ministry of Interior on Wednesday said it was also investigating protesters who allegedly assaulted police on horseback at Sunday's protests, blinding the animals with flashlights.
But Dobre says that neither online trolling nor measures taken by the authorities would stop the protesters from taking to the streets again.
"They made us get out of our houses at midnight [on January 31, when the government issued a decree pardoning corruption offences] and we took to the streets," she recalled.
"They sent people with Molotov cocktails against us and we came back again; they threatened us with child protection legislation because we took children to the protests, and we continued to take them with us; do they think we're going to be scared of some mulled wine?" she asked.
Social Democrat politicians BIRN tried to contact to refused to comment.
Another protest against the government, meanwhile, is scheduled for Friday December 1.