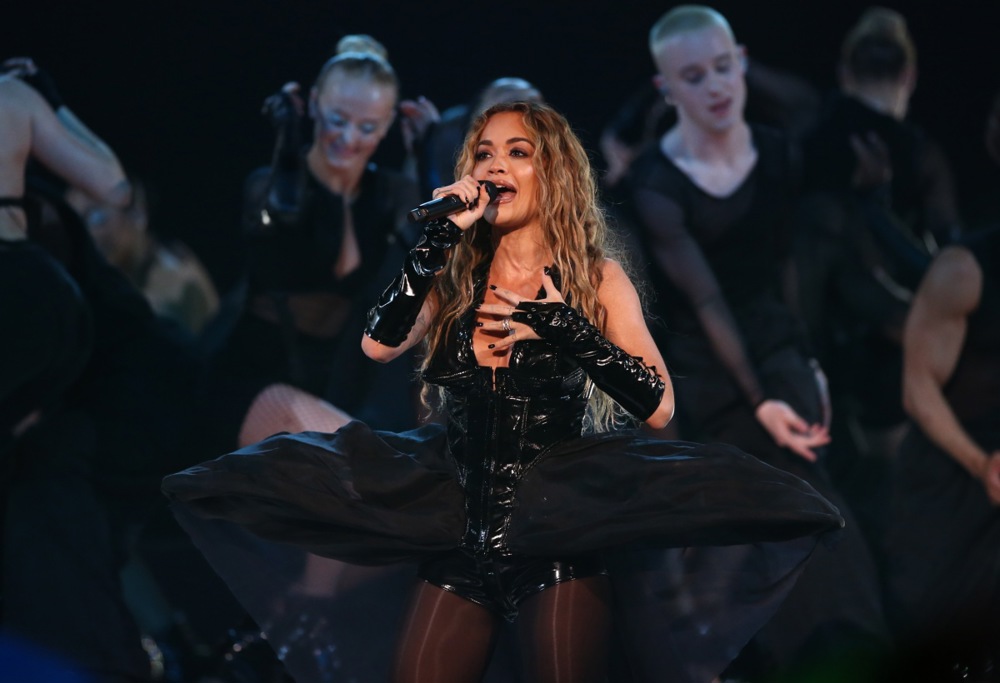 Kosovo-born UK singer Rita Ora is facing a smear campaign and online gender-based hate speech on social media over a video showing her accidentally clutching a Serbian flag at Hungary's SZIN Festival.
BIRN has observed social media over the past two days and has identified multiple digital rights violations in social media comments on singer Rita Ora's performance at the SZIN Festival in Hungary, where she was captured dancing on stage inadvertently holding a Serbian flag.
During her performance at the festival, a fan threw a Serbian flag onto the stage. Amid the bright lights and energetic performance, she briefly waved the flag before continuing her act.
In a statement to Kosovo's online media, Ora clarified that the flag was given to her by a fan, and she was unaware of its origins due to stage lighting.
She said: "I could not clearly see which country the flag represented. As soon as I left the stage, I realised that it was a Serbian flag, not a Hungarian one." She emphasised her pride as a Kosovar Albanian and clarified that disrespecting her heritage or upsetting her people was not her intention.
However, the gesture, borne out of the heat of the moment, still generated a cascade of reactions in both Albania and Croatia. While some rallied behind Ora, acknowledging that mistakes can occur in the dynamic world of live performances, others accused the singer of disregarding her Kosovo-Albanian roots.
Former Kosovo ambassador to the US Vlora Çitaku commended her role in promoting Kosovo internationally, emphasising her efforts in situations where diplomatic channels have faced hurdles.
However, under a tweet from kos_data, many users commented with insults and scepticism. Some reacted with humour, while others referenced a song by rapper A$AP Rocky that mentioned Rita Ora, questioning if it caused any discomfort within her family.
Certain users expressed confusion or dismissal, using phrases like "Oopsie daisy" and "Lame excuse". Others asked whether the act could be seen as disrespectful to her heritage. There were also comments reflecting national pride and support, with one user celebrating the action and another pointing out her popularity in Serbia.
On Facebook and TikTok, numerous posts used derogatory terms, however, such as "whore". One wrote on Facebook: "What you see is Rita Ora, the ambassador of Kosovo, waving the Serbian flag at the concert held last night in Hungary! I want [Kosovo PM] Albin Kurti to take measures immediately and dismiss her from any symbolic or official function to represent the state of Kosovo, as this is stepping on the thousands of killed, raped, disappeared, on our collective memory".
Many commenters stated that Kosovo only seems to support individuals like her and gays, questioning the government's priorities. Other insults attempted to tie Ora's motivation to money, therefore seeing these acts as "not surprising". There were other calls for her to be stripped of her title as the symbolic ambassador of the Republic of Kosovo.
Albanian, Croatian, online realm on fire
The online realm in Albania has been set ablaze following the circulation of a video by online media outlet JOQ on their official Instagram page. Dozens of individuals have taken to social media, with some resorting to offensive language and accusations directed.
Among the comments, some assert that she has forgotten her origins and made a grave mistake, even branding her as a traitor. Others suggest that Ora might not have been able to recognise the flag's origin amidst the performance's dynamics.
The incident has reverberated strongly in Croatia as well, as reported by the online media Index and 24sata. Her swift apology for unintentionally holding the Serbian flag found receptive ears among her Hungarian supporters. But the online response from Croatia has been more critical, with derogatory comments and harsh accusations on Twitter.
While some comments seemed to question her intelligence or motives, others veered into inappropriate and unrelated territory.
Some comments read: "Intelligence at Its Best", "You can tell by her face how she recognizes flags", "I'd like an intimate encounter with Rita Ora and Dua Lipa", "Idiot", and: "When money and popularity are at stake, flags and nations no longer matter."