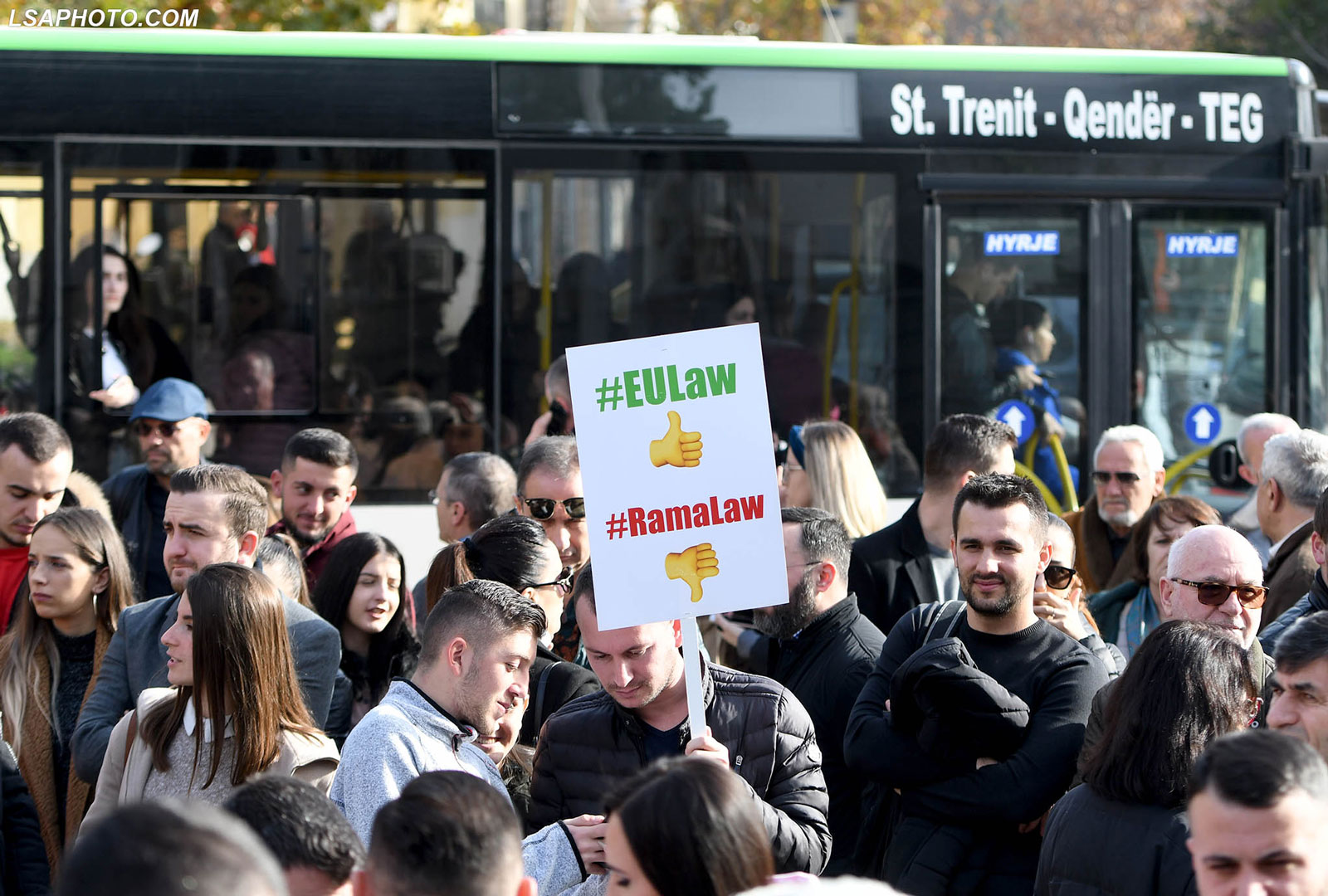 Six international rights organisations have condemned a new 'Media and Information Agency' that PM Edi Rama aims to create to handle government public relations – which critics say will act as a 'Ministry of Propaganda'.
Six organisations partnered under the Media Freedom Rapid Response group called on the government of Edi Rama in Albania to abandon plans to create a Media and Information Agency while urging the European Union to include the issue in future talks on membership.
ARTICLE 19, European Centre for Press and Media Freedom, ECPMF, International Press Institute, IPI, OBC Transeuropa, OBCT, European Federation of Journalists (EFJ) and Free Press Unlimited (FPU) said an already difficult situation for Albania journalists would likely deteriorate further and government influence on the flow of information would solidity if plans for the agency go forward.
"The undersigned partners of Media Freedom Rapid Response today express serious concern over a new Media and Information Agency (MIA) established by the government of Prime Minister Edi Rama in Albania and urge the ruling Socialist Party to immediately cancel the establishment to ensure it will not be used to further solidify control over the flow of public information," the letter reads.
"We also urge the European Union to immediately engage with the Albanian government to raise these concerns as a matter of priority in future accession talks," it adds.
Plans for the agency were announced on 20 September. According to it, the spokesperson of the government will "will be at the same level as that of a state minister" and will hire and fire spokespersons of all state institutions and will also produce "audiovisual or press information" to be distributed for free and also "observe media and mass communication tools, to take note of the perception and views of the public towards the activities of [government] institutions and the public administration".
Albanian media dubbed the agency "a ministry of propaganda" and a "ministry of truth", though the government claims it has borrowed the model from German and Italian governments, which, according to it, have similar structures.
"Our organisations share the concerns expressed by various leading editors-in-chief, civil society groups and media unions in Albania that rather than improve journalists' access to public information, the establishment of the MIA may result in the exact opposite," the letter by the rights organisations reads.
"Context is vital here," it adds. "Journalists in Albania currently work in an extremely difficult climate for accessing information from government sources. The government communicates with journalists via WhatsApp groups instead of using official communication channels. Reporters working for independent media are regularly discriminated against when seeking information or comment from ministers. Journalists viewed as representing 'opposition' outlets are denied accreditation or barred from asking questions at press conferences," it continues.
They also see the agency's role of "observing mass communication means" as a problem that "sets alarm bells ringing".
"Following major revelations about the collection of citizen's data by political parties via state institutions, the notion of tax-payer money being used to fund the monitoring of the press and social media by a government agency sets alarm bells ringing," the letter reads.
Following the outcry from local rights organisations and journalists, the government has not yet moved to establish the agency and has not appointed a director, although it is widely expected that PM Edi Rama's current spokesperson, Endri Fuga, will hold the position.
Rama has a poor record in terms of building independent institutions. Last June, he defied explicit requests by the European Commission to not appoint Armela Krasniqi, a close collaborator and former party spokesperson, as chairman of the Audiovisual Media Authority, an agency that should be politically independent.
"In the longer term, this agency ultimately risks being a powerful tool for any government, current or future, to control the flow of public information to the media and to influence what citizens read, hear and watch. The role of journalists is to act as a filter between government and citizens. Limiting their ability to do so by constraining opportunities to question officials and side-lining critical journalists severely limits the ability of the press to do its job and hold power to account," the letter reads.