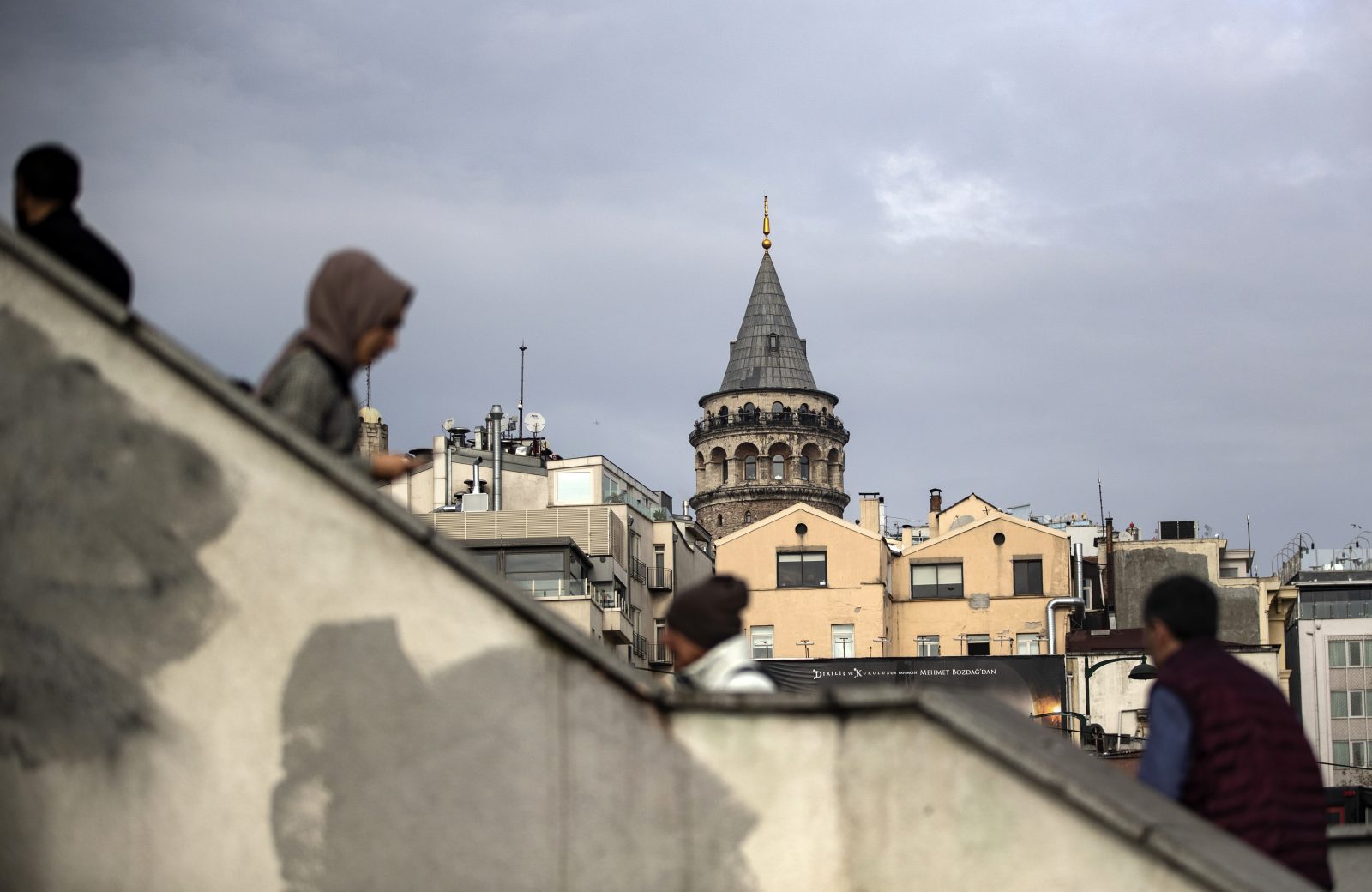 Turkey's economy has been in crisis since 2016. But some economists say official statistics do not tell the whole story.
The Turkish Statistical Agency, TurkStat, and the Finance Ministry under President Recep Tayyip Erdogan's son-in-law, Berat Albayrak, are in charge of the data, "but the way the data is gathered and analysed is becoming very suspicious," said Gerek.
Lessons from Greece

A seller writes new prices at a local bazaar in Istanbul, Turkey. Photo: EPA-EFE/ERDEM SAHIN
Take inflation: shortly after TurkStat reported record high inflation in 2018, the agency's head, Enver Tasti, was dismissed. Under his successor, the official rate fell significantly to 13 per cent.
Yet Steve Hanke, professor of applied economics at John Hopkins University, said last year that the real figure was over 43 per cent.
The prices of the main commodities alone rose more than 30 per cent last year; electricity and gas were up 32 per cent and prices of food in supermarkets soared 50 per cent.
Enes Ozkan, an economist at the University of Istanbul, said Turkey would be wise to learn from the mistakes of neighbouring Greece, which plunged into crisis in 2010 when it revealed a massive budget shortfall. The European Union criticised "severe irregularities" in Greek accounting.
"The Greek economy is still recovering and Turkey must take lessons from it," Ozkan told BIRN.
"Unfortunately, government officials at every level are manipulating the economic data and using it for their own political propaganda."
Ibrahim Kahveci, an economics columnist at the Turkish daily Karar, said there had been a significant drop in consumer spending and that it did not match the government's official data on inflation.
"Perhaps TurkStat official do not believe that economist can cross check the data," Kahveci wrote.
Unemployed or not

Faik Oztrak. Photo: Wikimedia commons/Hilimi Hacaloglu 
According to TurkStat, the number of unemployed Turks increased by 817,000 between September 2018 and September 2019 to a total of 4.56 million. The unemployment rate rose 2.4 per cent to 13.8 per cent; even worse among the young, at 26.1 per cent.
But again, experts believe that official figures downplay the problem given the extent of the economy's contraction.
The economy contracted 2.6 in Q1 2019 and 1.5 per cent in Q2. There was a slight recovery in Q3, but the economy remains in recession and the downward trend is expected to continue in 2020.
According to Deutsche Welle Turkish, almost 900 companies, including a number of Turkish industrial giants, filed for bankruptcy in 2019 alone. More than 2,000 have done so in the past two years, according to the January report.
Critics have also picked up on the method of measuring unemployment: according to TurkStat, 630,000 women who were previously counted as part of the labour force opted to stay at home in 2019, excluding them from unemployment figures.
Only in December 2019, 145,000 women left the labour force, leading to questions from experts and opposition parties. The number of people who have ceased actively seeking work also increased to 668,000, again removing them from the unemployment rate.
Faik Oztrak, deputy leader of the main opposition Republican People's Party told a news conference in January that the data made no sense.
'If you can't measure it…'
Gerek, the economics professor, also questioned the data on Turkish Central Bank reserves, which were used to defend the lira. Gerek cited "serious economists" suggesting reserves had hit "a very low level".
A poll conducted by AREA Research Company found that 61.6 per cent of Turks believe the state of the economy will worsen further in 2020, potentially putting further pressure on Erdogan after the loss of Istanbul and other cities to the opposition in local elections last year.
Ozkan said trust was key to a healthy economy, but that the gap between the official data and the facts on the ground was widening.
"The current manipulation of the data causes irrevocable damage to the Turkish economy," he said.
"You can escape from facts but you cannot escape from its consequences."
"Even people who never follow any economic data now do not trust the data of the Turkish government."
"As Lord Kelvin said, if you can't measure it, you can't improve it," Ozkan said, referring to the 19th century Scottish mathematician and physicist William Thomson.
"If you measure the deteriorating figures wrong it means that you will also apply the wrong policies to recover."