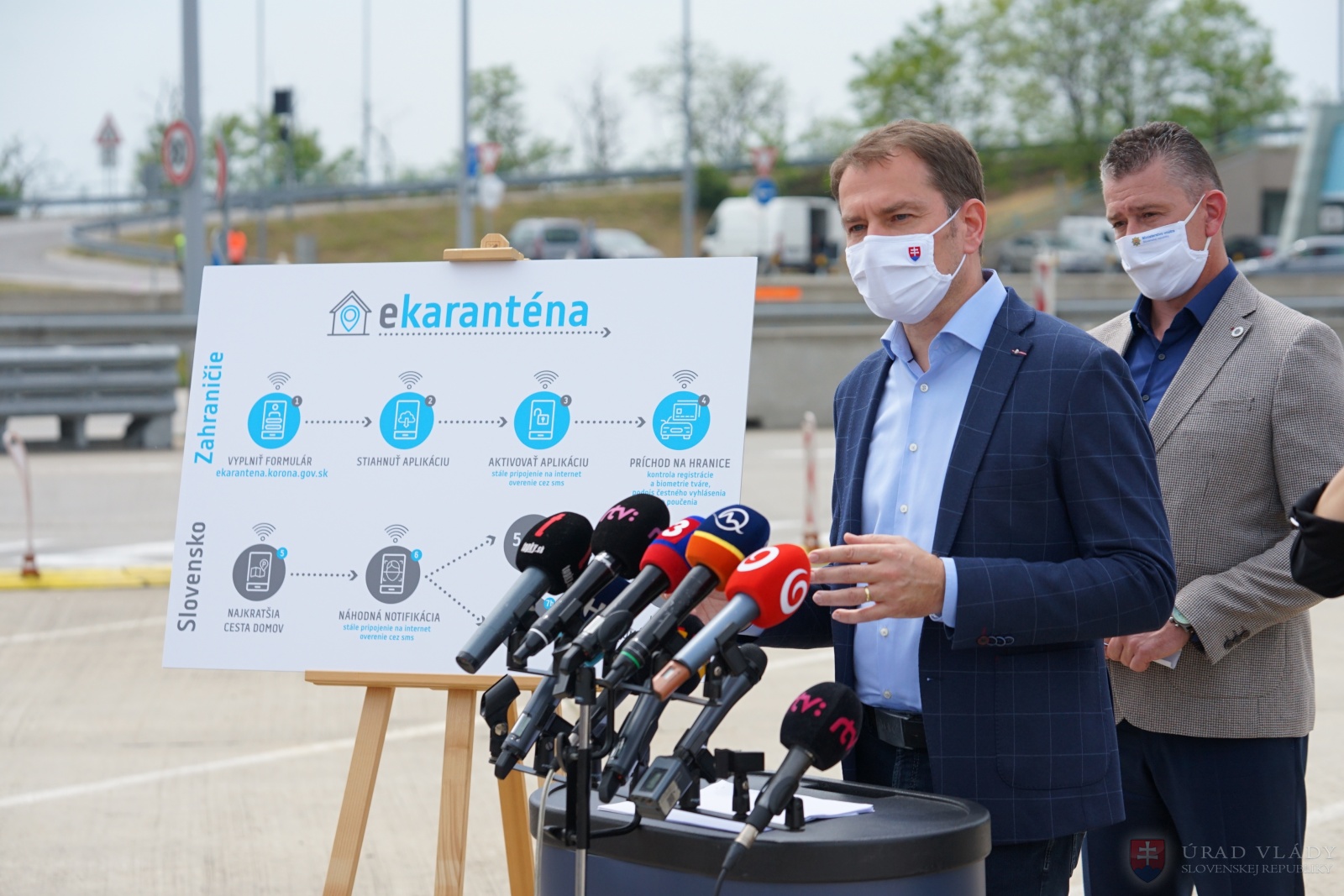 Slovakia's government says a new smartphone app is designed to make quarantine "more comfortable." But a lack of information on how data will be stored and accessed is fuelling concern among data rights activists.
A lack of detail on a new smartphone app designed to help authorities in Slovakia track people in home quarantine is raising doubts about its compliance with data privacy rules and fuelling conspiracy theories.
With 28 confirmed deaths to date, Slovakia tops the chart of European countries with the lowest number of COVID-19 victims per capita, a source of pride for politicians and healthcare workers.
But the country is also one of the last in Central and Eastern Europe to introduce any kind of digital technology to help tackle the pandemic.
Last week, parliament passed a bill introducing an app to keep tabs on those in quarantine at home, after the country's Constitutional Court halted development of a contact-tracing app that had triggered concern over the need for the mass collection of data.
The quarantine app was due to go live on May 18, but authorities postponed the launch saying more testing was needed.
Created by the Slovak IT firm Sygic, the app avoids the need for any mass collection of data, but a lack of detailed information, particularly regarding how the data will be stored and who will have access to it, has many Slovaks worried.
Data rights activists say that, while the government must do what it can to save lives, it must also be transparent in order to earn the trust of the people.
"We understand that this difficult time calls for quick and maybe non-traditional solutions, but we can't forget the [need for] clear communication, which would dispel concerns about a possible abuse of private data," said Andrea Cox, director of Digital Intelligence, which works to promote the protection of digital rights in Slovakia.
Constitution vs. public health
For the past two months, Slovaks returning to the country have had to go into state-run quarantine facilities where they are tested for the novel coronavirus and, if negative, allowed home.
But Slovakia's government, led by Igor Matovic and his anti-establishment OLANO party, has faced widespread criticism over conditions at the facilities.
The government now says the new, voluntary app – based on face biometrics and movement data – will allow people to self-isolate at home if they would rather not enter a state-run facility.
The data will be monitored by the Slovak Public Health authority, which, under the new law, must destroy a person's data as soon as the required quarantine period is over.
It is still not known, however, where the data that is collected will be stored and who will have access to it.
Introduction of the app follows a Constitutional Court ruling last week that suspended telecommunications legislation adopted in April and that cleared the way for the mass collection of data from smartphones, effectively slamming the brakes on development of a contact-tracing app. Judges ruled that the Telecommunications Act was not specific enough and left unclear how private data would be handled.
It lacked, they said, "necessary guarantees against the misuse of the processed private information" and means of independent oversight.
Matovic said he was confident the new home-quarantine technology would pass muster.
"I think the constitutional court decision cannot prevent us from making the quarantine stay more comfortable for people," he told a press conference on May 14.
But data privacy advocates are unconvinced.
"It is unacceptable for apps that could affect the everyday life of Slovak citizens to not be communicated properly," said Eliska Pirkova, Europe Policy Analyst at Access Now, an international data rights advocacy group, during an online discussion on May 15 about the erosion of data rights during the COVID-19 crisis in Slovakia.
"We all know that technologies have the power to discriminate and breach not just the right to privacy, but other rights too. This is what I see as a problem in Slovakia."
Technology and public trust
Poor communication has created a vacuum in Slovakia filled by misinformation and conspiracy theories about a potential COVID-19 vaccine, the origin of the coronavirus and the threats to privacy proposed by new technology.
Marian Kotleba, leader of the neo-fascist People's Party Our Slovakia, LSNS, that won eight per cent of votes in Slovakia's February general election, has shared conspiracies about microchips being implanted into people against their will, while former Prime Minister Robert Fico, leader of SMER-SD, has accused Matovic's government of planning to spy on people via their phone data.
According to survey conducted by the Slovak Academy of Sciences, a large majority of voters for both parties believe the coronavirus was created in a lab and deliberately disseminated, while just 40 per cent of Slovaks say they would get vaccinated against COVID-19 once a vaccine becomes available.
"Insufficient communication creates space for those who shout the loudest, although they often talk rubbish, from the absurdities about microchips and manipulations to the 5G networks," Cox told the May 15 online discussion, referring to a conspiracy theory that 5G mobile technology helps spread the virus.
"We want to believe," she said, "that in designing the latest technological solutions, the officials have kept in mind questions like digital exclusion or discrimination caused by the lack of internet access, or social oversight."
Need for vigilance
As countries emerge from lockdown, the development of smartphone apps to combat the spread of COVID-19 is being watched with mounting concern by human rights organisations concerned at their potential for abuse.
"Some restrictions on people's rights may be justifiable during a public health emergency, but people are being asked to sacrifice their privacy and turn over personal data for use by untested technologies," Deborah Brown, senior digital rights researcher at Human Rights Watch, said last week.
"Containing the pandemic and reopening society are essential goals, but we can do this without pervasive surveillance."
Erik Lastic, head of the political science department at the Comenius University in Bratislava, said the pandemic had only further underlined the failure of the Slovak state to keep pace with technology. For years, corruption and incompetence have stymied efforts to create an effective digital public administration system. 
"The last decade, at the least, has shown that the state is failing in the development of any information systems," said Lastic, also taking part in the online discussion. "It would be very unrealistic to expect that the pandemic can suddenly change that."
Lastic said it was "good" that legislation introduced to combat COVID-19 was limited to the end of 2020, but that the experience of some countries, particularly in sidestepping legal restraints in the fight against terrorism since the 9/11 attacks on the United States, showed the need for vigilance.
"It would be naïve to trust that the state would limit itself and that it wouldn't use tools that had worked well for it once," he said.