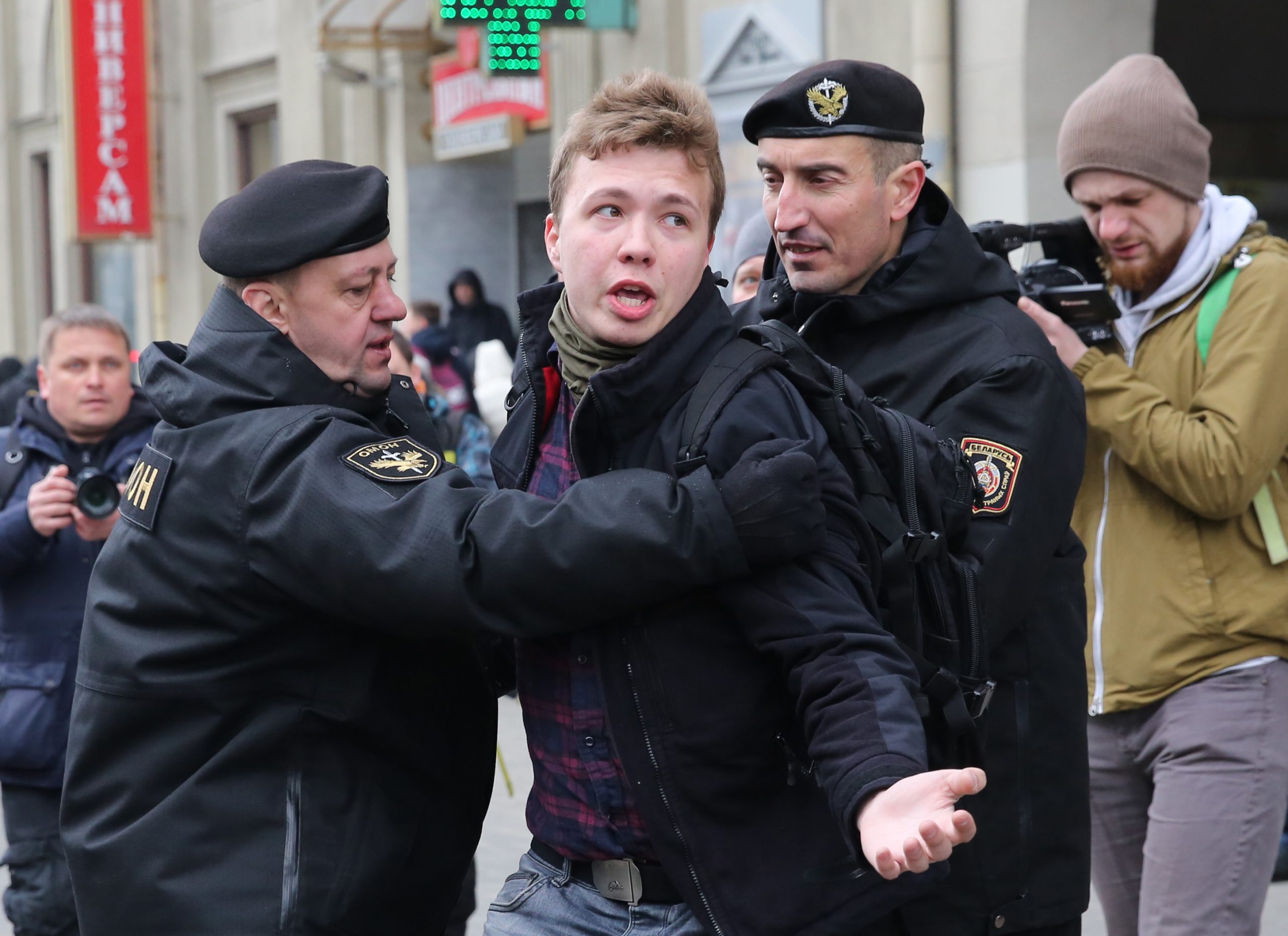 Poland is set to open an investigation into the forced landing of a Ryanair flight from Athens to Vilnius, which the Belarusian regime orchestrated in order to arrest an opposition journalist.
Polish Prosecutor General and Justice Minister Zbigniew Ziobro on Monday ordered an investigation into the forced landing of a Polish-registered airplane by the Belarusian authorities and the subsequent removal of an opposition activist who enjoyed protected status in Poland.
Poland is on the frontline of the EU's diplomatic war with Belarus and its authoritarian president, Alexander Lukashenko, who together with scores of Belarusian officials are under EU sanctions, including travel bans and assets freezes, imposed following the disputed August 2020 election and subsequent crackdown on protestors.
Poland has been vocal in its support of the Belarusian opposition, offering protection to exiles and providing Lukashenko critics with a house in Warsaw to use as their headquarters. The Lukashenko regime has retaliated by targeting members of the Polish minority in Belarus: in the last few months, several Poles in Belarus have been arrested, including Andrzej Poczobut, a journalist and member of the Association of Poles in Belarus.
The Ryanair flight from Athens to Vilnius was crossing Belarusian airspace when the authorities there, reportedly on Lukashenko's orders, used a false bomb alert and a fighter jet to force the flight carrying Roman Protasevich to land in Minsk, where security services boarded the plane and arrested the opposition activist.
The incident, which has caused outrage across Europe and was described by Polish Prime Minister Mateusz Morawiecki as "an unprecedented act of state terrorism", prompted prosecutors in Poland to open an investigation linked to two articles in the Polish criminal code.
One concerns the use of deception or threat of direct violence to take control of an aircraft, which in this case was officially registered in Poland, giving a legal basis for the investigation as the plane is considered Polish territory. The other concerns the unlawful deprivation of freedom of Protasevich, who last year was given protected status in Poland, allowing him to move freely inside the EU, as well as the other passengers.
The 26-year-old journalist is one of the founders of Telegram channel NEXTA, which played a prominent role in the organisation of protests against Lukashenko throughout the second half of last year. At least part of NEXTA's content had been uploaded from Poland, which hosts a sizeable community of Belarusian exiles, including the channel's founders and other opposition leaders. Protasevich was no longer living in Poland.
"I have asked the European Council President to expand tomorrow's European Council agenda and discuss immediate sanctions against A. Lukashenka regime," Prime Minister Morawiecki tweeted on Sunday night. "Hijacking of a civilian plane is an unprecedented act of state terrorism. It cannot go unpunished."
Protasevich faces charges in Belarus of inciting public disorder and social hatred, carrying a jail sentence of up to 12 years if convicted. He is also on a list of terrorists compiled by Belarusian authorities and, if officially charged with terrorism, could face the death penalty. The terrified young man reportedly pleaded with the airline crew not to land the plane, saying he would face the death penalty if it did. Belarusian security operatives were reportedly on the plane, which was eventually allowed to fly to its destination in Lithuania after several hours.
The Czechs have joined its neighbour Poland in protesting the actions of the Belarusian regime, though there has been no official reaction yet from Hungary, Slovakia or a joint Visegrad Four statement. However, Katalin Cseh, a Hungarian MEP from the opposition Renew group wrote in a Facebook post: "The detention of the Belarusian activist is unacceptable – Europe must act!… The Hungarian government and Foreign Minister Péter Szijjártó must stop their harmful practice of vetoing joint EU action. Instead of supporting dictatorships, the Hungarian government must finally stand up for the protection of our democratic values."