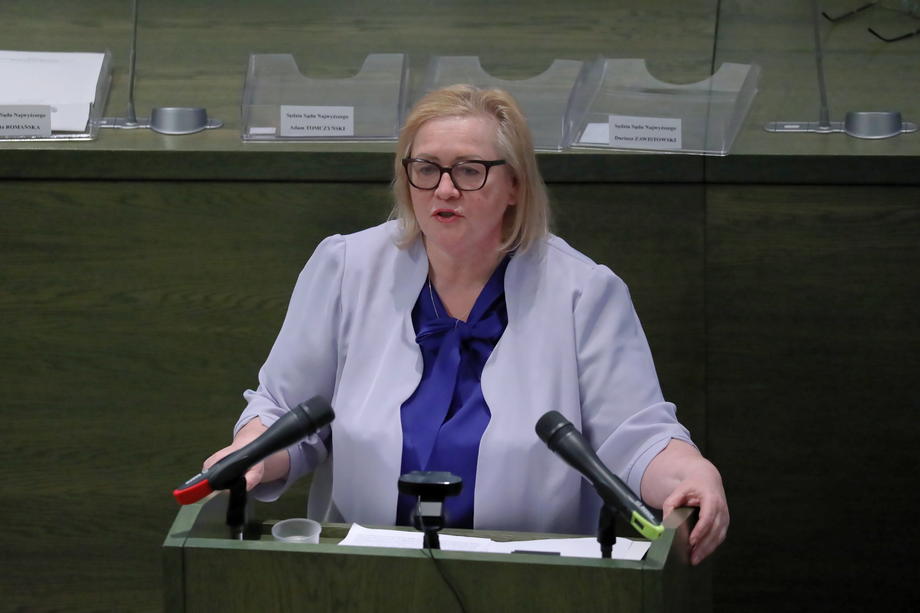 While Law and Justice has sought to depict itself as the party of the 'common man', a series of high-profile corruption scandals have tarnished its reputation for probity, leading to efforts to circumvent public scrutiny.
The chief justice of Poland's Supreme Court, a presidential appointee, has asked the government-controlled Constitutional Tribunal to declare key elements of the law on access to public information as unconstitutional, which experts warn could bring about an end to government transparency.
Since being elected in 2015, the nationalist-populist Law and Justice (PiS) government has suffered a series of scandals – some uncovered through the use of transparency laws – concerning the appointments of relatives and friends of PiS politicians to public office, as well as the favouring of friendly foundations, media and other institutions in the distribution of public funds.
Observers speculate that another intended effect of the request could be to shield from media scrutiny certain state companies, which PiS is increasingly using to achieve political ends, such as taking control of critical media.
It emerged Wednesday, via a personal tweet from Miroslaw Wroblewski, a lawyer and director of the constitutional law team at the office of the Polish Ombudsman, that Malgorzata Manowska, the chief justice of the Supreme Court, had formally requested on February 16 that the Constitutional Tribunal assess the constitutionality of several aspects of Poland's law governing access to public information.
Manowska, who was appointed to her position last year by the PiS-allied President Andrzej Duda, claimed in her submission that the law doesn't specify enough the scope of concepts such as "public authorities", "other entities performing public tasks", "persons exercising public functions" and "the relation to the exercise of public functions". As a consequence, she wrote, the concepts are stretched too broadly in an illegal manner, meaning too many public bodies and officials are held accountable.
The chief justice also challenged the obligation of state bodies to provide information about public officials, "including their personal data and information belonging to their private sphere", which she argued is both unconstitutional and contrary to the European Convention on Human Rights. Yet this could also refer, potentially, to information about supplementary sources of income or conflicts of interest that exist among the official's family.
Wroblewski took to social media to comment on Manowska's request: "I wouldn't be surprised if we'll remember this date [February 16] as the end of government transparency".
Krzysztof Izdebski, from the open-government watchdog Fundacja ePanstwo, anticipates that public institutions which have been taken to court by journalists for not providing requested public information on time will now start filing requests to suspend their trials until the Constitutional Tribunal rules. "This request is also meant to have a chilling effect on citizens and journalists," Izdebski commented.
Manowska was nominated to the Supreme Court by the National Council of the Judiciary, KRS, a body whose independence from the ruling party has been questioned by both the Court of Justice of the European Union and the Polish Supreme Court itself. Although an experienced judge and former dean of the National School of Judiciary and Public Prosecution, she has also served as a deputy justice minister under Justice Minister Zbigniew Ziobro, raising concerns about her independence from him and PiS.
In turn, the Constitutional Tribunal was the first body in the justice system that PiS sought to establish political control over when it took power, while its President, Julia Przylebska, is known to be a personal friend of PiS leader Jaroslaw Kaczynski.