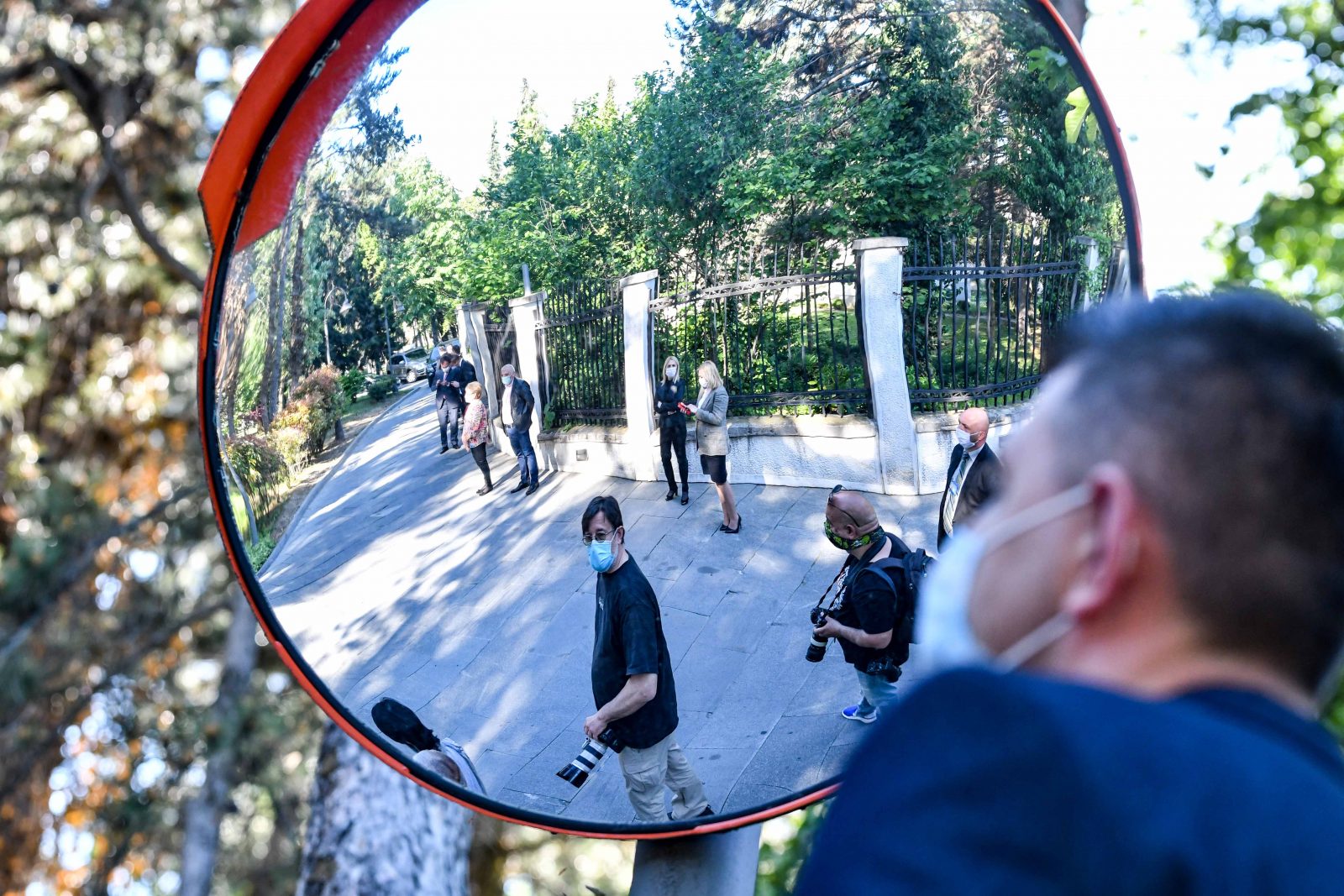 The economic crisis triggered by COVID-19 threatens to shrink North Macedonia's overcrowded media field.
In March this year, as COVID-19 shut down North Macedonia, Ivana Ramadanova was working from home on a story about textile workers being laid off when she got her own marching orders from the news portal Lokalno.mk.
Management told Ramadanova, 36, and three other journalists they would not be needed from the beginning of April. Ramadanova complained to the Labour Inspectorate, arguing she had been fired based on a termination agreement she never signed. But when the company was ordered to take her back, it did so on worse terms. Ramadanova found somewhere else to work.
"It's a horrible feeling," she told BIRN. "When someone needs you, you're good, but at the very first sign of a crisis they get rid of you."
Since the onset of the COVID-19 pandemic, advertising revenues in the media sector have nose-dived around the world, triggering a wave of job losses.
North Macedonia is no different, but the precarious financial state of many media outlets in the Balkan country even before the pandemic means some face a fight to survive. Coupled with new work practices to adhere to social-distancing regulations, the pandemic has the potential to reshape the sector like never before.
"We have a decline in advertising of about 70 per cent," said Atanas Kirovski, director and editor of Telma TV and head of the Macedonian Media Association, MMA, which represents five television broadcasters with national frequencies.
"It is happening all over the world, and we are no exception," he told BIRN. "Our business directly depends on the situation. If it takes two years, I do not believe that all media in the country will survive. If it ends earlier, they still have a chance."
Aid package 'helpful at the moment'
Two years is the timeframe the World Health Organisation has put on efforts to rein in the novel coronavirus, providing a vaccine proves safe and effective.
Few in North Macedonia believe the state has the resources to keep media outlets alive that long.
According to a survey conducted by the Independent Trade Union of Journalists, 73 per cent of respondents said they needed financial assistance, and 30 per cent said they knew someone in the sector who had lost a job in recent months due to the crisis.
Since March, the state has provided three million euros in aid to the media sector, in the form of direct injections and tax breaks. Of that figure, 1.7 million went to 116 broadcasters, including 500,000 euros to the public broadcaster.
For a period of three months, the state took on the burden of health and pension contributions for employees of media companies that had managed to avoid any layoffs.
Media outlets also benefitted from a blanket aid package for all companies in the country by which the government covered up to 14,500 denars [235 euros] of each employee's monthly salary.
Kirovski said the measures had cut Telma TV's financial burden by about 20,000 euros and that the company was able to make regular salary payments.
"The government measures are helpful at the moment," he said.

Infographic: BIRN
Dangers of state support
That the likes of respected global media giants The Guardian and the BBC have announced job losses since the onset of the pandemic has sent shockwaves through the global media industry.
"When practically two symbols of quality journalism show that they cannot cope with the crisis, what remains for others?" asked Brankica Petkovic, head of the Centre for Media Policy at the Peace Institute in the Slovenian capital, Ljubljana.
While it is only normal in such circumstances that public and private media should turn to the state for help, Petkovic told BIRN, it is crucial that they guard their editorial independence.
This is particularly pertinent in North Macedonia, where the current Social Democrat-led government has yet to fully address the clientelism that characterised relations between the state and the media under former Prime Minister Nikola Gruevski between 2006 and 2016.
Mladen Chadikovski, head of the Association of Journalists of Macedonia, said the aid risked turning into a trap.
"When there is a state of emergency as it is now, whether it is officially declared or not, there are dangers of passing solutions that are problematic," Chadikovski told BIRN. "We would not like to use this period to establish a media fund that would remain and create risks of influencing editorial policy."
He said media would be better off receiving aid in the former of tax breaks rather than direct transfers from state coffers.
Aid can't last long
Some media experts believe the recession triggered by the pandemic and the widespread closure of businesses may do what no government or regulator in North Macedonia has dared – cut the number of media outlets.
North Macedonia confronted the pandemic with an unreformed public broadcaster, 115 commercial broadcasting companies, 12 newspapers, hundreds of Internet portals and an advertising pie of about 15-20 million euros.
"The media scene is already in big trouble – many media outlets and a small advertising market," said Chadikovski. "If the crisis continues, these problems will increase."
Goran Mihajlovski, owner and editor of the portal Sakam da kazham (sdk.mk), said online journalism was particularly vulnerable. Registered as a non-governmental organisation, his portal also benefits from donor-funded projects.
"If we were dependent on advertisements, we would have not existed either," he said.
Dejan Georgievski of the Media Development Center, which provides legal and advocacy support to media workers in North Macedonia, said the aid provided by the state was not a long-term solution.
"The aid cannot last more than a few months, half a year at most," he said
Georgievski is one of only a few media experts in the country to say a reduction in the size of the media sector would not necessarily be a bad thing.
"Those who are lucky to survive will have more resources at their disposal that will help their sustainability and help them offer better content, better information, but also be less dependent on public money and free of any economic and other types of pressure," he told BIRN.
Working practices changed

Illustration: Unsplash.com
The pandemic has not changed only the financial outlook for media outlets.
Social distancing measures have dramatically altered how journalists do their jobs.
"We have introduced work in shifts, so that if a colleague becomes infected and others have to go into isolation, the other shift can cover the work," said Telma TV's Kirovski. "But that meant that we always worked at 50 per cent capacity, while the other 50 per cent was on standby."
Journalists at most Internet portals and some print media worked from home, encountering the same problems as those in other professions in balancing work and childcare. Smaller newsrooms struggled to adhere to government requirements that the parents of children under 10 years of age be exempted from work.
"I had to be a journalist, a babysitter and a mother at the same time, and the editor was not interested," said one journalist, who spoke on condition of anonymity. "If I wasn't online for 15 minutes he would immediately ask where I was."
Movement restrictions and limited access to data and interviewees have hurt the quality of output, both in terms of content and technical quality.
"Of course it had an impact on the quality of work – the shifts are smaller, there are fewer journalists, editors, cameramen, editors available," said Chadikovski.
Mihajlovski of Sakam da kazham said: "It's not easy when you can't go into the field, talk to people, but instead you have to work from a distance."
Those who could not work from home or online paid a different price.
"We have to attend all the events, because of which we are constantly under stress, having even panic attacks," said a journalist of a regional radio station who declined to be named.
Another, in Skopje, told BIRN: "I was talking to a mayor, who shook my hand to say goodbye. I returned the greeting so as not to be rude. A few days later, when he announced that he tested positive for the virus, I was in a terrible panic for the next two weeks."
"Obviously one moment of carelessness is enough," said Hristina Belovska, a reporter at TV 24 Television who tested positive during North Macedonia's July parliamentary election.
"Our work is fieldwork and that cannot be changed. We were provided with protective equipment, we also had training on how to protect ourselves and recommendations not to put ourselves at risk. However, I ended up positive. I discovered it by accident and I do not know how it happened. It just shows how serious the situation with the virus is."
In the survey conducted by the Independent Trade Union of Journalists, 22 per cent of respondents said they had not been provided with protective equipment.
Nothing will be the same
Ironically, given the financial strain on media, audiences have grown during the pandemic, with television broadcasters reaching twice or three times their usual number of viewers per day between January and June, compared to the same period of 2019 and 2018, according to surveys conducted by the Agency of Audiovisual Media Services.
For example, the percentage of respondents who said they had watched Kirovski's Telma TV the day before, grew from 12 to 32.
"Undoubtedly, the fact that many people stayed at home and that something completely new was happening that affected everyone and that affected our daily lives, such as the spread of the coronavirus, contributed to a significant increase in media interest," said Magdalena Davidovska Dovleva, head of the Agency's Sector for Research and Long-Term Development.
It remains to be seen which of these changes will stick long-term, but all of BIRN's interlocutors agreed the media landscape will be altered for good.
"The coronavirus has deepened the problems in the media sphere, but it may also help us find faster solutions," said Petkovic of the Peace Institute in Ljubljana.
This project is financially supported by The Royal Norweigan Embassy in Belgrade. Opinions expressed in this publication do not necessarily represent those of The Royal Norweigan Embassy, the Balkan Trust for Democracy, the German Marshall Fund of the United States, or its partners.