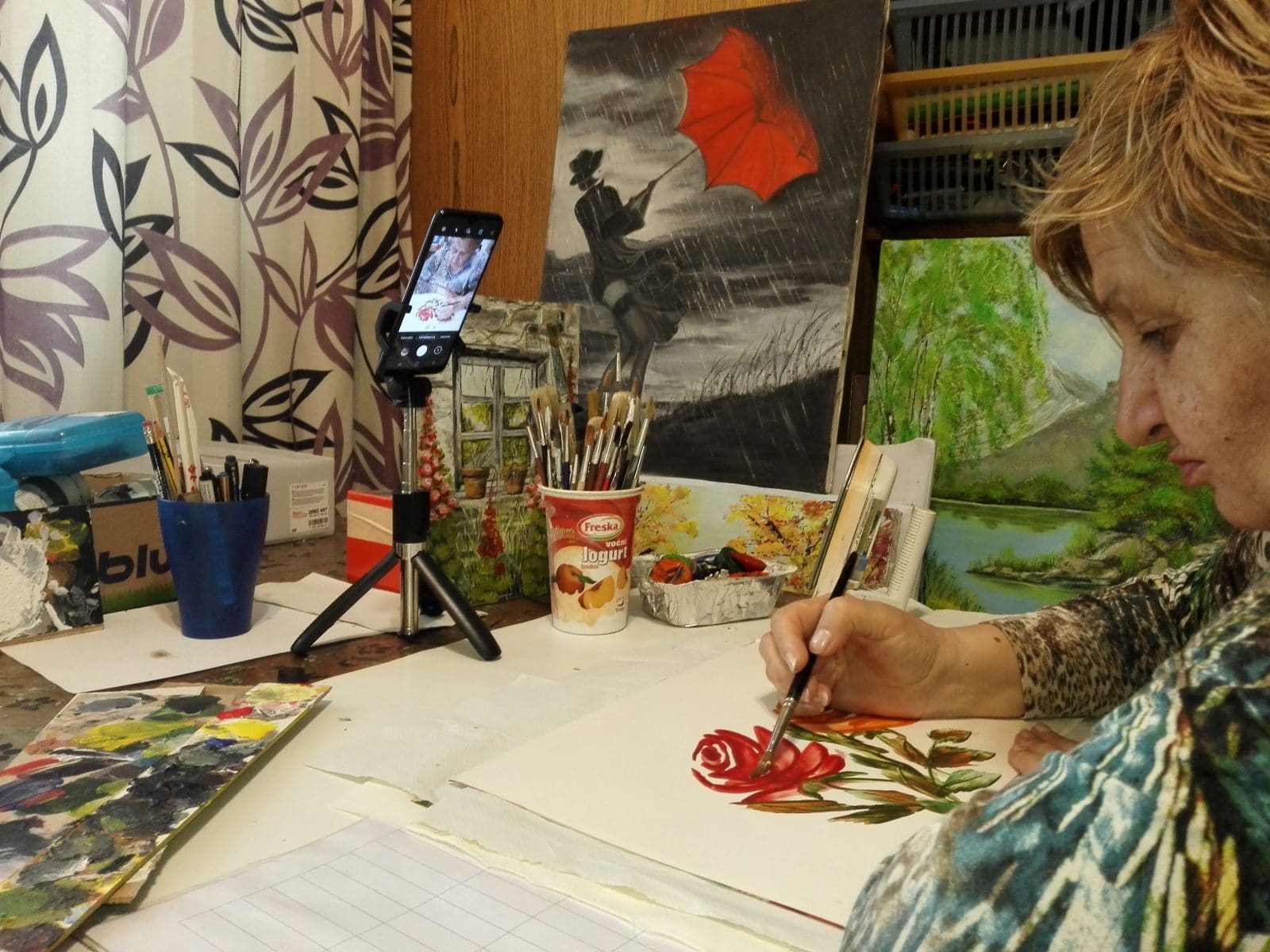 As the pandemic forces them to stay indoors, senior citizens in Zenica, central Bosnia, have found refuge, inspiration and a renewed sense of community in online workshops.
With a full-time job and a family, Safija Vucenovic, now 67, from the central Bosnian city of Zenica, could rarely find time to commit to music and sewing – her two great passions – when she was younger.
It was only when she was pensioned and her children grew up that she started singing in a local female choir, performing solo at music events and designing her own dresses for them.
But her newfound pleasure was shaken this spring by the arrival of COVID-19, tying her to her home without social contacts or performances. 
To banish the feeling of uncertainty and anxiety that overwhelmed many of her peers, she began recording herself with a smartphone while singing her favourite "sevdalinke" songs and making clothes, sharing the videos with her friends via Facebook and Viber.
"It helped me, and the others, to keep our spirits up," Vucenovic recalls.
The COVID-19 pandemic has hit Bosnia's senior citizens hard. Between March 20 and May 15 authorities in the Federation of Bosnia and Herzegovina, the larger of the country's two entities, severely limited freedom of movement of people older than 65 to prevent the spread of the coronavirus. 
Even though it is not mandatory to stay inside any more, many older people still spend most of their time at home, especially since the number of COVID-19 cases began rising in early July.
People aged 65 years and older make up about 14 per cent of Bosnia's population, according to the 2013 census, and their share in the overall population is increasing. 
The UN estimates that this age group will represent more than 30 per cent of the population of Bosnia by 2060. Many seniors live on the edge of poverty and are socially excluded. Average pensions of around 200 euros a month often cannot cover even basic expenses. 
Several reports, including those published by Caritas BiH and the Institution of the Human Rights Ombudsman of BiH, have noted that the lack of activities in which elderly people can take part makes them isolated and prone to mental illnesses, particularly depression. 
Ever since the beginning of the pandemic, media have reported that the elderly are the most at-risk group from COVID-19, although the evidence shows that the disease can be deadly to anyone. 
At the same time, regular health care services, slow and inadequate even under normal conditions, have now become almost inaccessible to many seniors now because of the special COVID-19-related working regime. 
State hospitals and clinics throughout the country are in debt, often working without basic medical materials and equipment. As health care workers increasingly protest, demanding better salaries and working conditions, more patients complain too. 
In the last few years, many doctors and nurses have left the country for better jobs in the Western Europe, further weakening Bosnia's already damaged health care system.  
For Safija and other members of the Zenica-based Nas most (Our Bridge) association, the only way to keep up with their peers, rather than depressing news, was to turn to technology.
From their own homes, they have been engaging in collective creative work and socializing – the same as they had been doing during the gatherings held in Our Bridge's art centre before the pandemic – but this time over the Internet.
Virus puts centre's work on hold
The Our Bridge local association has organised artistic and cultural activities for seniors and persons with disabilities in Zenica since the beginning of 2013. 
It has staged numerous arts and crafts classes, art exhibitions and music and theatre performances involving the elderly – mostly women – in order to foster their social inclusion. 
While other bigger cities in Bosnia have government-supported centres for healthy ageing to aid the socialization of the elderly, Our Bridge's work is mainly funded by members' own fees and is based on the volunteer work of senior activists. 
The number of its activities and its members has steadily grown in the last two years but, as the association closed in March due to the pandemic, all of its initiatives have been halted.
But, soon after the initial shock caused by the crisis, the association began organising Facebook-based creative challenges and live streams of art workshops, art classes on Viber and online art residencies for international artists. 
"We wanted to stay connected and motivate each other to create arts and crafts so that we can distract ourselves from our worries," says Zdena Saric, president of Our Bridge. "It's been really a blessing that we have the Internet and smartphones to do so."
Saric, a locally renowned artist and art activist helping women, seniors and persons with disabilities to overcome mental health struggles through art, began giving online painting classes via Facebook live streams in April. 
Her first live-streamed video class on the so-called encaustic technique – using molten wax that is then ironed – has been viewed over 1,000 times. 
Many of Saric's Facebook friends began contacting her about additional tips and tricks on how to use the iron as a painting tool, which is why she decided to continue to hold live streams once a week until the end of May. 
Some of her virtual "students" even sent her the photos of the paintings they made during the lockdown that have been inspired by her online classes. 
She also began regularly posting on Facebook her art works created in isolation at home, trying to encourage others who felt depressed and apathetic to lift their dark thoughts through the bright colours of paint and start painting themselves. 
Meliha Bico Druzic, 65, one of Our Bridge's volunteers, was one of those who needed such a stimulus. 
She was having a hard time adjusting to the new reality of not being able to leave her home for weeks. 
As an Our Bridge activist, she had been busy for years with the association's activities. She also loves to paint but couldn't find any inspiration. Suddenly, after being stuck at home, she realised she had a lot of time on her hands and didn't know what to do with it. 
"I wanted a [real] spring to come, which is why the first painting I made in isolation was a vase full of lilacs," said Bico Druzic, who after some days of persuasion accepted Zdena's virtual creative challenge. 
She began painting at home and posting her works on Facebook, and challenging her Facebook friends to follow her lead. 
Bico Druzic has since exhibited her paintings created during the lockdown at the "My Quarantine" ("Moj Karantin") art show held at the Our Bridge centre in July. The exhibition included art works of other Our Bridge members as well. 
Shifting from offline to online activities

Last year's offline creative activities for seniors in Our Bridge. Photo: Ajdin Kamber
The response from their online creative communities encouraged Bico Druzic and Saric to continue painting and sharing works on Facebook. As other Our Bridge members began doing the same, their Facebook news feeds have become full of photographed paintings and other handicrafts. 
To continue these efforts, but in a more varied and structured manner, they gathered Our Bridge's members in an art-focused Viber group. 
The initiative, called "There is some secret connection" ("Ima neka tajna veza"), has been designed in collaboration with the Serbian association Art Aparat, whose co-founder and music teacher, Maja Curcic, started producing video singing lessons in Belgrade and sharing them with the members of the Viber group in June. 
Apart from singing, the women teach each other how to paint, design bags and do handicrafts via video messages. The Viber group also serves as a channel of everyday communication.
The project was originally designed to bring together seniors from Zenica and the Serbian capital Belgrade through music and painting classes. 
In both countries, the elderly suffer from an absence of systemic protection of their rights, not only related to health and social protection, but to their cultural needs as well, according to Curcic. 
Apart from cultural programmes in homes for the aged and the activities of local pensioners' associations, seniors have limited options to participate in cultural initiatives. 
Similar to the centers for healthy aging, Serbia also has daily centres for seniors that provide some cultural activities, but these are limited in their number and capacities. 
That is why Art Aparat and Our Bridge established a partnership, though the initial idea had to be adjusted due to the pandemic and transformed into a remote creative exchange, focused only on Zenica.
"Projects like this one encourage seniors to use new technologies and learn how to adapt to the new times," Curcic says. She believes it helps the elderly to overcome barriers such as physical distance or inability to move, and restore a sense of belonging to their community.
This is the first time Curcic, who has been using music as a tool of social integration for vulnerable groups of children and youngsters in Serbia for a decade, has worked with seniors. Judging by the feedback from the members of her Zenica online choir, she has succeeded. 
"I can't wait to meet Maja in person and sing with her," Vucenovic says. Bico Druzic agrees, adding that Maja's choice of the song for the lessons – which is Imagine life in the rhythm of music to dance to (Zamisli život u ritmu muzike za ples  – a song of from the popular Yugoslav band Film – fits her taste perfectly: "I love music, especially the songs that are closer to my younger age, and that have a soul." 
Bico Druzic is also participating in another Our Bridge international collaboration that was re-shaped from an art residency in Zenica into an online artistic platform when the pandemic broke out. 
The project called "Urban Herstories – The female face of Zenica" – aims to document social, political and urban changes in Bosnia since the 1950s through the eyes of Zenica's elderly women, and Bico Druzic's story, related to her elementary school, is part of it. 
Artists from Slovakia and Ukraine were about to visit Zenica in mid-March and work with Bico Druzic and five other women just when Bosnia – and Europe – began to close down. The stories will, however, still serve as a female audio guide to the city and as a basis for online-based art residencies of Slovakian and Ukrainian artists.
'It's nicer when you can see a person live'
Our Bridge members learning how to use Viber and social media on smartphones during training. Photo: Facebook/Nas most Zenica
Although new artistic ideas have arisen from the necessary adaptations of the "Urban Herstories" project to the online sphere, physical encounters between the women in Zenica and the Slovakian and Ukrainian artists – which could not take place – are an irreplaceable part of the experience, says Katarzyna Zielińska, manager of the Polish cultural institution Strefa Kultury Wroclaw, one of Our Bridge's partner organisations on the project.
"I had a feeling that we have lost the human aspect due to the lack of the real, person-to-person contacts with the storytellers [women] and the lack of a first-hand experience of the place we were supposed to work in [Zenica]," Zielińska says. 
Curcic from Art Aparat shares that sentiment, warning that it can demotivate people who never before attended an online education class to follow the instructions of a teacher who they can see only on a screen. 
"It's nicer when you can see a person live, encourage him or her or explain [in more detail] what you wanted to say. The pre-recorded rehearsals are not the same as the real contact," Curcic adds. 
Working with people not used to communication platforms like Viber or social networks like Facebook is another major challenge. Adjusting to the new ways of socialization and collaboration has been difficult for most of the Our Bridge's membership, whose average age is 60. 
The association ran several offline training sessions on how to use smartphones once the strict epidemiological measures had been lifted. But a few women still felt discouraged by the amount of information they needed to absorb, and haven't continued to participate in smartphone-based activities.
Despite the shortcomings of such initiatives, the online-based creative programmes might remain the safest – and possibly the only – way to work with the elderly during the pandemic. 
"Organisations like Our Bridge, which facilitate online creative connections, are of great importance for the elderly," says Zenica-raised psychologist and psycho-therapist Dzelila Mulic Corbo. "In that way, they [elderly] stay in touch with the outside world, have contacts with others, and make their days meaningful."
Recalling that adjusting to the "new normality" imposed by the pandemic has been hard for practically everyone, Mulic Corbo says that for the elderly, whose flexibility in new circumstances is naturally lower, the adaptation process is much harder. 
Our Bridge will keep developing online-based activities as long as the risk of COVID-19 infection continues, according to Saric. In the meantime, it is looking for other innovative ways to help motivate seniors stay connected through their mobile phones and so mentally overcome the challenges of the pandemic. 
"Nothing would make us more happy than to be able to freely gather in our space. But, until then, our [mobile] phones will have to play their role," Saric concluded. 
This publication was produced with the financial support of the European Union. Its contents are the sole responsibility of BIRN and do not necessarily reflect the views of the European Union.