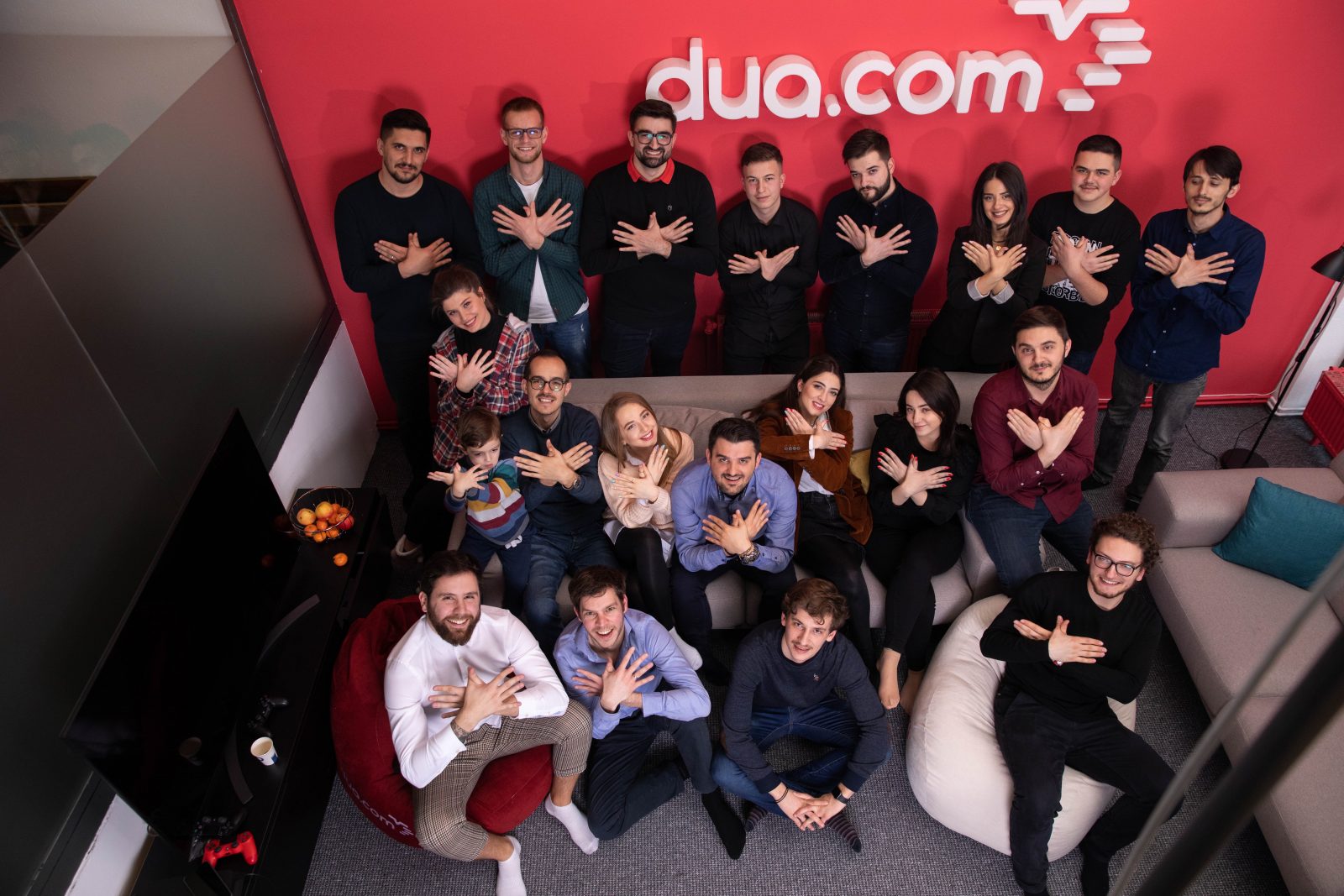 More than just a dating app, dua.com has ambitions to forge a range of connections between Albanians scattered around the globe.
In the 30 years that he lived in Switzerland, Valon Asani says he never had an Albanian friend.
"There weren't many Albanians in the town I grew up in," said Asani, who traces his roots to Kosovo. The Albanian diaspora is big, he said, but "is very small compared to the total number of people in the countries these Albanians live in."
So a year ago, Asani co-founded dua.com, a mobile phone app created to connect members of the sprawling ethnic Albanian diaspora around the world. And roughly 200,000 Albanians have since signed up.
Currently, only the dating arm of dua.com – due.love – is live. But 31-year-old Asani and his team plan to launch dua.help and dua.biz in early 2021.
"Dating represents only a small percentage of our goals," he said. The ultimate goal is to create a connected global community of Albanians, uniting a diaspora scattered across the globe over the past several decades.
Via dua.help, "Albanians who travel abroad as tourists, students, or even seeking employment opportunities, can connect with Albanians who have been living there for longer and seek assistance in filing taxes, applying for a residence permit, finding a place to live and being able to adapt faster."
Dua.biz, meanwhile, "will allow Albanian businesses in the world to connect with proper businesses run by Albanians in the Balkans and invest, which will bring revenue, create new jobs and hopefully a product-driven economy" in Kosovo and Albania as well as North Macedonia, Montenegro and Serbia where Albanians also live.
'A company of Albanians'

Valon Asani, co-founder and CEO of dua.com. Photo: Courtesy of dua.com
Dua.com – dua means love/want in Albanian – is headquartered in Zurich but has offices also in Pristina, where employees are encouraged to dress casual, take naps when tired and share in cake on special occasions.
The company has plans to open offices in the Albanian capital, Tirana, and elsewhere in the Balkans where Albanians live.
"Though we're Kosovo Albanians, we don't want to be known as a Kosovar company but as a company of Albanians," said Asani.
He said there was a false perception of Albanians abroad as sticking to their own, when in fact the only Albanians that many Albanian children growing up in the diaspora spend time with are their cousins or friends they make on trips back to the countries their parents emigrated from.
Taulant Abazi, the chief sales officer at dua.com had a similar experience growing up in Germany and then moving to the US for his studies.
"In my five years in Detroit, where I moved for my studies, it was not possible to meet Albanians," said Taulant Abazi, chief sales officer at dua.com.
Adapting in the US but also in Germany, where he grew up, would have been easier had he had "the technological means to meet people of the same origin," Abazi told BIRN.
Within months of launching, 200,000 users from more than 100 countries had created accounts on dua.com, "and 150,000 matches have been made," Asani said.
"It's free to sign up and 100 swipes are available over 12 hours in the free version of the app. If users want to have more swipes and to be able to change their location several times, they will need to sign up for premium."
'We will do it'
In the two decades since it broke away from Serbia in war and 12 years since it declared independence, the information and communication technology industry in Kosovo has taken big steps forward, but receives little state support.
According to the Central Bank of Kosovo, the country exported 31 million euros-worth of information and communication technology services between January and May 2020, slightly up on the same period of last year.
Abazi said that Dua Solutions, which he manages, is providing its technology to other industries too, having already signed contracts with firms in Croatia and Romania and entering talks with a company in Turkey.
"The technology developed by dua.com programmers can be used for every group that wants to connect worldwide," he told BIRN, citing the example of a group of online gamers who contacted Dua Solutions to discuss the possibility of an app that would connect online game fanatics around the world.
"Kosovo is an import-dependent country," said Asani.
"With the dua.com team we are trying to use what we are good at – developing and maintaining a technology that can be used to connect communities with different interests and backgrounds – to change the narrative and bring revenue via exports".
Asani said Albanians in the Balkans had to get away from the oft-heard expression, hajt se bohet, meaning 'it will be done'. "If we continue like that, it never will [be done]," he said. "So, we said, 'po e bojm na' – 'we will do it'."