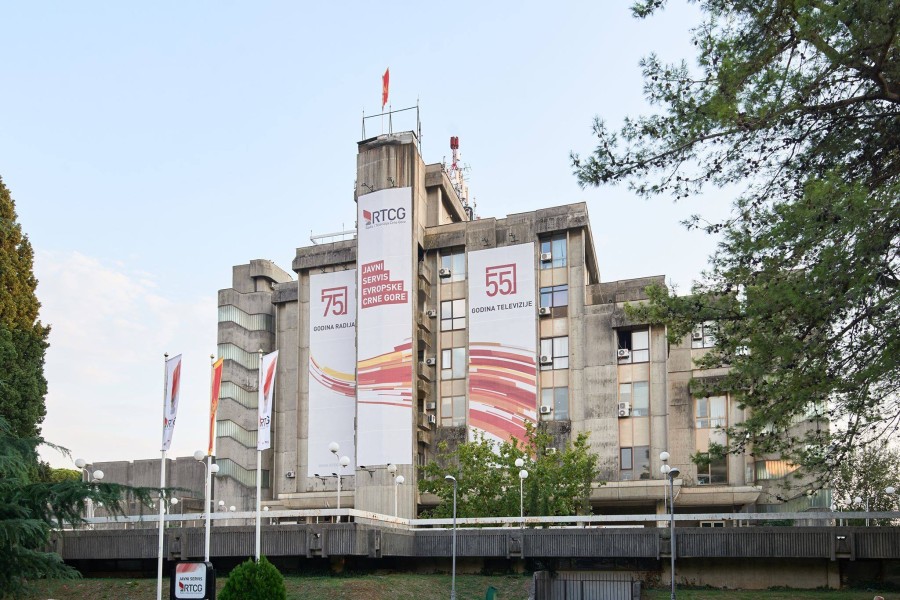 The management of Montenegro's public broadcaster – long seen as a mouthpiece for the former ruling party – has lashed out at members of the managing council and certain editors, accusing them of working for the new majority in parliament.
The management of Montenegro's public broadcaster, RTCG, on Thursday accused members of the managing council and some editors of compromising editorial policy and working for the interests of former opposition parties that now form the new majority in parliament.
It accused the two NGO representatives on the nine-member council, Bojana Jokic and Milan Radovic, of deliberately sabotaging production and of helping the former opposition blocs to win the August 30 parliamentary elections. Jokic and Radovic represent civil society on the council.
"Internal pressure increased from party sleepers, who were ordered to sabotage the programme and compromise the editorial policy of RTCG. Council members Milan Radovic and Bojana Jokic are assisting them with the goal of the parliamentary majority taking over the public service as soon as possible," a press release said.
The fiery response came after Jokic and Radovic on Thursday accused RTCG management of exerting unacceptable political pressure, after two editors were dismissed for disagreeing with the  broadcaster's editorial policy.
Editor Bojan Terzic said he was quitting because of the hostile way the broadcaster covered the issue of the Serbian Orthodox Church – a hot and divisive topic in the recent elections.
RTCG management also replaced another editor, Zoran Lekovic, after he also accused it on Facebook of unprofessionalism and of religious and national intolerance.
On Thursday, Jokic and Radovic called on the management to resign. "Freedom of expression of journalists must not be endangered. Pressure on journalists has increased so we call on the management to resign, and on journalists to self-organise", Radovic said.
The parties that form the new majority on parliament have long accused RTCG as acting as a mouthpiece for the ousted Democratic Party of Socialists, DPS.
A battle over the future direction of the broadcaster was therefore inevitable after three opposition blocs won a slender majority of 41 of the 81 seats in parliament on August 30, ousting the long-ruling DPS.
In its 2020 progress report on Montenegro, the European Commission expressed "serious concern" about "continued political interference" in the work of the broadcaster.
Earlier, in 2018, the media watchdog Reporters Without Borders noted the replacement of several key managers at RTCG with supporters of the DPS.
The appointment of new management in March 2017 that tried to distance itself from the ruling party and produce more balanced content created hope that things would change – but civil society organisations and the opposition have since said that those initial gains were rapidly lost.
After sacking two members of the managing council, drawn from the ranks of civil society, citing alleged conflicts of interest, in March 2018 parliament appointed successors who were seen as closer to the then ruling coalition.