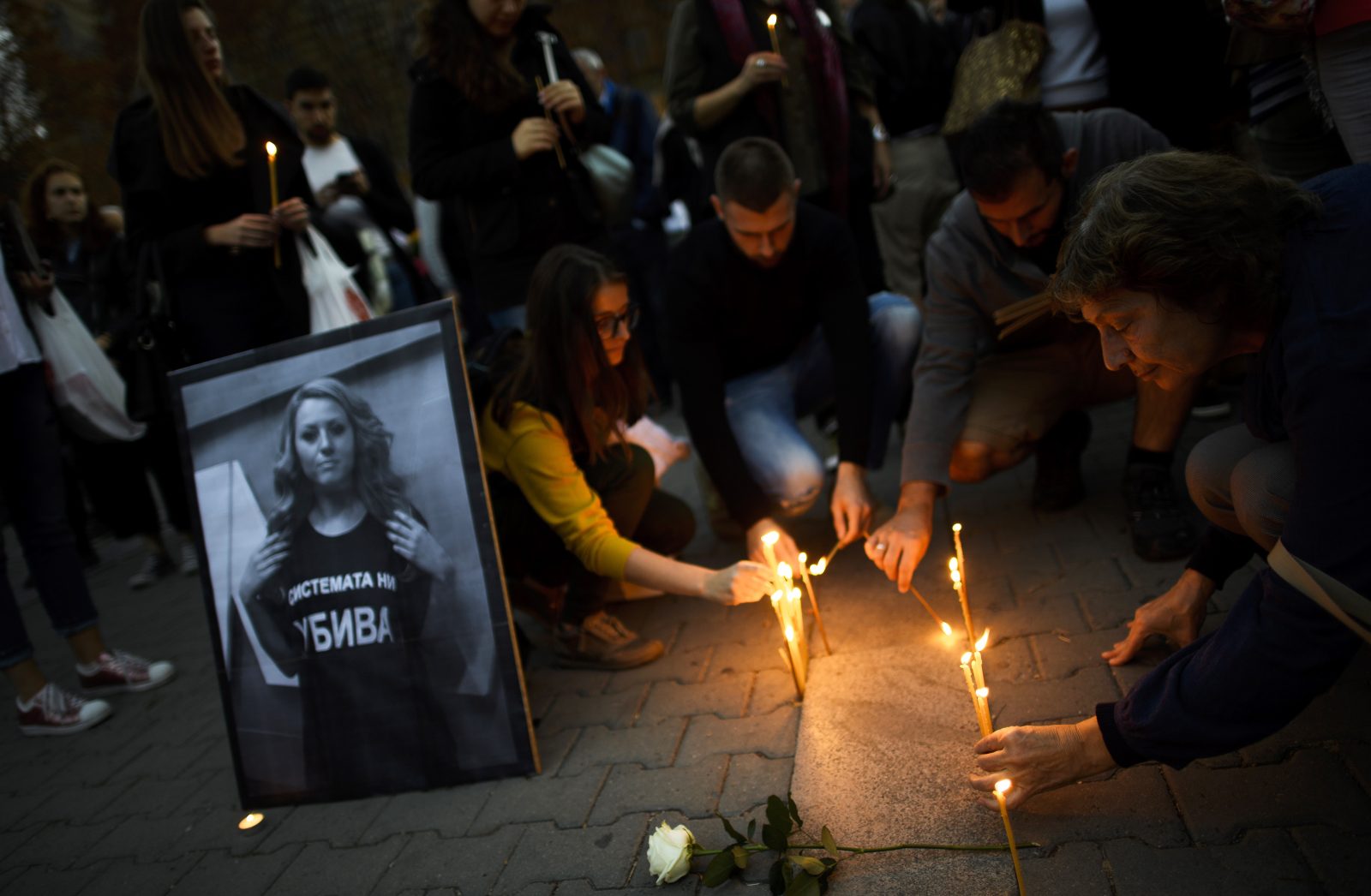 Reuters Institute report says ownership concentration and government hostility threaten the future of independent journalism throughout Central and Eastern Europe.
Independent media developed in Central and Eastern Europe "in a dizzyingly short time frame" after the fall of the Iron Curtain in 1989, a new Reuters Institute report says – but its future remains uncertain as a result of politicians' hostility and ownership concentration under politically well connected moguls.
The report, Fighting Words: Journalism Under Assault in Central and Eastern Europe, issued on Wednesday by the Reuters Institute for the Study of Journalism and the University of Oxford evaluates the situation of the media in the region by drawing on interviews with about a hundred journalists in 16 countries during 2019.
"In Europe, one of the safest continents in the world for press freedom, three journalists have been murdered in the last three years," author Meera Selva of the Reuters Institute writes.
The report goes on to list the deaths of Daphne Caruana Galizia in Malta, a country out of the area of study, Jan Kuciak in Slovakia and Viktoria Marinova in Bulgaria, all killed while reporting "on government corruption and organised crime". 
"They [the killings] happened in a climate where many journalists have been attacked and undermined and discredited by politicians, where the media have been captured or financially weakened, and where lawsuits have been used to systematically hamper and inhibit the pursuit of investigative, independent journalism," the study said.
The report recalls that the 27-year-old Slovak journalist shot dead alongside his fiancée in February 2018 was part of a group of reporters who then prime minister Robert Fico in November 2016 called "anti-Slovak prostitutes" who "don't inform" but just "fight with the government".
Similarly aggressive language has been used against journalists in recent months in the Czech Republic, which two years ago dropped from 23rd place to 40th in the World Press Freedom Index, partly due to the concentration of media ownership "driven by the current Prime Minister Andrej Babis".
In the Western Balkans, the report notes, Albanian Prime Minister Edi Rama "frequently refers to journalists as rubbish bins (kazan), while the leader of the opposition, Lulzim Basha, refers to the media as 'captured and bought.'" 
Rama's government has also passed a set of so-called anti-defamation laws that allow state agencies to hear complaints about news sites, demand retractions, impose fines and even suspend their activity, the report reads.
In Montenegro, an investigative journalist, Olivera Lakic, was shot in the leg in May 2018. A month before, President Milo Djukanovic accused the publication she worked for, Vijesti, of promoting "fascist ideas", after the newspaper revealed the business dealings of Djukanovic's son's when he was the ruling party leader. 

Montenegrian journalist Olivera Lakic at the offices of Vijesti newspaper in Podgorica, Montenegro, 11 May 2018. Archive photo: EPA-EFE/BORIS PEJOVIC
Around 63 per cent of those who took part in the survey said politicians had criticized them in public speeches or on social media because of content they had published. 
Some of the respondents said their harassers had used the same online space that has made publications known for their "fearless anti-corruption reporting", such as Hungary's 444.hu and Slovakia's aktuality.sk, to troll and threaten them. 
Over 64 per cent of those questioned said they had been victims of attacks because of their profession. Of that number, 83.3 per cent said they were attacked online, with over 16 per cent of them seeing sensitive personal information revealed online by their tormentors. 
Media turned into government cartel
Marius Dragomir, whose own report, Media Capture in Europe, is quoted in the study, said: "The collusion between the political class and media owners has reached unprecedented levels, leading to a phenomenon known as media capture, a situation where most or all of the news media institutions are operating as part of a government-business cartel that controls and manipulates the flow of information with the aim of protecting their unrestricted and exclusive access to public resources."
The report said the media had been exposed to this process in the Czech Republic, Slovakia and Bulgaria, among others, "where several commercial media outlets were sold to businessmen who wanted to use the media to boost their political influence". 
In Bulgaria, the report notes how a parliamentarian, Delyan Peevski, "who also owns the country's largest cigarette manufacturer, gained control of a large number of media outlets, which he uses in an openly partisan way".

A picture made available 13 April 2014 shows Bulgarian media mogul and politician Delyan Peevski during a meeting in Sofia, Bulgaria, 17 February 2012. Archive photo: EPA/STR
Hungary was described as the "most egregious case" of "media capture". The report said: "Between 2014 and 2018 ownership of news assets shifted to and increasingly concentrated in the hands of pro-government oligarchs." 
Governments use the partisan distribution of advertising by the state and public companies against independent media in Hungary, Poland and Serbia, the report added. 
Libel lawsuits and anti-terror laws used as weapons
Independent publications in these countries are also systematically subjected to lawsuits focusing on libel and defamation, while anti-terror and national security legislation is also used to make their work difficult.
"In many countries, freedom of information and national security laws essentially cancel one another out," the report suggested. 
One such case of this was Bosnia and Herzegovina, where "the Freedom of Access to Information Act guarantees access to most public records, but the Law on Protection of Secret Data denies access to information of most interest to journalists". 
In neighbouring Croatia, it added, "laws against defaming and insulting the state and its symbols, and laws against publishing what the law refers to as 'humiliating' media content, can be used to go after journalists even for publishing proven facts".
In March 2019, it noted, the Croatian Journalists' Association, CJA, held a rally to draw attention to 1,100 ongoing lawsuits filed by politicians, public figures and corporations against journalists. "The public broadcaster alone had filed 36 lawsuits against its own employees and others," the study pointed out.
The protection of sources is often compromised in the region by the violations of journalists' privacy. 
Professionals interviewed in the study described being subjected to phone tapping and recording, email interceptions and pressures to reveal their sources.
Journalists listed the support of media organisations in their own countries as the most important source of protection against such pressures. Help with legal costs and support from international organizations came next.