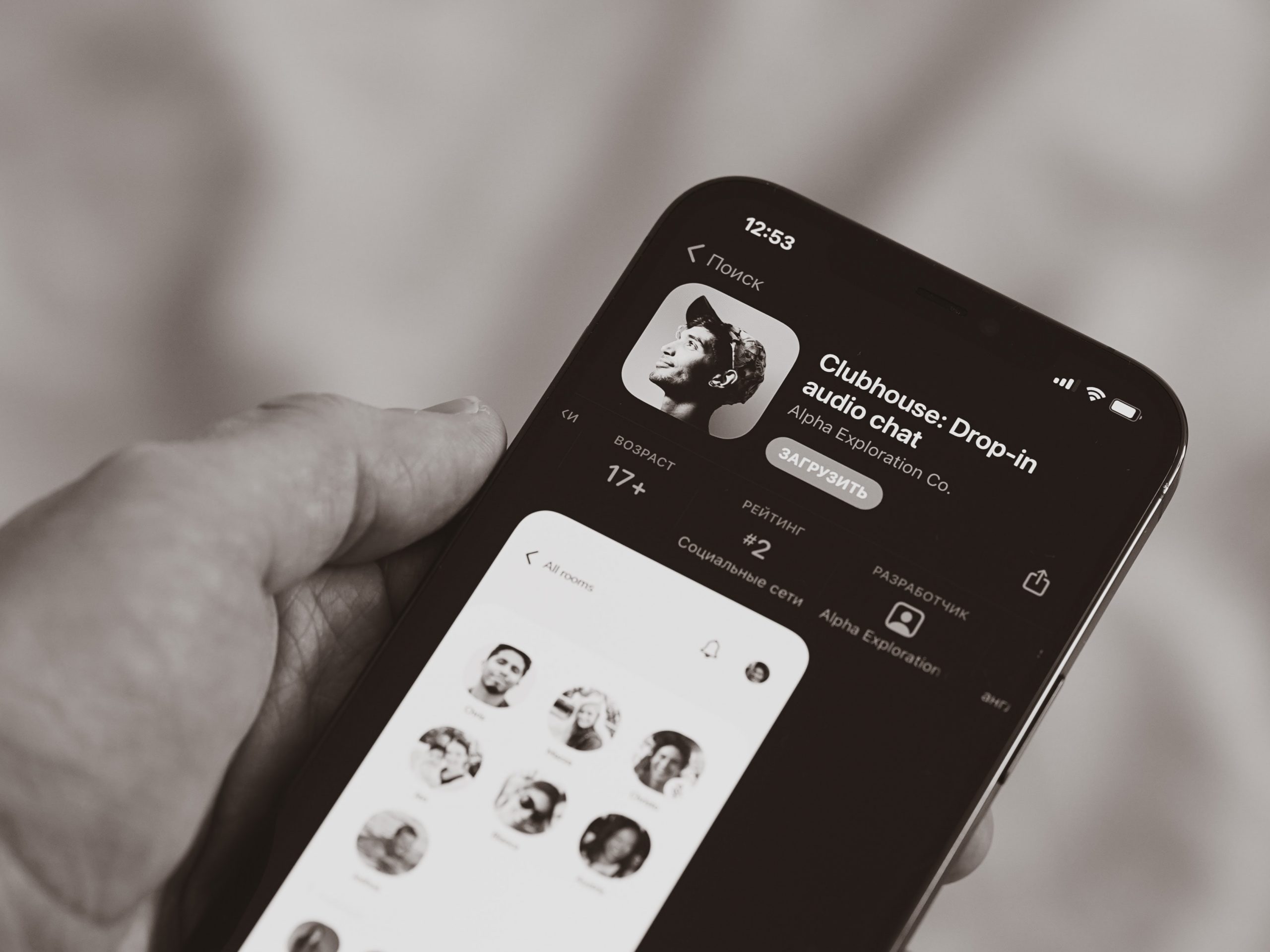 Social media apps billing themselves as friendlier alternatives to Twitter and Facebook are growing fast. But they all face similar challenges when it comes to privacy, transparency and how they moderate content.
For years, London-based writer and artist Mary Morgan has used social media to raise awareness and engage in debate, particularly Twitter and Instagram. Until the hate speech became too much.
"Anyone who spends time on Twitter knows it can be an absolutely horrible place," said Morgan, whose work focuses on body politics, or the practices and policies through which powers of society regulate the human body.
So she began exploring alternative apps, settling on Clubhouse, an audio-based social network where users can join rooms and listen to, participate or moderate discussions on any topic that might interest them.
"The power of Clubhouse is that you can choose who you speak to. You can't just randomly start messaging people with hate. I think that's a real power to the platform," Morgan told BIRN.
"Especially when it comes to activism, like-minded individuals and people who want to participate and learn will be drawn to houses and clubs, meaning we can all speak to and learn from each other in an environment that is encouraging of that."
Launched in April 2020, Clubhouse currently boasts more than eight million users worldwide.
And it's not alone in winning new users turned off by the inability of social media giants to find a way to filter out offensive content on their platforms – Mastodon, MeWe and CloutHub are just a few of the emerging names benefitting from a backlash against the likes of Twitter, Facebook and Instagram.
Experts, however, warn that while these alternative apps might be motivated by high ideals, they face the same issues that have dogged the giants – how to provide transparency, avoid hate speech and protect privacy, while also making money.
"I understand the desire that people have to move to new platforms," said Ayden Ferdeline, a Berlin-based public interest technologist.
"We desperately need more spaces for lawful speech, but we need these new platforms to be more transparent than Facebook or Twitter are, about how they operationalise their policies and procedures, and to be designed from day one to uphold and respect fundamental human rights."
Turned off Twitter

 A mobile phone displays the suspended status of the Twitter account of Donald J. Trump, 2021. Photo: EPA-EFE/MICHAEL REYNOLDS
Skopje-born Katarina P. spent 11 years on Twitter as an active member of the Twitter community in North Macedonia. Under an alias, Katarina, who declined to give her surname, used her profile to follow and comment on the events of any day in her home country and the wider Balkan region, engaging in sometimes heated debates.
Then, in February this year, Twitter suspended Katarina's profile, without any specific explanation.
"I believe I got suspended because I came into a conflict with another Twitter account that was promoting misogyny through quasi-Christian Orthodox theology," Katarina recalled.  "After my impulsive reaction to these tweets, my account got suspended."
She appealed to Twitter's Support Team, but, after a generic response to say they would look into it her case, Katarina never heard back. She assumed she was shut down based on the complaints of "religious fanatics", and was frustrated at the lack of communication from Twitter.
Stung by criticism over how social media was used in the storming of the US Capitol by Donald Trump supporters on January 6, Twitter and Facebook appear to have adopted more restrictive approaches to what can and cannot be posted on their platforms.
Experts, however, say that the use of Artificial Intelligence has resulted in a litany of errors, with AI lacking the required contextual and nuanced analysis to distinguish strong criticism from defamation and radical political opinions from expressions of hatred and racism or indictment to violence, particularly in languages spoken by far fewer people than, say, English, French, German or Russian.
Katarina believes she is a victim of this, and is already looking for an alternative platform where she can engage in debate.
"I liked Twitter since it was unique for the microblogging opportunities it offered," she said. "I hope that a new network with similar content might appear soon. And I won't lie when I say that I am looking forward to it."
Friendlier Facebooks

A Facebook logo. Photo: EPA-EFE/Julien de Rosa
Clubhouse might still be in its beta stage, but it has attracted huge attention.
"It is a completely new and different app, and I see it as great replacement for all of the podcasts, with the addition that you can not only listen to them, but also actively engage in the discussion," said Marija Andrejska, a digital marketing specialist in Skopje who began using Clubhouse this year. "I believe this is one fantastic feature that has never been seen before."
The app has an air of exclusivity to it that not everyone likes, however. As an invite-only app, a new user has to be invited by an existing member to join, and it's only available for those using iPhones.
"On the downside, I think it's a pretty 'elitist' app, and I don't like that," Andrejska told BIRN. "Since it functions only by invites and it's only for iPhone users, it can create closed, in a way segregated groups, which can be dangerous in the long run. Therefore, I think that you cannot really use Clubhouse with the same intensity as Facebook, Instagram, Twitter, or even TikTok."
Turkish journalist Dilek Kutuk said Clubhouse was a great place to exchange ideas, "especially in Turkey", where society is deeply polarised along political lines.
"I see many voice chat rooms in Clubhouse where people talk and share their opinions, as opposed to Twitter, where all you can see is fights between those that have different political opinions," Kutuk told BIRN.
MeWe has also seen a recent spike in user numbers, particularly in January.
Launched in 2012, the network says it is built on "trust, control and love", and represents a secure and private alternative to Facebook with more than 16 million worldwide logging in to it use its newsfeed, private text and video chats and groups.
Then there's CloutHub, considered an alternative to Facebook and Twitter. With some 255,000 users, CloutHub describes itself as a "non-biased social network for people engaged in meaningful civic, social and political issues." It has also seen a growth in its user base since the beginning of the year.
Mastodon, a decentralised open-source platform,  is another under-the-radar alternative to Twitter. Users say it offers much better tools to protect privacy and fight online harassment than Twitter. Launched in 2016, the platform has more than two million users worldwide, and has been billed as a model for a "friendlier social network" dedicated to keeping out hateful content.
New apps under scrutiny

Illustration. Photo: Unsplash/Freestocks
But while such apps might bill themselves as 'friendlier', hate-free alternatives to Twitter and Facebook, experts say they face the same questions regarding privacy, transparency and how they moderate what's being said, written or posted on their platforms.
"It is understandable why tech companies want to cleanse their platforms of mis- and dis- information, but neither their human moderators nor their technical measures are able to do so in a an accurate and human rights-respecting manner," said Ferdeline.
Marcin de Kaminski, security and innovation director of Civil Rights Defenders, a Sweden-based international human rights organisation, said there is already concern.
"From our perspective, Clubhouse does allow users to speak freely, yes. But they also compromise on their users' privacy, and there are no safeguards when it comes to protecting users from marginalised or targeted communities when it comes to verbal attacks, threats or slander," said De Kaminski.
"Users that choose to use Clubhouse need to understand the risks, both technical and socio-legal."
He warned of being blinded by the novelty of new features.
"It is easy to get mesmerized by new fascinating features and the possibility to have seamless voice chats with friends and colleagues may be tempting during the isolation of the ongoing pandemic," De Kaminski told BIRN.
"However, Clubhouse has really made it possible to ask oneself very important questions – which data is harvested when you use the service and who has access to that data?"
Nor does being the new kid on the block necessarily protect against cyber attacks.
On Saturday, a report said that the personal data of 1.3 million Clubhouse users had been posted online on a popular hacker forum. Clubhouse denied being hacked and said that the data "is all public profile information from our app, which anyone can access via the app or out API [application programming interface]."
Privacy concerns have already prompted many users to migrate from messaging apps such as WhatsApp to the likes of Signal or Telegram, which claim to offer better privacy features.
Privacy and data protection strategist Lourdes M. Turrecha said any privacy failures could cost social media startups big.
"These privacy concerns are serious enough to create trouble for Clubhouse in a world where data protection enforcements have teeth – note the recent $650 million class action settlement following the $5 billion Federal Trade Commission's fine against social media predecessor, Facebook," said Turrecha.
"While these figures may seem like slaps on the wrist for a company like Facebook, a pre-revenue startup like Clubhouse doesn't have the war chest to chalk these up as a cost of doing business, despite its $110 million in funding."
Turrecha warned of the risks of users "trading" their privacy for greater freedom of speech.
"While neither speech nor privacy rights are absolute, I caution against pitting the two against each other through false tradeoffs," she said. "We should demand technologies that protect both speech and privacy rights."