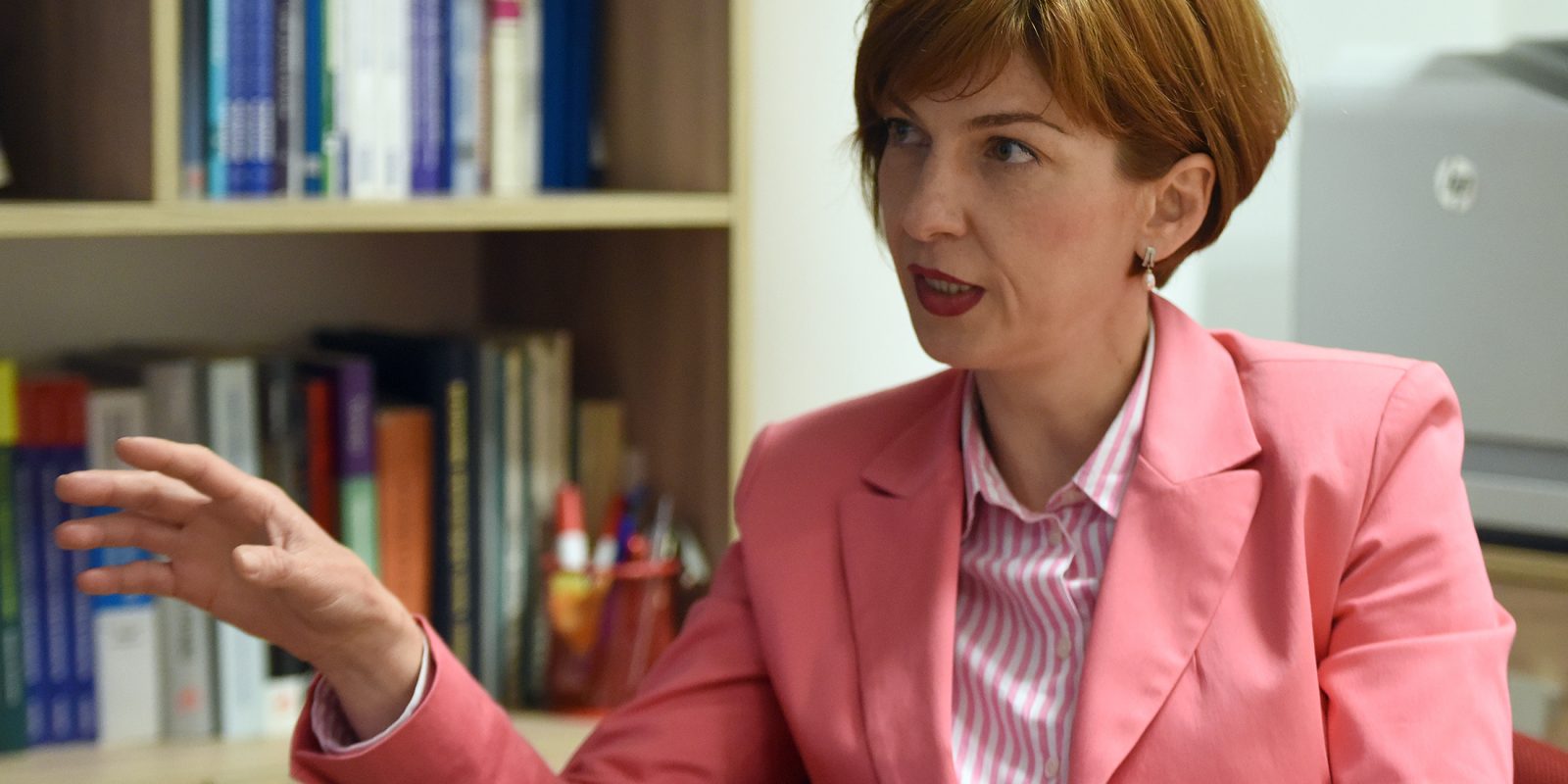 North Macedonia's first prosecutor in charge of handling attacks on journalists tells BIRN that while the number of physical attacks is falling, 'online threats are increasing'.
Iskra Hadzi Vasileva has been working as a public prosecutor in North Macedonia for eight years.
In an interview with BIRN, she says that apart from Instagram, she doesn't use social networks herself.
Her distance from the online world is a "double-edged sword", she admits. On the one hand, it protects her privacy, but on the other, information gets to her more slowly.
Hadzi Vasileva is one of the few prosecutors in Skopje's Public Prosecution Office who knows how to behave in front of a camera, and says prosecutors have to communicate better with the public.
"It is not very comfortable when you have to make a statement to the public because the courtroom is your territory, you know the arguments and the facts that you have to present," she says. "But we have to find the balance."
She believes this is why public and communications training at the Academy for Judges and Public Prosecutors is so important.

Last year there were four cases involving attacks against journalists. Photo by Robert Atanasovski

Threats to journalists shifting to the internet
The public first encountered her last October, when the Association of Journalists and the Public Prosecutor's Office announced that for the first time a prosecutor had been appointed specifically to handle cases where journalists were under attack.
This was the first appointment of its kind in the region, and came at the request of the Journalists' Association.
The move was motivated by the Journalists' Association's claim that a culture of impunity operated in North Macedonia, which was why the number of unsolved cases of journalists being attacked physically or online was rising.
After half a year of working on such cases, Hadzi Vasileva says that at the start she was not sufficiently aware of what the actual mandate would mean in practice.
"Now, I understand it more and more, as I communicate with you [journalists] and as I enter more into this subject and sphere," she said.
She describes this activity as a preventive measure: "If we show a strong commitment and efficiency through specific subjects, I hope it will have the effect of fewer threats."
Hadzi Vasileva says the statistics of crimes against journalists are improving. Last year, there were four such cases, two of which were handled by the Skopje Prosecutor's Office.
"One case was closed, and the reason for that was that the identity of the user of a Twitter account could not be obtained. The other case was a physical attack on a television crew, and there was a verdict based on a guilty plea. Тhe court found the defendant guilty with protective supervision, which is a fair sanction that the Prosecutor's Office welcomes."

The prosecution is acting with speed and special attention in cases where journalists are the victims, Hadzi Basileva said. Photo by BIRN

The prosecutor also recalled the case of the portal Dokazm.mk, which, among others, targeted two journalists.
The portal owner was convicted of several crimes, including hate speech, as he had used the portal to conduct smear campaigns. As a result, the two journalists were exposed to hate speech through social networks. The first-instance verdict came with a prison sentence.
Hadzi Vasileva says they currently have another case before them, in the early stages, related to sexual harassment through a social network, where a journalist reported the case аs a victim.
The Prosecution Office has noticed a trend in which "the number of physical attacks is decreasing, but at the same time, the number of online threats is increasing".
When it comes to physical attacks on journalists, Hadzi Vasileva notes that new amendments to the criminal code approved this year in parliament have improved the protection of journalists and media workers.
"In the case of some criminal acts, the legislature has intervened and recognized the quality of journalists or media workers to whom it has given increased protection."
In practice, means that attacks on journalist will be more severely punished.
But she also noted that journalist victims in several cases, for several reasons, have not declared that the reason for the attack was related to their profession.
"That's why we are trying to have contact through the public relations service of the Prosecution Office with the Association of Journalists in terms of tracking and recording the cases, to compare the data for accurate statistics," she said.
The Prosecutor's Office also monitors proceedings in cases in which journalists are not harmed but are reported or are called as witnesses to give statements in proceedings, so that those proceedings are not used as pressure on freedom of expression.

There are no formal criteria who can declare itself as a journalist in front of the prosecution. Photo by Robert Atanasovski

Race against time for evidence
In cases concerning journalists, but also in other cases in which crimes are committed on the internet, the possibilities of investigation are sometimes limited, she said, "due to the anonymity that the internet offers".
"The speed of the action is important, but also the speed of reporting the case," she stressed.
In that race against time for evidence, the Prosecutor's Office, through the police, cooperates with the operators of social networks, which are located in other countries, primarily the US.
"Usually, we go through the Ministry of the Interior, where there is a contact point for cooperation with the operators, and they also have their own policies that they act on," she noted.
"In practice, there are examples of hate speech in our country, but the operator in the foreign country responds that in their jurisdiction, it is [deemed] freedom of speech. It has to be a crime both here and there," she pointed out
The prosecutor clarified that the problem is termed the "volatility" of evidence, which means that the evidence is rapidly changing.
"If you don't fix and secure the evidence right away, you're likely to lose it in some cases," she warned.
"In addition, each state has its own jurisdiction and norms regarding how long operators have to keep some of the data [and] due to the protection of personal data, these are limited periods of time, which can be electronic evidence in an investigation. In our country it is a year, in some countries it is six months, even shorter."
But when it comes to attacks on journalists, Hadzi Vasileva assures that the Prosecutor's Office is committed to act "with particular attention and speed".
This does not mean that other victims do not receive appropriate treatment, but for journalists, she adds, "it is important that in addition to the protection of physical integrity, you also have a broader target of protection, that is freedom of expression, that is, in the broadest sense, the fundamental of our society."

The prosecution does not act 'ex officio' on all complaints posted by journalists in the online media. Photo by BIRN

Not every online threat is hate speech
Hate speech in the online space is one thing, and a civil suit for defamation and slander is another, she notes.
"We have many examples in which a person who has been offended thinks he can also seek protection, but it is worthwhile to explain to the public that there is a difference."
For a crime of hate speech, it is necessary to prove that the perpetrator in his or her speech intended in a broad sense, through expression, or representation of an idea, image or text, "to incite discrimination or violence, based on any of the discriminatory grounds against a person or group".
This crime requires "an intensity and effect that constitutes the dissemination of such ideas and harms public order".
Defamation or slander, on the other hand, refers to "injury of the personal or moral integrity of the individual, for which there is civil liability if the person's dignity is injured".
The Dokazm.mk case, in which content was published on a portal that did not respect journalistic professional standards, also raised the question of how and in what way the Prosecutor's Office decides whether someone is a journalist or not.
"Formal criteria for the determination of a journalist before the Public Prosecutor's Office do not exist, because they do not exist in our country either," she cautions.
Investigations must contain evidence for prosecutors to act
"Some articles are of great interest for us. We discuss those things with our colleagues the very next day, when we come to work," says Hadzi Vasileva, noting that serious journalistic investigations may present an obligation for the Prosecutor's Office to initiate proceedings and investigate suspicions of crime.
However, the public impression often is that prosecutors are "deaf" to serious journalistic articles that reveal suspicions of crime and corruption.
She maintains that the responsiveness of her Prosecutor's Office in this regard is good, but says also what her colleagues often repeat, which is that not every voice heard obliges prosecutors to act immediately.
She says published findings of journalists indicating corruption or crime must "contain enough clues and evidence and be of adequate quality to be the basis for criminal proceedings".
She says that press reports do not always touch on issues that are for the Prosecutor's Office. "Some of them may relate to systemic failures, or weaknesses", she concludes.