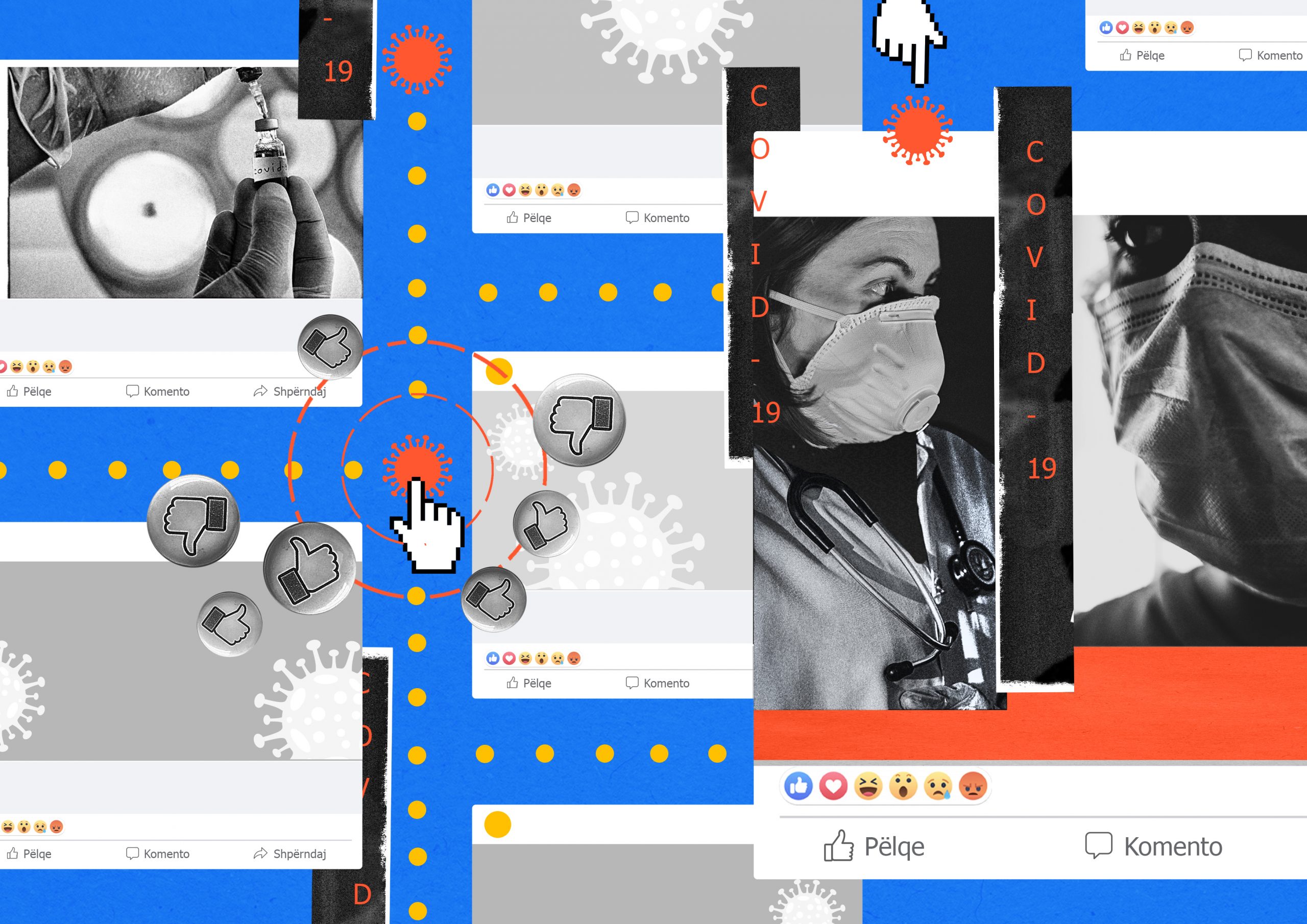 Albania is proving fertile ground for conspiracy theories and fake news concerning the coronavirus pandemic, often drowning out mainstream media, according to a BIRN data analysis.
In late March, with Albania in full lockdown to slow the spread of COVID-19, an Italian pharmacist and self-proclaimed 'doctor of nanopathology' called Stefano Montanari gave an interview to a YouTube channel in which he likened the novel coronavirus SARS-CoV-2 to the common flu.
The virus, said Montanari, "in most cases can be cured by the body so there is no need for the extreme measures imposed by governments across the world."
Seventy-one year-old Montanari does not represent any scientific body. Nor is he a doctor. Newsguard, which rates website credibility, says his personal site has published "false and unsubstantiated claims" about health, including the coronavirus pandemic, while the YouTube channel he spoke to, Byoblu, has also been accused of peddling fake information.
Yet the March interview was an instant hit among Albanian-language media, his comments among the most widely distributed at the time, according to a BIRN analysis of article impact via social media, particularly Facebook.
But his were not the only debunked theories to go viral and which, coupled with the media's own obsession with 'clicks' and the shortcomings of the government's communications strategy, have fuelled the spread of conspiracy theories in Albania, experts say.
"People that believe that Covid-19 doesn't exist or other conspiracy theories trust Montanari," said Camilla Vagnozzi, editor-in-chief of Facta, an Italian fact-checking project established in March this year.
"Looking at the spread that his opinion had during the past months, I sadly say that the majority of people believed that he was saying something true and giving information that others want to give," Vagnozzi told BIRN.
Montanari denial

Illustration. Photo: Unsplash/Markus Winkler
Using UK-based BuzzSumo, an analytical search tool, BIRN identified news articles concerning COVID-19 that triggered the most social media engagement and published by the 20 biggest media outlets in Albania between January and October this year.
During the period monitored, Albanian media outlets distributed some 149,543 articles on COVID-19 on Facebook, triggering some 4.89 million engagements, including clicks, likes and other reactions.
The top 20 articles generated 93,711 reactions or shares. By comparison, the top 20 'fake' or misleading articles, identified as such by fact-checking organisations or international institutions such as the European Union, generated 68,267 reactions or shares, so just 28 per cent fewer.
Yet a single news item published by the website GazetaKorrekte.com, and which references Montanari's statements, alone elicited some 8,602 reactions.
Of the top 20 fake or misleading articles, five cited comments made by Montanari to Byoblu between March 14 and 17, eliciting a total of 27,365 reactions.
Neither Facebook nor Byoblu responded to requests for comment for this story. While Facebook has taken steps to identify false news through third-party fact-checking organisations, it is unclear whether such efforts include Albanian-language output.
Montanari, a pharmacist who runs a private diagnostics laboratory in Bologna, northern Italy, denied being the source of fake news.
"Can you identify any interest on me to distribute 'fake news'?" he said in an emailed response in English to BIRN questions. Asked about YouTube's removal of his statements to Byoblu, he replied, "They are obviously scared."
People 'don't know what to believe'

Hospital workers transport face masks to the infection section at the main hospital in Tirana, Albania, 2020. Photo: EPA-EFE/Malton Dibra
Byoblu.com is a video-blogging site published by Claudio Messora, a former communications consultant for Italy's anti-establishment 5Star Movement, currently part of the Italian government.
According to NewsGuard, Byoblu "repeatedly publishes false content, does not gather and present information responsibly, and does not avoid the use of deceptive headlines." It cites the March 2020 interviews with Montanari in which he describes COVID-19 mortality as so low it is "probably even nonexistent" and says the concept of herd immunity is "a scam".
There have been more than 38,800 COVID-related deaths in Italy since the coronavirus swept through northern Italy as its first foothold in Europe, including some 900 per day at the height of the spring outbreak. More than 1.2 million people have died worldwide.
Vagnozzi of Facta criticised the role of social networks in providing a platform not just for Montanari but for others in Italy such as Roberto Petrella. Petrella, a doctor, posted a video to Facebook in August in which he claims that COVID-19 is in fact manmade and part of a plot to reduce the world's population. The video had been viewed more than 1.3 million times as of September 10, according to Facta.
"It doesn't happen only with medical issues, is a phenomena that we already know also for other topics such as 5G technology or [US Microsoft founder and billionaire philanthropist] Bill Gates conspiracy theories," said Vagnozzi.
"With Covid-19 pandemic the difference is that people are scared and panicked because they understand that we are living in a strange and out of our control situation and people often have no idea on what to believe."
Social media giants like Facebook are trying to fight disinformation, she said, but some things are beyond their control.
"In my opinion, social media platforms are doing an honest work in fighting disinformation,"," Vagnozzi said. "The spread of Montanari fake news is not only related to Facebook and Youtube efforts to fight disinformation, it is related with the ability of people to understand what can be true and what is false."
Storm over Irish professor's YouTube claims

Illustration. Photo: Unsplash/dole777
It's not only Montanari's views that have made a splash in Albanian-language media.
In an article published in April on the Albanian news portal Opinion.al, a man named Rashid Buttar, described as a graduate in biology and theology from Washington University and a practitioner of alternative medicine, claimed that the novel coronavirus was in fact created by US immunologist Anthony Fauci, director of the National Institute of Allergy and Infectious Diseases, as a combination of the HIV virus that causes Aids and the respiratory virus MERS.
The article had a total of 3,378 Facebook engagements, including 602 shares and 567 comments.
What the article failed to mention was the fact Buttar is a known conspiracy theorist and anti-vaccination campaigner.
Another article, published on May 11 by Standard.al cites statements made on YouTube by Professor Dolores Cahill of University College Dublin, leader of the right-wing eurosceptic Irish Freedom Party and who accused politicians and the media of using the pandemic as a "propaganda tool to try and take away rights from people and to make them more sick and to force vaccinations on us."
The headline of the article reads: "British doctor makes surprising statement: In Italy are dying those who received flu vaccine. COVID-19 is not that dangerous." The article had a total of 4,381 Facebook engagements, including 756 shares and 300 comments.
The fact-checking service Health Feedback classified Cahill's statements as "based on inaccurate and misleading information". Facebook and Youtube deleted the video as fake news.
After 133 medical students urged Cahill's employer, University College Dublin, to take action, the university issued a statement in June saying the views she expressed "do not reflect the position of the school, college, institute or university."
Trust in conspiracy theories

A protest in Tirana against compulsory COVID-19 vaccinations, June 2, 2020. Photo: Nensi Bogdani
Research suggests Albania represents fertile ground for conspiracy theories.
According to a survey published on October 10 by the Institute for Development Research and Alternatives, IDRA, 70 per cent of respondents said they believed COVID-19 was created in a laboratory in China.
Some 65 per cent expressed the belief that the virus had been created by people in power or by pharmaceutical companies for money and power.
A third of respondents said they believed in the theory that 5G mobile networks had a role in the rapid spread of the virus while 29 per cent said vaccines against it would be used to install microchips to track people.
Lamenting the influence of disinformation, Denisa Canameti, editor in chief of the Albanian newspaper Shëndet+, told BIRN:
"Due to this, we are in a position where a part of the population doesn't believe that COVID exists and another part refuses healthcare offered by Albanian hospitals while others believe that the vaccine will be used to install chips. There are others who doesn't believe statistical reports about the disease or do not trust WHO [World Health Organisation] policies."
While most of the fake news published in Albanian media since the start of the pandemic has been translated from foreign sources, some have been homegrown.
One that made a commotion on Facebook concerned a claim made by a Tirana engineer called Sazan Guri that during the lockdown period a funeral company was providing its services for free, and even offering cash payments, to families who agreed to register the deaths of their loved ones as caused by COVID-19. An article published on the online portal of Fax TV on Guri's claims alone received 2,300 engagements on Facebook, including 242 shares and 400 comments.
Contacted by BIRN, Guri stood by his statement.
"The whole COVID is fake news," he said. "One or two per cent it exists, 98 per cent is faked by doctors and by the media reporting on it, forcing man to die from the fear of the fear."
Klodiana Kapo, executive director of Albanian fact-checker Faktoje, state bodies in Albania share part of the blame for the poor quality of information reaching the public.
"What we have seen during this period is a total lack of transparency by the Ministry of Health and all these healthcare institutions, creating a situation in which news is only what is produced by the Ministry which in the meantime made it impossible to verify anything," Kapo said.
"The pandemic has been accompanied by an increase in pressure by the Ministry of Health and the government to control even further the flow of information."
Canameti of Shëndet+ agreed that health authorities had failed "to clearly articulate" information concerning the pandemic, but said media too remained hooked on social media impact.
"Even in this grave situation, we were not spared the mania of seeking attention and clicks," she said.