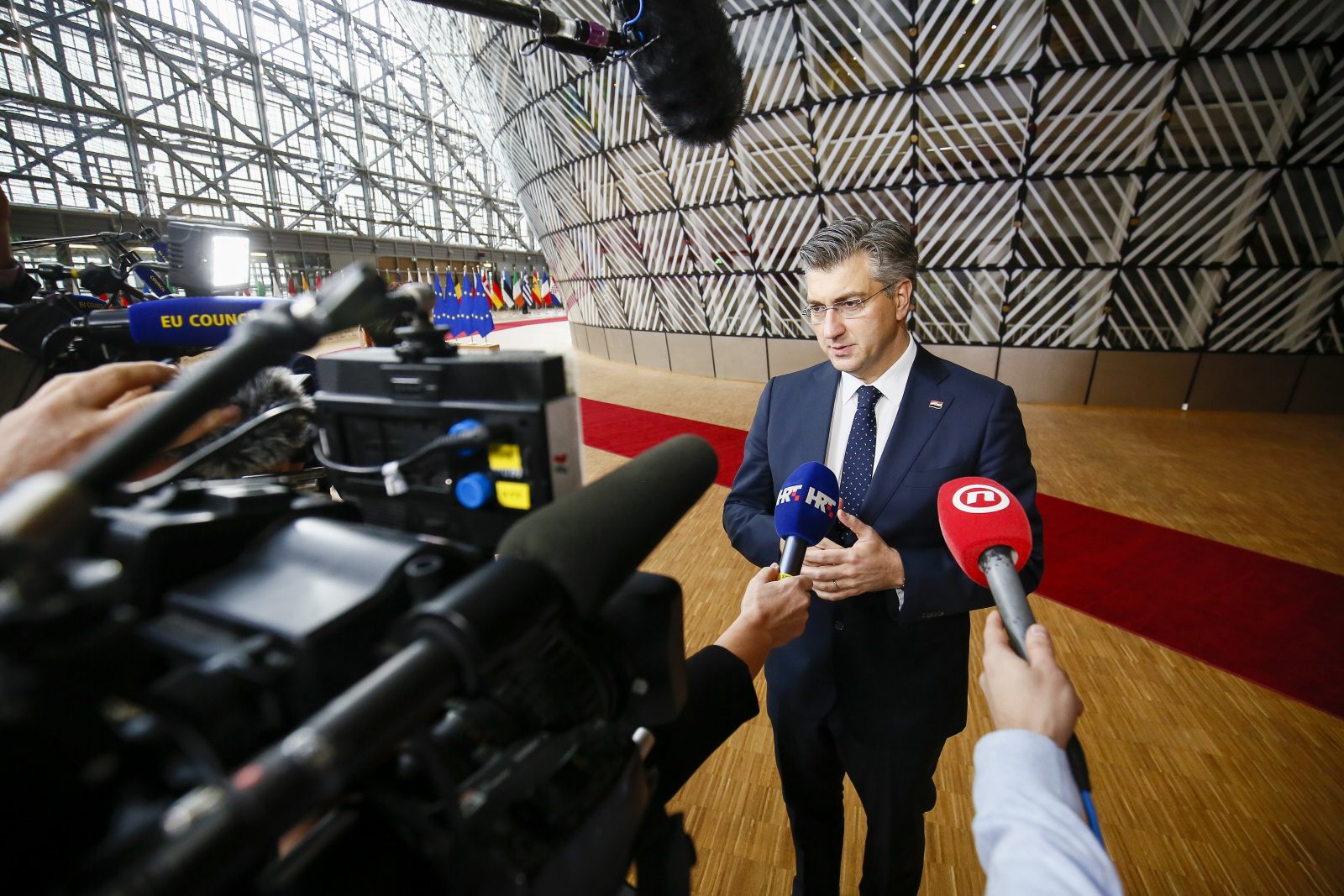 Prime Minister Andrej Plenkovic was criticised for accusing a well-known journalist at the Croatian public broadcaster of helping his political rival to prepare for a televised pre-election debate.
Andrej Plenkovic was accused of "shameful" behaviour for claiming during Monday's pre-election debate on the private RTL channel that a journalist from the Croatian public broadcaster, Maja Sever, prepared his political rival Davor Bernardic for the televised showdown.
"Shameful behaviour by Prime Minister Andrej Plenkovic, who accused colleague Maja Sever of working for the [opposition] SDP [Social Democratic Party] during a debate with Davor Bernardic on RTL. Unworthy of the office of Prime Minister," Hrvoje Zovko, president of the Croatian Journalists' Association, wrote on Twitter.
Zovko also claimed that Plenkovic constantly accuses journalists of working for the opposition.
But Plenkovic told reporters on Tuesday that this was not an attack on Sever, who he said he respects.
"If anyone has a feeling for journalists, then I have," Plenkovic said.
Sramotno ponašanje premijera Andreja Plenkovica koji je na suceljavanju s Davorom Bernardicem na RTL optužio kolegicu Maju Sever da radi za SDP. Nedostojno funkcije premijera. Stalno optuzuje nase kolegice i kolege da rade za opoziciju. Samo odgovorite na pitanje.

— Hrvoje Zovko (@HZovko) June 29, 2020
The long-awaited TV debate ahead of this Sunday's elections saw the two likeliest candidates for the next prime minister face each other in the studio – Plenkovic from the ruling conservative Croatian Democratic Union, HDZ, and Social Democratic Party, SDP president Bernardic.
During the debate, Plenkovic asked Bernardic if Sever prepared him for the show, because Bernardic came to the studio with a sheaf of documents, which included data and graphs that he tried to use to prove the failures of Plenkovic's government.
Sever is president of the Trade Union of Croatian Journalists and a longtime journalist with Croatian public broadcaster HRT. She collaborates with the host and editor of the HRT talk show 'Nedjeljom u dva' ('Sunday at 2 pm'), Aleksandar Stankovic, on which Plenkovic was a guest on June 14.
During that show, Stankovic confronted Plenkovic with some of his unfulfilled promises. Afterwards, according to media reports, Stankovic received criticism from his superiors for attacking the prime minister too much.
On Monday evening, Sever wrote on social media that before the HRT show on June 14, she and Stankovic prepared a few graphs and a list of Plenkovic's statements and promises from the 2016 election campaign.
"It is an ordinary and simple journalistic job. I emphasise journalistic… The comments by the president of the HDZ [Plenkovic], who permits himself to say… that I was preparing someone for debate, is another attack by Andrej Plenkovic on independent journalism," Sever wrote.
On June 23, Plenkovic also accused N1 TV journalist Hrvoje Kresic of agitating for the opposition after Kresic asked him if he would go into self-isolation when it was revealed that he had been in contact with tennis player Novak Djokovic, who was infected with coronavirus during a tennis tournament in Zadar in Croatia.
"I know you like to agitate for a team that you would like to not be in opposition, but in power," Plenkovic told the N1 reporter. Kresic replied that he was not agitating but asking questions as a journalist.
The Croatian Journalists' Association responded to this by saying that Plenkovic should stop making "inadmissible accusations against journalists who ask legitimate questions".
"Journalists work neither for the government nor for the opposition, they work exclusively in the public interest," the association said.