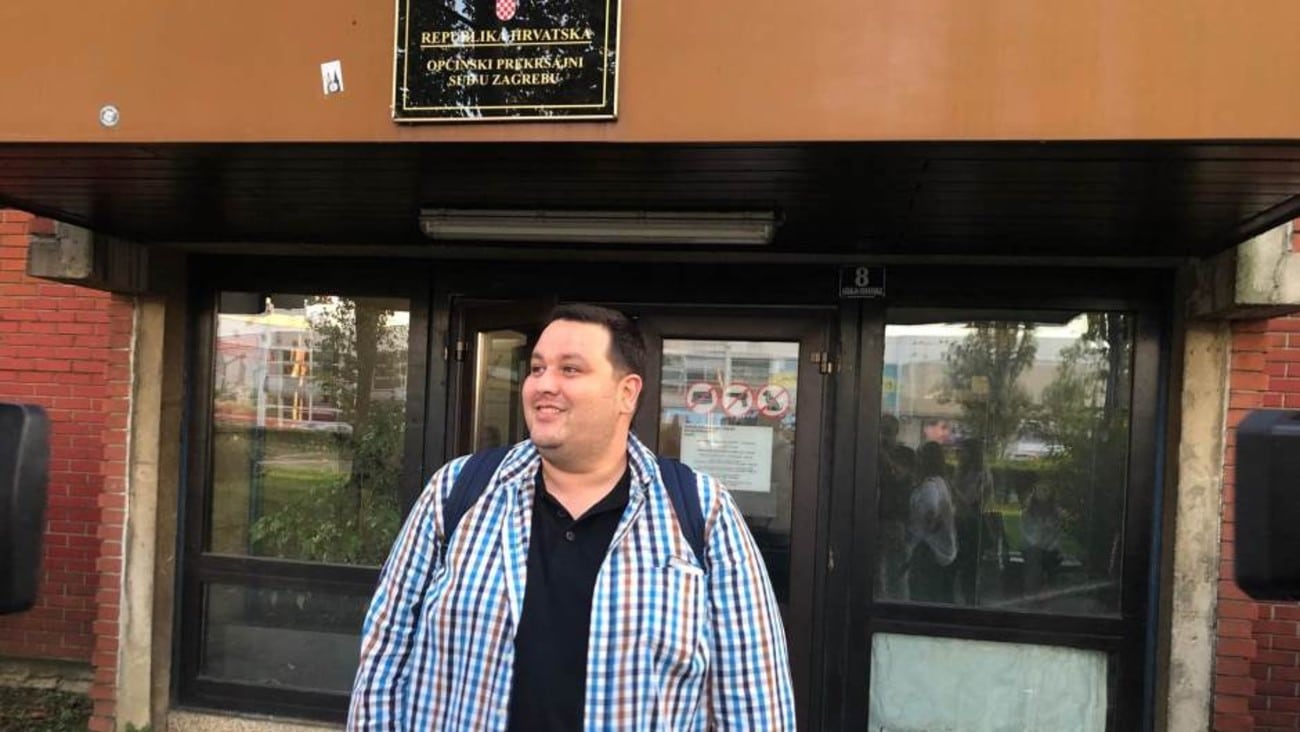 Croatian journalist Gordan Duhacek was fined around 100 euros for an 'anti-police' message on Twitter and is awaiting another verdict for 'offending citizens' moral feelings' by posting a satirical rewrite of a patriotic song.
Gordan Duhacek, a journalist from Croatian website Index.hr, was fined around 100 euros at Zagreb's Misdemeanour Court on Monday for posted a Twitter message in July last year, which discussed police treatment of arrested people and contained the anti-police acronym 'ACAB' ('All Coppers are Bastards').
Duhacek was arrested at Zagreb airport when he was about to leave Croatia on Monday morning and spent the day in custody before the hearing.
He also faces a court judgment this week for another Twitter message he posted, a satirical rewrite of the lyrics of a Croatian patriotic song.
"They charged me for one tweet that said 'ACAB'. And another thing, I am charged because I satirically published a version of [Croatian patriotic song] 'Vila Velebita' which refers to faeces spilling into the Adriatic," Duhacek said on Monday evening outside the Misdemeanour Court building when he was released.
"I am accused [in the case of the second tweet] of offending citizens' moral feelings of citizens – they are offended by the rewriting of an old song that nobody sings," he added.
He said that the verdict on the 'Vila Velebita' tweet will be issued in three days.
According to a Croatian law dating back to the 1970s, which was quoted by police while giving their explanation for the 'ACAB' arrest, "whoever discredits or insults public authorities or officials while carrying out, or in connection with carrying out their duties or their lawful orders, shall be punished by a fine equivalent in the national currency of 50 to 200 Deutschmarks or imprisonment for up to 30 days".
Incredible. Croatian police arrested @indexhr journalist Gordan Duhaček (@Prajdizan) over two tweets. One featured the acronym "ACAB" and the other one is a satirical poem. @VladaRH #mediafreedom hello??

cc @Dunja_Mijatovic @IndexCensorship @article19org https://t.co/1cZ4LC1Gyp

— Tena Prelec (@tenaprelec) September 16, 2019
Croatian police and Interior Minister Davor Bozinovic insisted that Duhacek was not detained for his Twitter posts but for not responding to a police summons.
As Duhacek was returning from Bosnia and Herzegovina to Croatia last weekend, he was told on the border that the police were looking for him.
"On that occasion, an invitation was given to him, instructing him to report to the official premises of the Zagreb Police Department in Heinzelova Street on September 16, which he did not do," the Zagreb Police Department said in a statement.
It is deeply worrying to see that a journalist has been arrested in Croatia for his tweets. In an EU member-state, whose EU Commissioner-nominated, Dubravka Šuica should soon be in charge of Democracy promotion. Solidarity with @Prajdizan.

— Dejan Jovic (@DejanFpzg) September 16, 2019
But Duhacek insisted that he went to the police station in Heinzelova Street on Sunday to see what the summons was about as he planned to leave Zagreb for a business trip to Germany.
He said that a police officer told him that he could travel but and that he should contact the police when he returned. However, police officers then arrested him at Zagreb airport on Monday morning.
The Croatian Journalists' Association, HND, said in a statement that it strongly condemned the treatment of a journalist who was "arrested like a hardened criminal at Zagreb airport for two satirical postings on his Twitter profile".
"The Croatian Journalists' Association warns that the police treatment of Duhacek is unprecedented and cannot be interpreted as anything other than intimidation," the HND added.
Meanwhile reporters from neighbouring Bosnia and Herzegovina have signed a petition in support of Duhacek.