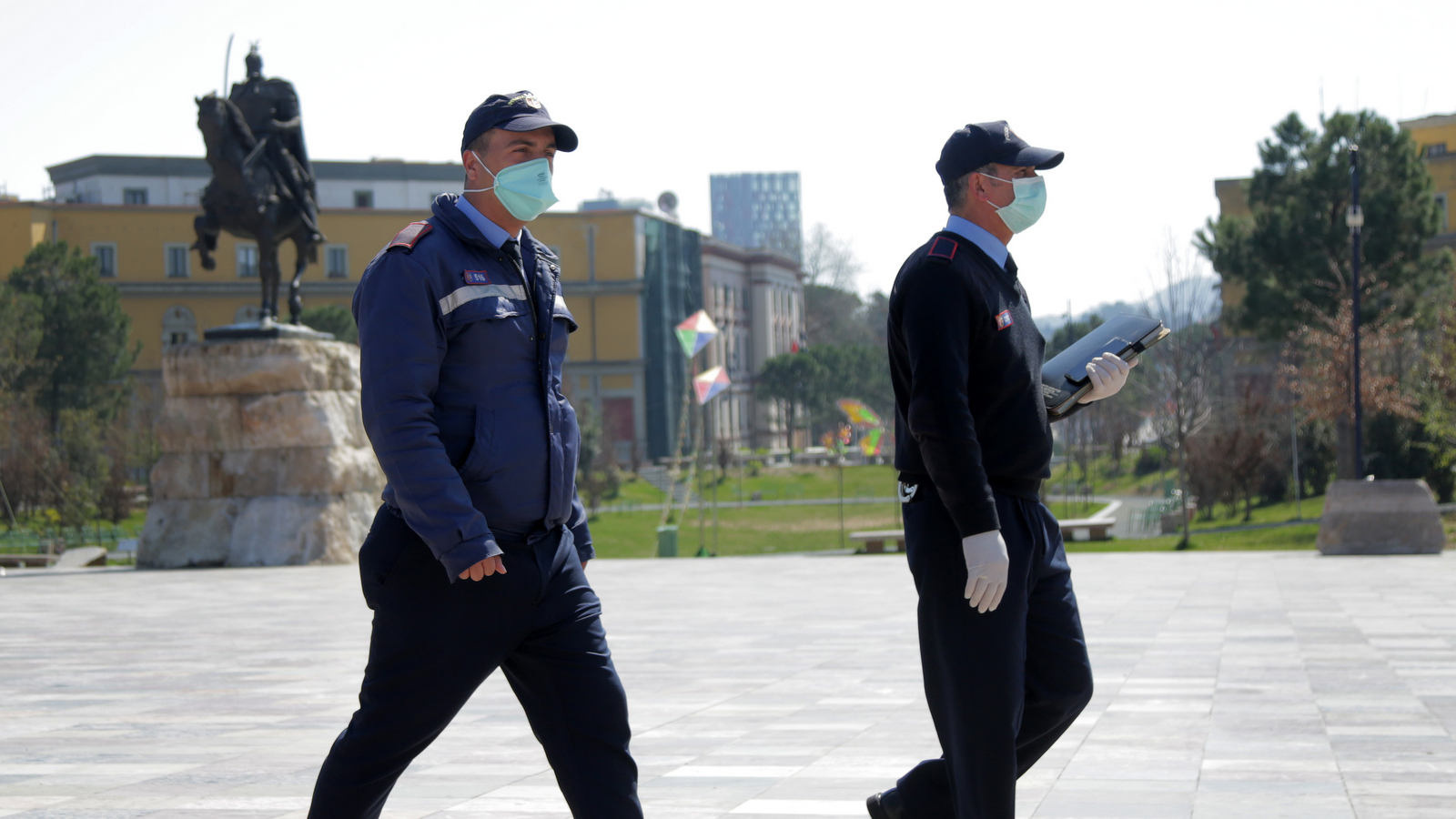 The Interior Ministry promised an investigation into police officers' manhandling of TV journalists Ergys Gjencaj and Klodiana Lala after they witnessed a failed attempt to detain a suspected criminal.
Albanian police on Tuesday manhandled Ergjys Gjencaj, a journalist for the News 24 TV channel, and pushed his colleague Klodiana Lala after failing to detain a suspected criminal.
The incident was caught on camera, and afterwards Interior Minister Bledi Cuci told BIRN that he will order an investigation, while the Office of Tirana Circuit Prosecution said it will check the police's conduct.
Several videos taken at the scene show several plainclothes police officers stopping the car of their suspect, who then refuses to unlock the doors.
A News 24 car with the TV channel's logos on all sides then arrives at the scene and journalists Gjencaj and Lala get out.
Gjencaj starts filming using his mobile phone as the suspect runs away. After failing to arrest the suspect, several officers turn on the journalists.
One of them is seen grabbing the phone of Gjencaj, who is made to lie face down on the ground. As Lala starts protesting, a person in civilian clothes who is believed to be a police officer pushes her away.
Gjencaj told BIRN that police kept him face down for several minutes and checked his pockets.
"I have worked as journalist covering the police for the last 20 years. This is the first time that such thing happened to me," Gjencaj told BIRN.
Lala, a known crime reporter, said that they both just happened to be on the scene when the attempted arrest took place.
"I cried out that they were stopping a journalist," Lala said, emphasising that the officers could not have missed the logos of the news channel on their car.
In a statement, the prosecution promised "in-depth verifications of the incident".

Journalist Ergys Gjencaj lying on the ground during the incident. Photo: Balkanweb.com
State Police director Ardi Veliu didn't respond to BIRN's request for a comment by the time of publication.
The Albania Media Council alleged that what happened "can hardly be an isolated incident"
"Unable to respond to crime, they orient the violence towards the reporters," it said.
The Union of Albanian Journalists, a rights group based in Tirana, said it was "a grave incident" and called for the perpetrators to be punished.
"We condemn this act of violence and police brutality committed against a reporter," the Union wrote on its Facebook page.
There had been several cases of police violence against reporters in the last several years while concerns had been raised due to lack of punishment for officers involved.
In 2019, police in Dibra mistreated Enver Doci, a News 24 reporter who happened to be at the scene of an operation.
Police acknowledged the incident and apologised following a local and international outcry but the officers responsible faced no consequences.
Police faced further criticism last December when two journalists, Xhoi Malesia and Qamil Chani were violently stopped in two separate incidents while reporting during clashes between police and young protesters.
Calls by Albanian rights groups to Prime Minister Edi Rama and State Police director Veliu to condemn the violence against media workers received no response.