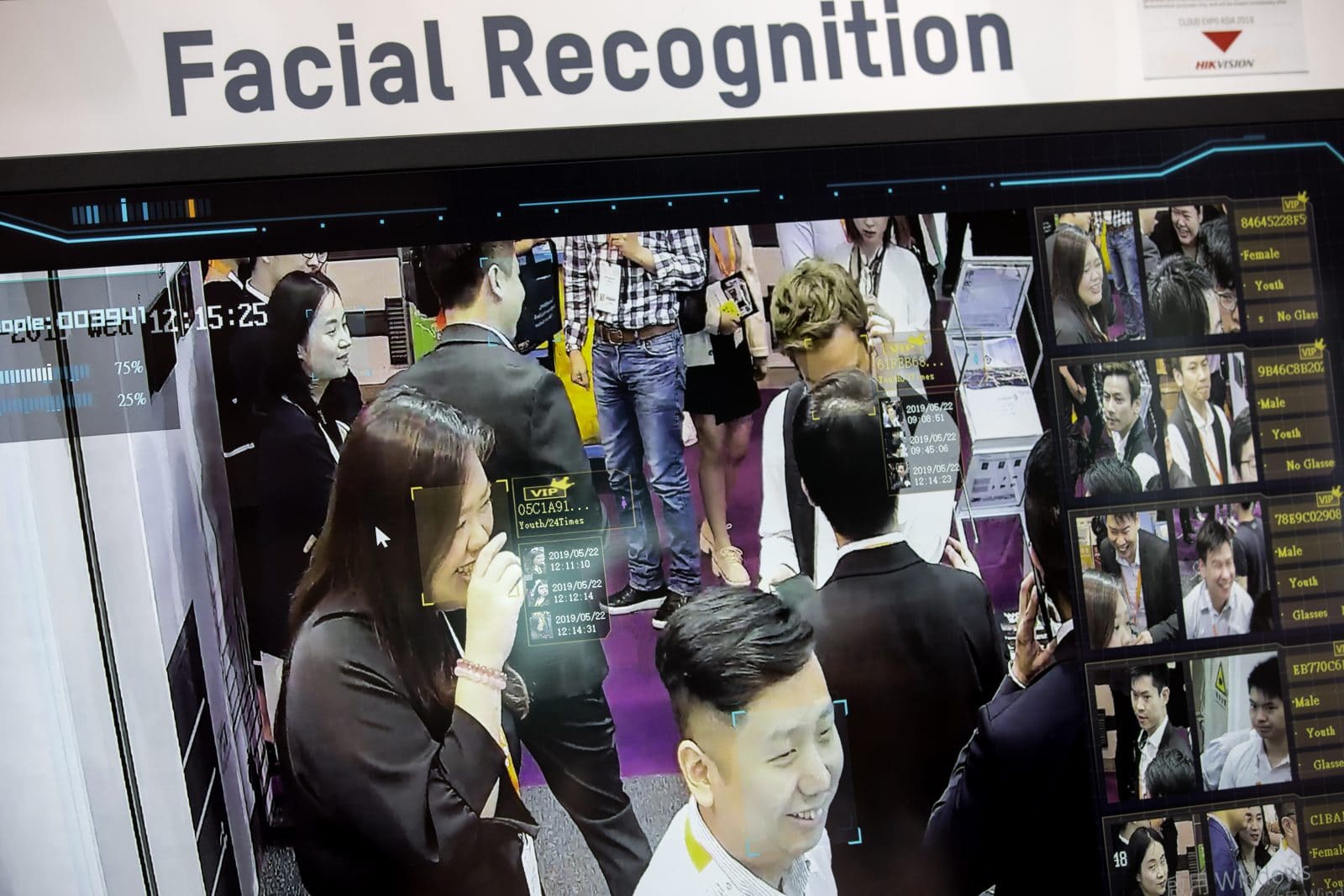 From Hong Kong protesters armed with saws to infrared-blocking eyeglasses, resistance to facial recognition technology is increasingly innovative.
Beyond the tear gas and barricades, images of young demonstrators in Hong Kong hauling down facial recognition towers have become iconic of the resistance to what they say is the erosion of freedoms in the semi-autonomous former British colony since its handover to Beijing in 1997.
China is at the vanguard of facial recognition technology, a fact not lost on pro-democracy protesters taking to the streets of Hong Kong since June and increasingly met with tear gas and police batons.
The toppling of surveillance towers provides a disturbing snapshot of the possible future of anti-government demonstrations, as states enlist the growing power of human identification technologies to track citizens and their behaviour.
In the West, too, a growing number of artists, intellectuals and activists are pushing back and channelling their creativity against the growing use of Big Brother-type technologies.
Scott Urban is one of them, an American who since 2005 has been making custom wood eyewear.
"I thought that being an eyeglasses creator, I could make an impact to protect people's privacy with something as simple as a pair of sunglasses," Urban told BIRN in an email interview.
In 2016, Urban created the Reflectacles Ghost, a model that, according to Urban, "reflects both visible and infrared light to obscure the wearer's face on cameras using infrared for illumination, as well as blocking the face to cameras using a flash."
'Surveillance capitalism'
But while Hong Kong's rebellious youth is concerned with China's surveillance state, artists like Urban say they are more worried by private companies selling facial recognition technologies rather than states like China imposing it on their citizens.
In her 2019 book The Age of Surveillance Capitalism, American author and scholar Shoshana Zuboff writes that a substantial part of the material collected by facial recognition systems and other data gathering technologies is "fed into advanced manufacturing processes known as 'machine intelligence', and fabricated into prediction products that anticipate what you will do now, soon, and later."
Such products are then "traded" in a marketplace Zuboff calls behavioural future markets' and which comprise companies "willing to lay bets on our future behaviour."
"After testing the Face ID system for a long time, I realised that to block 3D infrared facial mapping all we had to do was block our eyes from being seen from these technologies," he told BIRN.
"If 3D IR mapping/scanning does not see the eyes, it is not able to understand the information as a face."
Asked who buys his glasses, Urban, who sells via his website, said his customers come from across the political spectrum.
"In these days of polarisation and division, privacy is a unifier," he said. "Nobody talks about it because it actually brings us closer together, but privacy advocates can be found from the far-right to the far-left and everywhere in between."
"Surveillance capitalism," Zuboff writes, "unilaterally claims human experience as free raw material for translation into behavioural data."
When Apple released its new iPhone X, which included a facial recognition system, in 2017, Urban responded with new models of eyeglasses that blocked infrared.
Overfeed the beast
Like Urban, most activists have focussed their efforts on hiding the facial traces that recognition systems are taught to identify.
American conceptual artist Leo Selvaggio, however, is doing the exact opposite.
Selvaggio has made available online an unlimited number of prosthetic masks reproducing his own features to help the public hide their real identity from facial recognition systems.
In a telephone interview with BIRN, Selvaggio describe his work as an "attempt to disrupt surveillance and facial recognition systems" by "creating disinformation" about the individuals who unwillingly feed them.
Instead of starving the beast, Selvaggio overfeeds it with fake information.
The artist has personally tested its results with photos of friends wearing his masks posted on Facebook and that were identified by the system and tagged as Selvaggio.
Asked about the legal risks, Selvaggio said that if he was mistakenly arrested for a crime committed by someone wearing his mask it would provide an opportunity to prove his point and expose the perils of relying on automated facial recognition in court.
Well aware of the limited scope of his initiative, Selvaggio nevertheless said such "guerrilla warfare" had the power to inspire others.
"If one person with almost no money can activate this type of resistance, imagine what would happen if we all did something similar," he said.
 Serbia: Activists Demand Face Recognition Information

Belgrade-based NGO CRTA organised a street action called 'We Have the Right to Know: Where are They Monitoring Us?' on Wednesday, urging people to demand the authorities provide information about a project to introduce surveillance camera with facial recognition capabilities in the Serbian capital.

It called on locals to write requests to the Interior Ministry, asking about the impact of the surveillance on personal data collection and protection, which the NGO will then pass on.

 "This is a story about our privacy. It is not a problem if we know where we are being monitored or for what purpose, the problem is when we do not know that," said CRTA activist Ivana Markovic.

In January, the Interior Ministry said that over next two years, police in Belgrade will install almost 1,000 stationary video surveillance cameras at 800 locations, some of which will have software for face and licence plate recognition.

Meanwhile Share Foundation, an NGO that deals with digital security and privacy, said that Chinese tech company Huawei has published a case study about cameras already installed in Belgrade on its website.

The Huawei case study says that 100 of these cameras have been installed and that "many criminal cases were solved" as a result and "police are now able to find suspects based on the stored video materials thanks to Huawei intelligent technology".